Lessons learned from the costliest insured event in Canada's history | Insurance Business Canada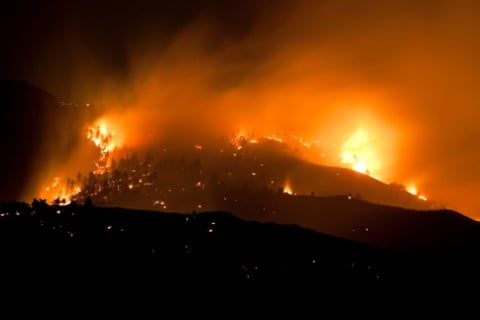 Three years after the Fort McMurray wildfire, the fallout from the event is far from over. Nearly 200 residential claims related to the incident are still awaiting settlement and while this is a small number considering the total 25,498 residential claims that were filed, a local lawyer representing more than 40 of the unresolved cases said that the wildfire event has been a thorn in the side for her clients.
The 2016 fire was a devastating one, forcing more than 60,000 people out of their homes, and the rebuilding of communities continued well into 2019. It's not surprising then that the wildfire was Canada's costliest insured event in the country's history, according to the Insurance Bureau of Canada (IBC).
With the wildfire still impacting the lives of many Canadians, Insurance Business Canada spoke to an expert whose team was on the ground during and after the wildfire to help get communities back on their feet.
"When we arrived in the city of Fort McMurray on or about May 12 of 2016, the damage was notably severe, both to property and to infrastructure. The fires were still burning actively, both in the city and surrounding the city, so damage was continuing to occur – both physical damage from the fire as well as secondary damages from the associated smoke as well as the firefighting efforts," said Nathan Normoyle, Access Restoration Services' (ARS) VP of national operations.
Tomorrow is 3 years since #TheBeast wildfire hit Fort McMurray. The weather may be totally different today but the memories & pain are still fresh like it was yesterday pic.twitter.com/UNqyh7VGIr

— Rene Lemoine (@Reno200211) May 3, 2019
Some of the most severe damage took place in residential neighbourhoods that were completely wiped out from the blaze, with not a house left standing.
"Most structures in those neighbourhoods burned right to the foundation. That's houses, that's commercial businesses and the city infrastructure as well – fairly significant damage to parks and roads, and hydro and utility distribution," explained Normoyle.
For the first 10 days or so, the ARS team assessed the situation and developed a remedial plan for clients, which mainly included companies in the hospitality industry, as well as one of the helicopter service companies, actively involved in water bombing around 60 residential homes. There were many logistical challenges of working in an area that was fully evacuated (which meant that local services were extremely limited) as well as a remote area that on a good day had limited access to building materials and labour resources.
"We were able to mobilize our forces in Alberta from Ontario as the local resources were limited to a point where work couldn't be carried out effectively or efficiently. We flew in by charter jet approximately 400 staff skilled in their respective trades, from cleaning and demolition through to carpentry and construction and carpet cleaning, duct cleaning, and HVAC, so heating and air handling systems," said Normoyle. "We brought in a self-contained unit that was capable of doing all of the required remedial work as well as three tractor trailers' worth of equipment required for that restoration. Our fleet that came in also included 55 rental vehicles, and a portable fuel cell so we could fuel our vehicles and equipment."
Read more: Wildfire preparedness program allows Canadians to apply for funding
In the midst of the fire, there were a handful of environmental concerns, such as heavy metals and toxins that had been released by the fires and some of the materials that were burnt, so there were precautions and additional remedial efforts that needed to be taken to make sure the properties were adequately restored and made safe to be occupied.
"As you can imagine, the nine hotels that were our clients had an immediate need to be open and operational because there was no housing in the city. All of the utility forces, firefighting forces and other critical infrastructure contractors needed a place to stay, so it was really critical to get these places open and available so that the remedial efforts throughout the city could continue," the ARS VP told Insurance Business.
Newfoundlanders and Labradorians desperately flee Fort McMurray wildfires https://t.co/g6x4PNSwui pic.twitter.com/kS79rAbNW0

— CBC News (@CBCNews) May 3, 2016
The full mobilization of the ARS team wrapped up about six months later, in September 2016. However, a smaller contingent of project managers, project coordinators, and field staff remained on the ground for an additional year and a half, working with clients on the reconstruction of the more severely damaged facilities and properties.
More broadly, the Fort McMurray fire revealed the importance of restoration companies in times of crises, for both insurers and insureds.
"Having the availability of the right restoration company – that has both the background and experience in dealing with wildfires and mass evacuation events as they impact communities – is important from everybody's perspective, starting with the government or the local municipality, right through to the insurer, and the policyholders and business owners," said Normoyle. "Most people that haven't gone through an event such as this will take a considerable amount of time and learning curve in how to mobilize, how to assess and, ultimately, time costs money, it costs inconvenience for families and in some cases it causes more severe damage like financial ruin for some people depending on their level of insurance."
Read more: Canada wildfire: Reducing the burn with lessons learned
From a residential perspective, the policyholder needs to mitigate their damage as part of their insurance policy, so they have to take the rights steps to protect their property regardless of if an insurance adjuster shows up.
"That typically can only be carried out by a restoration contractor that's experienced, that has knowledge in handling these larger scale events, as well as someone that has the resources to mobilize in these communities in a very short period of time," explained Normoyle.
The work of restoration companies is likewise critical for business owners who are impacted by a catastrophe like this one.
"When you're a business facing business interruption, where every down day could cost a small business a couple of thousand dollars or a large business millions of dollars, having the right company there to assess, remediate and restore the property as quickly as possible is key to, number one, prevent further business interruption," said Normoyle, "and number two, ensure that those services that need to be available to residents [are available], such as grocery stores, big box stores like Walmart where people get their day-to-day supplies, restaurants, and gas stations. Although they're secondary infrastructure, they are critical to a town or municipality's ongoing operations and the safe return of the residents."