Revealed – how this year's wildfire season is comparing to previous years | Insurance Business Canada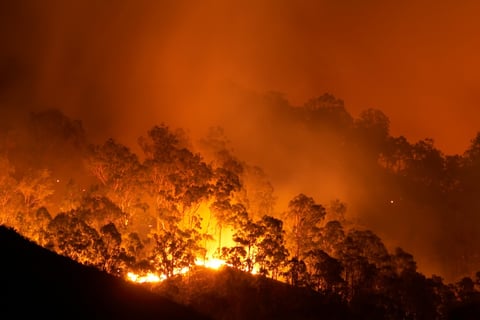 This year's wildfire season for the Northwest Territories (NWT) is shaping up to be one of its most destructive in recent times, as the 2022 season has incinerated almost double the five-year average for area burned.
To date, 238 fires in the NWT have burned about 4,300 square kilometres of land. By comparison, the NWT's five-year average for burned land is about 2,300 square kilometres.
According to Mike Westwick, lead wildfire information officer for NWT, long spells of hot and dry weather have exacerbated the wildfires this summer, making note of the persisting hot temperatures in the southern part of the territory.
"It's been a significant year for fires after a few years where we had a slight downturn," said Westwick.
NWT's wildfire downturn over the past few years was a welcome break, especially as the province continues to recover from its greatest wildfire event on record. The Canadian Press reported that over the past decade, an average of 200 fires have scorched approximately 6,500 square kilometres each year. This figure includes the 2014 wildfire season – NWT's worst wildfire season on record, where 385 fires burned about 34,000 square kilometres.
At present, over a hundred active wildfires are still burning across the NWT.
One of the fires, which is 16-square kilometres wide, is located just 20 kilometres southeast of Wrigley. Westwick warned that while the fire currently does not pose a risk to the community, the situation could change quickly.
Other wildfires that do not pose any risk to communities or infrastructure have been allowed to burn out naturally.
"The boreal forest is a landscape that's primarily shaped by fire. It's the most important force that's shaped our landscape over millennia," said Westwick.
Read more: Federal government provides $5.3 million for wildfire damages
Last October, the federal government granted the Northwest Territories $5.3 million to support the region's response and recovery costs related to the 2014 wildfire season. The 2014 NWT wildfire season saw 3.5 million hectares burned, 11 communities threatened, two community evacuations, three evacuations of remote cottage areas, and two extended territorial park closures.