How employee engagement relates to corporate risk management | Insurance Business Canada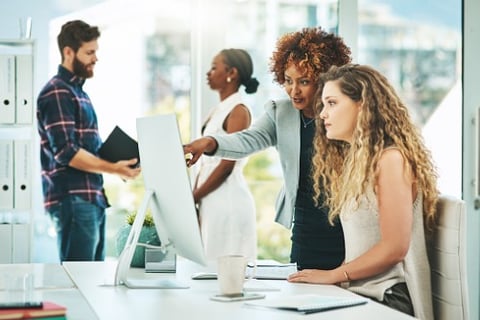 Business executives often cite enhancing employee engagement as a key strategic priority. The general theory is that engaged employees will commit to a company long-term, buy into the company culture, and, most importantly, be productive and contribute to the company's longevity and overall success.
One way of looking at this – a view often overlooked by companies – is that employee engagement is explicitly tied to corporate risk management. If organizations do not focus on engagement and enablement of employees, they miss a key lever of success, according to Erin Gattoni, Vice President, Human Resources, CNA Canada. They associate employee engagement merely with happiness and struggle to see the wider picture, which is that talent is one of the most significant and important investments that a company makes.
"Engaged employees are more committed to a company's vision; they're proud to work for the company, they create and engage with the culture around them, and they strive to be better — not just for themselves, but also for the organization," Gattoni said. "If employees are enabled with the capabilities, resources and motivation to succeed, they will play a vital role in future-proofing our organisations. In the insurance industry, we work with clients that are changing and challenging the status quo every day. If we don't stay ahead of our clients and continuously educate ourselves, we run the risk of falling behind. That's why it's important to have an engaged workforce that is always innovating, learning, developing and staying on top of industry trends.
"We focus on strategic planning in every part of our businesses, analysing financials and identifying trends in individual units and product performance. Ideally, companies should take the same approach with talent risk. It's just like the practice of underwriting and taking all the necessary steps to mitigate risks. The same should be done for the people within our organizations — we need to identify the human capital risks, mitigate them, and then enable our employees to do their jobs and be successful."
Read next: Insurance considerations when pivoting production to PPE
The task of building and maintaining an engaged workforce requires company-wide collaboration, and buy-in from senior leadership. One of the most important pillars behind employee engagement is clear, concise and transparent communication, alignment with core values, and understanding of the goals and objectives of the organisation, according to Gattoni. Simple things like running employee focus groups, conducting regular engagement surveys, checkpoints with staff, and having open communication forums can have a huge impact on employee engagement, she said, but only if decision makers listen, learn, and take action based off that feedback.
CNA has achieved success with this via its "open door policy," that is acted upon by all levels within the organization, Gattoni explained. CNA holds regular townhall meetings to share global and regional strategies and results with employees. And in Canada, senior leadership hold regular skip level meetings to discuss results, projects and strategy, as well as quarterly meetings between the CEO, senior leadership, and all new hires, which enables new hires to get to know the team and better understand the firm's strategy and vision.
Read more: Employers of all sizes need sound employment practices solutions; Here's why
"If, through transparent communication, we're able to understand what's going on across all levels of a business, and we're able to put in place best-in-class talent strategies needed to create an experience that enables our employees, that will lead to higher employee retention and more engaged staff members who will innovate and strive to take their product or unit to the next level," Gattoni told Insurance Business. "If you miss that as a company, you're missing out on a significant part of your investment that you make in your people, because you're not harnessing their potential and you're not enabling them to give you everything they can and want to offer."
Maintaining employee engagement is challenging at the best of times, but with the added complexities of the coronavirus (COVID-19) pandemic, which has forced many organizations to switch to remote working, it has become more important than ever for firms to manage their human capital effectively.
Gattoni commented: "At CNA Canada, we've focused on employee engagement and how we enable our employees to do their jobs while also sustaining a mindset to operate through the pandemic. We've been engaging in consistent and new methods of communication, providing additional employee resources, re-skilling managers and leaders so that they can manage their teams remotely, and providing sessions around resilience and mental health. These were not actions we had planned, but we understood the necessity and acted quickly and adapted our strategy when we went remote.
"Fundamentally, I believe the pandemic has evolved the way we interact with employees and drive personal connections. We've been more flexible than ever with employee circumstances to enable them to be even more successful in their roles, and continue to engage in the organisation. And there has been an emphasis on supporting employee well-being and providing resources to help families and individuals through this time. In our view, we've found that some employees are more productive than ever at home because they're focusing on themselves and they understand their role due to increased company responsiveness and communication."