A squall of risks is hitting the construction sector in Canada | Insurance Business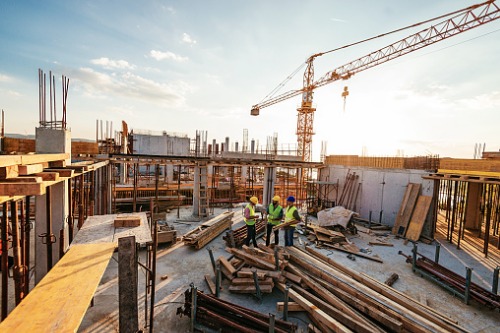 The Canadian construction industry is in the midst of reacting and adapting to government reforms, cannabis legalization, and a hardening insurance marketplace, but those aren't the only issues that businesses in this sector – and in turn, their insurance advisors – are juggling.
Similar to many other businesses from coast to coast, weather-related events are often top of mind for construction companies.
"Intensifying weather events coupled with a seemingly more litigious environment in Canada is certainly making it more difficult to throw a dart at the risk level of a large commercial or infrastructure project," said David J. Rae, an account executive at Petrela, Winter & Associates (PWA), whose in-house expertise coupled with a partnership in the Navacord group makes the brokerage a leading provider of construction insurance and surety bonding solutions in Canada.
And while the temperature is finally rising in certain provinces, the winter months bring their own slew of challenges for contractors.
"A trend we are also seeing is with respect to contractors that perform snow removal as part of their operations. Depending on the type of snow removal contract, there is usually a high risk of third party slip and fall injury claims associated with the job. This has created a major headache for contractors that conduct a lot of this kind of work, and they have typically seen very substantial rating increases in their general liability pricing as a result," explained Rae.
"Snow removal liability is a classic example of a hardening market whereby the availability of coverage is not what it once was, due to the higher risk associated [with it] and subsequent losses, and the coverage that is available is at a much higher-than-normal rate."
Read more: Experts: Construction companies should "actually follow the protocols"
Contractors that are involved in snow removal need to have a specialist broker on their side that knows the right questions to ask in order to give the insurance company as much information as possible about the snow contract itself, added Rae.
The cyber storm is also bearing down on the industry, as organizations of all sizes, across geographic locations and industries globally, are plagued by the consequences of cybercrime. In fact, the average number of security breaches rose from 130 to 145 between 2017 and 2018, according to Accenture's "Cost of Cybercrime Study."
"Cybercrime is one of the world's fastest growing risks, and is affecting more and more Canadian companies. A drastic increase in cybercrime has resulted in thousands of businesses, of all types and sizes, falling victim to network outages, data breaches, and serious business interruption, all caused by these malicious attacks," said Rae. "In today's environment, cyber risks pose a tangible threat to our businesses, and while we can assist our clients in minimizing exposure to cyber risks, security breaches are inevitable."
To prepare for the 'when, not if' scenario, construction companies need to have robust breach response policies and contingency plans in place.
"A thorough understanding of applicable laws and good risk management can help ensure that cyber risks are mitigated to a certain degree," Rae told Insurance Business. "Insurance coverage has been crafted to cover these risks, and continues to evolve to provide protection to businesses against cybercrime, and we encourage our clients to seriously consider this if they haven't already."