Applied Systems makes big investment in brokers' commercial lines capabilities | Insurance Business Canada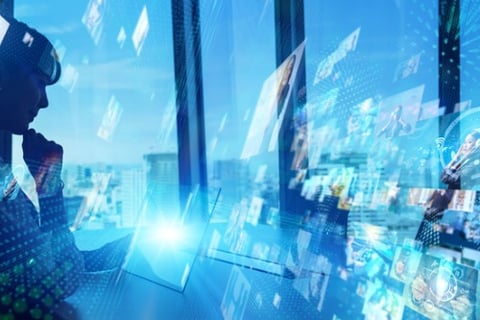 The COVID-19 pandemic upended industries, businesses, and people's lives in 2020, but some companies in the insurance industry have found a way to bring their communities of experts and peers together via virtual conferences. In that group, you'll find Applied Systems, which this year hosted its Applied Net 2020 conference virtually – and still managed to beat out previous years when it came to attendance, which came in at 12,000.
Find out more: Learn everything you need to know about Applied Systems here.
The eight-day virtual extravaganza invited insurance professionals from across the world to collaborate on key industry topics, learn about the latest tech innovations, and network with their peers from the comfort of their home offices. The more-than-120 education sessions – featuring several inspiring leaders from Applied's own ranks – delivered insightful content to attendees' screens, while over 35 exhibitors and sponsors were able to set up their virtual booths in an online exhibit hall.
Peer-to-peer networking was also made possible with Applied's virtual networking lounge, which provided professionals with a space to have meaningful conversations with fellow attendees and Applied subject matter experts on topics of mutual interest – and given the crisis we're currently living through, there was a lot to discuss.
In fact, the theme of the conference was "The Digital Path Forward" – an apt message for insurance professionals, and especially brokers, as they navigate a radically shifting "new normal" where digital capabilities have become more important than perhaps ever before.
"As we navigate today's challenges and build the digital path forward, agencies, brokerages and insurers are looking to technology to bring the distribution channel closer together, creating more productivity, intelligence, simplicity and value," said Taylor Rhodes, chief executive officer of Applied Systems, adding that the 2020 Applied Net was "unlike any other we have hosted."
The digital path forward for the insurance industry is "fuelled by innovation," according to the conference's opening video, "and driven by diversity" – and Applied is leading the way. During the conference, the insurance technology company made a series of announcements about new releases that will equip brokerages for the digitally empowered future that's right around the corner.
Notably, Applied announced innovative updates to its Digital Brokerage portfolio, which together will enable brokerages to expand automation across more roles in their businesses, as well as create simpler and more connected interactions with customers, and allow for collaboration and data exchange with insurers. The updates will likewise enable brokers to gain access to intelligence from data-driven insights, in turn helping them improve business performance and create higher-value business transactions.
Recent enhancements included those made to Applied Epic that now enable brokerages to maximize commercial lines marketing and policy workflows to better manage the customer journey. Applied Policy Works with Applied Epic integration enables brokers to remain within their management systems to complete their commercial lines policy workflows, creating an efficient commercial lines process to provide a more valuable customer experience for commercial clients.
On the front end, brokers can digitize the commercial lines application and renewal process via data integration with Indio, according to Applied. These innovations touch on accounting processes, leads and marketing automation, Indio integration, and expanded benefits capabilities, giving brokers a widescale digital upgrade across their operations.
Read more: Four challenges facing brokerages in the new normal and how to overcome them
These updates have occurred alongside the innovations made to Applied CSR24 and Applied Mobile, which further enable brokers to enhance their customer experience and productivity, and Applied Analytics, which enables brokers to quickly view the specific insights by role and time range, as well as better understand their client's risk by location with a new Google Map-powered dashboard.
Considering that brokers who have implemented a well-rounded technology strategy see both better returns on their technology investments as well as a bump in revenue, the investment from Applied into these digital capabilities is critical for brokerages' success in this "new normal."
"Whether brokers are just getting started in their digital transformation or taking the next steps on their technology roadmap, the digital future brings with it enormous opportunity for growth," said Michael Howe, senior vice president of product management at Applied Systems. "Applied's latest innovations across the digital brokerage portfolio enable brokers to add more productivity, intelligence, simplicity and overall value within their business, to their customers and across the entire insurance ecosystem."