TD Insurance app adds severe weather alert function | Insurance Business Canada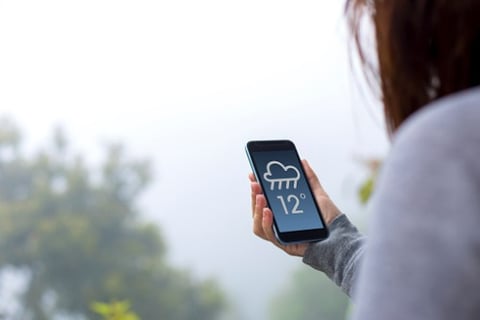 In preparation for incoming summer storms, TD Insurance is enhancing its customer-facing mobile app with a new feature that warns customers of severe weather events.
TD Insurance's mobile app – available on both Apple iOS and Android – now has a "TD Severe Weather & Safety Alerts" feature, which will notify customers of extreme weather events such as heavy winds, heavy rainfall, hail, flooding, heavy fog, heavy snow, freezing rain, and extreme cold. It is available to all TD Insurance home and auto customers who register through the insurer's proprietary app.
Users of the app can choose up to two locations to monitor incoming weather – such as their primary residence, office location or an elderly relative's home. Once registered to the app, the user will then receive timely weather alerts direct to their mobile device. The alerts also come with tips on how to prepare for and prevent potential weather damage.
Customers can also update their monitored locations at any time through the app.
"Severe weather is a fact of life for Canadians, and when heavy rain, extreme wind, or a snowstorm is expected, we want our customers to have information in advance to help them take action, be better prepared and be able to protect what matters before severe or active weather hits," said TD Insurance president and CEO James Russell.
"Consistently delivering innovative and easy to use digital insurance experiences combined with strong customer support at our customers' time of need is core to our customer-centric approach and strategy at TD Insurance," added TD Insurance vice president of digital transformation Pauline Chu.
Read more: Canadian insurance experts join coalition for climate resilience
TD Insurance is one of the insurance companies with a representative on the Climate Proof Canada coalition – a climate resilience group composed of insurance leaders, municipalities, Indigenous organizations, environmental non-government organizations (NGOs) and research organizations. Climate Proof Canada hopes to encourage the federal government to take action in preparing the nation for future disasters.