Why insurance brokerages need to go paperless | Insurance Business Canada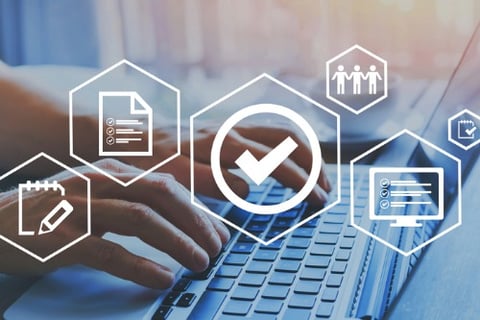 Going paperless is the next frontier for insurance brokerages, especially as the pandemic has caused mailrooms to shutter and people to work remotely when possible. In fact, this is the perfect moment to make the switch to a paperless existence, according to Applied Systems.
Find out more: Learn everything you need to know about Applied Systems here
In a new infographic, Applied has outlined the six benefits of going paperless for brokerages, from boosting brokers' bottom lines to improving customer experience.
The first benefit of paperless brokerages is that they have reduced the manual labour and processes that can keep employees away from more important tasks, such as selling insurance and servicing customers. In turn, noted Applied, "The greater efficiency that digital technology provides can have a significant impact on the bottom line."
Read more: How do digital brokerages perform compared to their peers?
A brokerage that's gone paperless can also provide better customer service by delivering self-service portals and mobile apps that replace the need for physical paperwork, and provide policyholders with important information on their policies, rates, billing, claims and more, whenever and wherever they want to access to this data.
Brokers can likewise strengthen their role as insurance advisors when they go paperless, since through the use of digital tools that replace paper-based processes, they can access a broader range of products for their clientele, ensuring that policyholders have the best coverage for their needs.
Moreover, in today's world, the importance of security and privacy cannot be underestimated, and going paperless can enable brokers, who are responsible for managing sensitive customer data, to allow their customers access to personal information held by these organizations in a secure manner, as set out by the Personal Information Protection and Electronic Documents Act (PIPEDA). Customers are already able to do so when it comes to their other financial services, like banking, and have grown to expect this level of service from their insurance providers as well.
Another benefit of going paperless is a result of the current pandemic. As many industries turn to remote working on a more permanent basis, having a paperless office will help make this transition smoother for brokerages who have yet to make the digital leap. Embracing technology, such as cloud-based management systems, mobile apps, and customer self-service portals, gives brokerages' staff the flexibility to do their jobs anywhere, while continuing to deliver the same (or even a better) level of service to insureds.
Finally, if these reasons haven't convinced brokerages yet, paperless offices have rid themselves of the maddening paperwork that is the bane of the insurance industry, according to Applied, and have as a result, been able to improve broker-insurer connectivity by digitally connecting and automating data exchange between policy and management systems.
Read more: How insurance brokers are enhancing their value proposition
For brokerages ready to take the next paperless step, Applied is well-positioned to help them in this journey, as it has empowered brokers to manage their consumer and insurer relationships without paper for years.
"If you are not a paperless brokerage today, you can join others already there. The time is now to offer clients the option of receiving digital documents, and deliver all customer service and connectivity in a paperless way," noted Applied.