How to prevent flood and water damage to your home | Insurance Business Canada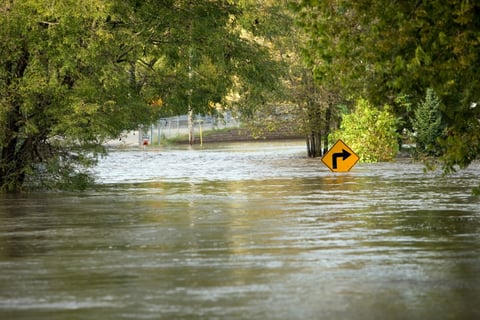 Government figures have shown that water-related events – including flooding – have surpassed forest fires as the top cause of property damage in Canada in the past several years, costing homeowners more than $1 billion in losses annually.
Despite the threat, a recent study has revealed that an overwhelming majority of Canadians living in high-risk regions are not only unprepared to deal with the impact of floods, but they are also unaware of the potential danger.
A 2020 survey conducted by Partners for Action, a climate resiliency network based at the University of Waterloo, and insurance firm The Co-operators, has found that out of the 2,500 respondents living in designated flood-prone areas, 94% did not know they were living in such an area and more than half, or 57%, did not have flood insurance. For the remaining 6% who were aware of the flood risk in their communities, only about 30% had taken action to protect their homes.
Read more: What is flood insurance?
The researchers did the same study in 2016 and they were concerned that even after four years had passed, the results remained largely unchanged.
"It shows us a concerning lack of awareness of Canadians of the risk for flooding," Shawna Peddle, program director of sustainability at The Co-operators, told The Weather Network. "We had hoped that there would have been a change in the awareness, but we're not surprised."
Peddle added the lack of awareness could also be a result of the respondents' lack of personal experience with a flood event.
"You may live in a high-risk zone, but nothing's ever actually happened to you personally," she said. "People might not just be aware. It may not be on their radar."
Read more: Many Canadian homes not prepared for the risks and costs of severe flooding – report
According to the study, the average cost of home insurance claims for flood damage is around $43,000, more than those for fire and theft combined. However, the researchers were concerned that this figure could go much higher, especially with the recent pandemic prompting more people to work and study at home. During this time, the amount of high-end electronic equipment and office furniture in residences has also increased, which could exacerbate the financial impact of water damage.
What are the different types of water damage and are they covered by insurance?
To help consumers understand water damage and flood risks, the impact of these events on home insurance, and how homeowners can avoid and minimize water-related damage, the Insurance Bureau of Canada (IBC) has released a series of informative brochures. In one of the brochures, the bureau explained the different categories of water damage and the level of coverage property owners can get. These are:
Sudden and accidental bursting of plumbing pipes and appliances: These incidents are mostly covered by home insurance policies, although the IBC still recommends property owners check with their insurers. The bureau notes, however, that damage resulting from escape of water due to freezing may not be covered in some policies.
Sewer backup: This type of water damage results from a blockage in the main sewage line causing wastewater to reverse direction and flow up into the home. A few insurers include this type of coverage in their standard comprehensive home insurance policy, but most offer it as an add-on.
Overland flooding: This category comprises damage caused by overflowing bodies of water – including lakes, rivers, and ponds – heavy rainfall, and melting snow. Coverage is not automatically included in home insurance policies but can be purchased as an add-on.
Floods caused by storm surges, tsunamis, or tidal waves: Insurance companies do not typically offer coverage for these, but financial comparison site Ratehub.ca says The Co-Operators currently provides protection against damages resulting from storm surges or coastal flooding – the only insurer doing so in Canada.
The IBC adds that "every situation is unique" and insurance providers often determine that type of water damage only after their adjusters have examined the property. These professionals focus on the entry points of the water. The association also noted, however, that water damage to a property can result from several other incidents beyond those which standard insurance covers.
Read more: What's the leading type of flooding in Canada?
Stefan Tirschler, product and underwriting manager for Square One Insurance Services, warned that contrary to what most consumers may think, flood is not a "catch-all term" for all forms of water damage when it comes to home insurance.
"People often use the term 'flood' to refer to water that is somewhere they don't want it to be – no matter where it came from," he told digital finance magazine MoneySense. "Usually, the [insurance] industry will use terms like 'overland flood' to refer to widespread flooding events that are specifically caused by rain, melting snow, or the overflow or breaking out of water from a dam, river, or lake. This is what we mean by 'flood' in the home insurance world, and it is generally not included by default [in a home insurance package]."
Read more: What Canadian homeowners need to know about flood insurance
How are extreme weather conditions impacting home insurance rates in Canada?
A recent federal government report has revealed that Canada's climate is warming at a rate twice the global average – a trend that researchers say is "effectively irreversible" and will continue in the future. This has already caused extreme weather conditions to increase in frequency and magnitude, putting the insurance industry in a precarious position as weather-related losses continue to mount. Because of this, many industry insiders are concerned that the situation could push premiums to unaffordable levels.
Among those feeling the brunt of climate change's financial impact are Canadian homeowners. In the past decade, average home insurance premiums have jumped more than three times the rate of inflation as personal property damage claims rose 42% across the country, according to a recent analysis by financial comparison site RATESDOTCA.
Alberta registered the largest increase in home insurance, with average rates rising 140% from $741 in 2011 to $1,779 in April 2021. Ontario premiums also experienced a significant ascent, climbing 64% from $782 to $1,284 during the period. The inflation rate over the past 10 years is less than 17% based on Bank of Canada figures.
"To those who argue the costs of taking stronger action against human-caused climate change are too expensive, consider this: the costs of inaction have been rising for Canadian homeowners every year," wrote Jameson Berkow, managing editor of RATESDOTCA, in his analysis.
Read more: How climate change is impacting home insurance rates in Canada
Berkow cited IBC data that showed total net claims from personal property damage nearly tripled in more than two decades from roughly $2.3 billion in 1996 to almost $7.2 billion in 2019.
"For a more apples-to-apples comparison, consider the most recent 10-year period from 2009, when personal property claims across Canada totalled $5.1 billion. That figure grew by more than $2 billion, or 44%, over the following decade, or approximately three times faster than inflation," he added.
"That can only be the result of an increasing number of homes across Canada suffering increasingly expensive damage and/or destruction every year. As the increasing effects of climate change mean property-damaging extreme weather events will become more common and more powerful, that would seem to be the most likely explanation for rapidly rising Canadian home insurance costs."
How can Canadian homeowners protect their properties from flooding and water damage?
In one of its informative brochures, the IBC has warned homeowners that the increase in severe weather events across the country has also resulted in the rise in properties suffering water damage.
"Sewer backup and water damage can be costly for homeowners, municipalities, and insurance companies," the association explained. "It can damage just about anything, triggering expensive repair bills."
The bureau added, however, that there are several steps Canadian homeowners can take to protect their properties. These are some of them:
Tips to minimize flood and water damage inside the home
Store valuable items in upper floors of the home, away from the basement.
Use water-resistant building materials below ground level.
Install a sump pump with back-up battery power.
Install backflow valves for drains, toilets, and other basement sewer connections.
Raise large appliances, furnaces, hot water heaters, and electrical panels up on wood or cement blocks. If unable to do so, consider anchoring these items and protecting them with a floodwall or shield.
Anchor fuel tanks to the floor. A fuel tank can tip over or float in a flood, causing fuel to spill or catch fire. Make sure vents and fill-line openings are above flood levels. For propane tanks, contact the propane company on best storage methods.
If flooding is imminent, shut off electricity to areas of the home that may be affected. Use sandbags or install flood shields or built-up barriers for basement windows and doors.
Tips to minimize flood and water damage outside the home
Ensure proper lot grading. If possible, build up the ground around the property to allow water to drain away from the basement walls.
Check sidewalks, patios, decks, and driveways to make sure they haven't settled over time and are causing water to drain toward the house.
Consider landscaping with native plants and vegetation that prevent soil erosion.
Clear snow away from the home's foundation. If the ground is sloped one inch per foot near the property, move snow three to five feet away to help minimize flood problems.
Keep water out of window wells.
Make sure downspouts extend at least six feet from your basement wall. Water should drain away from your home and neighbouring homes. It should drain toward the street, backyard, or back lane.
Use a rain barrel to catch water runoff.
IBC noted that any preventive measures that homeowners implement should always follow legal requirements set by their municipalities. The bureau also reminded property owners to review their policies every year with their insurance representative to ensure that they are still getting the coverage they need.