Why is basement flooding on the rise across Canada? | Insurance Business Canada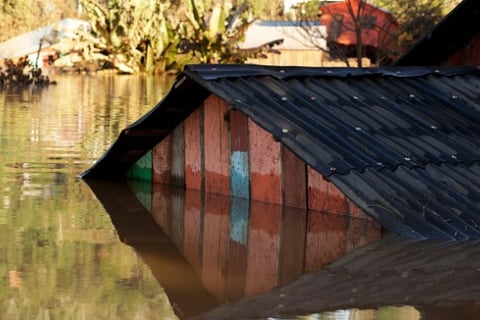 The average cost of a basement flood in Canada is a cool $43,000, according to 2018 data from the Insurance Bureau of Canada. It's a significant sum, which, unfortunately, more and more Canadians are having to dish out, either with the help of their insurers or from the depth of their own pockets.
Basement flooding in Canada is on the rise. This is down to a combination of factors - the most simple being, increased rainfall. Speaking at the Atlantic Insurance Brokers Convention in Moncton, NB, Daniel Filippi, program specialist at the Intact Centre on Climate Adaption, explained that climate change is slowly causing more precipitation, especially in areas like the Atlantic provinces, which is naturally leading to more flood events.
Flooding is also exacerbated by the loss of natural infrastructure and the ageing of municipal infrastructure. Filippi commented: "More and more people are moving into higher density cities and areas. This is causing a loss of natural infrastructure. Many local municipalities in Canada don't have a lot of money. How do they make their money? They let developers build new homes and they collect taxes from them. But what's happening is that they're taking away a lot of that natural infrastructure – the trees, the wetlands and the parks.
"Natural infrastructure allows for more infiltration when there's major rainfall. If you're developing or paving over that natural infrastructure, the water is going to go to the lowest common denominator, and that's going to be the homes at lowest level in that city or municipality. They're the ones that are going to be flooded first, and they're the ones that are going to be seeing these costly basement claims. Ageing infrastructure creates similar problems. Municipalities aren't updating infrastructure enough because they don't have the money, which again causes water infiltration issues."
Another key issue causing a rise in basement flooding is the lack of flood protection measures at a household level. This is where the Intact Centre on Climate Adaptation hopes its Home Flood Protection Program will start to make some waves. Launched in 2016, the residential flood risk reduction education program helps Canadians by providing free online flood protection resources, training programs, and a nationally applicable flood risk assessment tool.
"A lot of homeowners don't know how to implement simple flood risk management in their basements," said Filippi. "According to the IBC, the average cost for homeowners to repair their damaged basement is $43,000. But as more people are finishing their basements, that's where they're keeping the lifeblood of their homes – the water heater, the AC, all of this important stuff - which is going to be impacted first in the event of a flood. The basement, which historically used to be a storage area for people is now a new living area as people try to grow the square footage of their home."
According to the Home Flood Protection Program, there are three steps homeowners can take to reduce their risk of basement flooding and lower the cost of clean-up if flooding occurs. The first step revolves around maintenance and involves things homeowners can do themselves for no additional cost. It includes actions like: removing debris from storm drains, cleaning out eaves troughs, maintaining plumbing fixtures, testing sump pumps, and cleaning out backwater valves.
The second step involves completing simple home upgrades, often for less than $250. That might be installing window well covers, installing flood alarms, extending downspouts and sump discharge pipes at least two metres from the home foundation, and buying watertight containers to store valuable or hazardous materials.
Finally, the third step homeowners can take involves making more complex upgrades, which often requires work with a contractor and can cost over $250. A few suggestions include: installing a backup sump pump and battery, installing a backwater valve, correcting the grading to direct water away from a home's foundation, and installing window wells. For some of the items in this step, some municipalities offer flood protection subsidies, so homeowners and brokers are advised to check on that before making the investment.