Managing complex commercial risks with CNA's Oneworld+ | Insurance Business Canada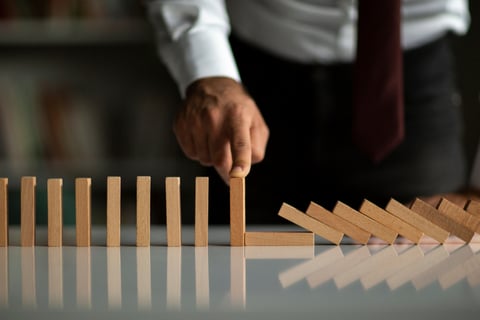 The commercial risk landscape is always changing – and so are businesses' risk management needs and concerns. From the COVID-19 pandemic to global trade and economic challenges, social and political tensions, and more technology risk than ever before – the list of exposures that Canadian businesses must face are growing more and more complex.
To help businesses operate in a moderate to high risk environment, CNA created Oneworld+®, a suite of bespoke package products tailored to specific market segments, including: manufacturing, construction, oil & gas, real estate, financial institutions, technology, healthcare and transportation.
CNA's Oneworld+® is designed to meet the commercial insurance needs of Canadian enterprises with modern and competitive policy wordings, and built-in coverage extensions tailored to industry-specific needs. It provides standard core coverages, such as property, commercial general liability, voluntary workers' compensation and employers liability, crime, directors & officers, business income, equipment breakdown, inland marine, and umbrella – plus additional distinctive coverages for unique business needs.
The package solution also caters to more complex risks that are missing solutions in the standard property and casualty (P&C) market, and it can cover insureds worldwide, with built-in difference in conditions (DIC) and difference in limits (DIL) coverage.
Sonia Santana, underwriting manager – Montreal, CNA, was one of the underwriters who worked on the creation of Oneworld+®. She reflected: "We were a group of about 25 underwriters across Canada. We got together, we looked at the market and consulted our broker partners to figure out the needs of our insureds in different sectors, and then we designed Oneworld+® to meet those unique needs."
Read next: Excess of loss coverage – why buy higher limits of insurance?
Oneworld+® is an excellent starting point for insureds, according to Santana, allowing insureds to build upon basic coverages. A major value-add of the package is that it is flexible enough to meet many contractual, budgetary or other more complex risk requirements that insureds may have.
Luisa Miele, underwriting manager – Winnipeg, CNA – another underwriter who influenced the creation of Oneworld+® - explained how she used the package to assist a middle-market manufacturing account with complex coverage requirements. She said: "We started by writing standard lines of business – property, commercial general liability, and so on - but then the insured required higher limits for certificates, so we were able to add umbrella coverage.
"Then the insured had some stock going to foreign locations, so we had to place some international policies for them, and provide them with stock coverage into China, Netherlands and various other foreign countries. We were also able to place an admitted US policy to meet all of their coverage needs in the US market. They were able to come to CNA whenever they had new coverage needs, and we were always able to assist them […] either through Oneworld+® or on a standalone basis."
CNA's flexibility and willingness to find solutions for complex risks has shone through during the COVID-19 pandemic, when many domestic companies pivoted their operations and shifted their core business objectives to tackle pandemic-related challenges. For example, many Canadian manufacturers started producing and/or distributing critical personal protective equipment (PPE) like hand sanitizer or face masks.
Read more: CNA's unique package solution for Canadian manufacturers
"A lot of our clients chose to start new operations and open up their books to new clients and products," said Miele. "We provided risk control as a value-added service through Oneworld+® to help our insureds develop these new operations. Before they shifted their operations, we discussed what their intentions were, we talked about their equipment and any new property or business income exposure, and we explained what actions they could take to prevent future losses from occurring. This was important during the early days of the COVID-19 pandemic because our insureds were finding innovative ways to survive, and we found ways to help them do that."
The COVID-19 pandemic also triggered greater awareness of international supply chains, both in terms of understanding the risks associated with cross-border trade, and in identifying new opportunities for growth and expansion. Throughout this period, CNA's Oneworld+® was able to meet insureds' needs with new coverage solutions, personalized risk control, and international claims services.
"We have a personalized relationship with our insureds; it's a one-on-one relationship between underwriting, risk control, claims, and the insured," said Santana. "Before the pandemic, our risk control was focused on business continuity […] and making insureds think about their business continuity plans and any exposures in their supply chains. During the pandemic, I'm sure our insureds found that extremely helpful because they'd already developed a plan with our risk control experts, and they could put that into play when COVID-19 hit.
"During the pandemic, we saw a lot of insureds accelerate their entry into the US market because the US economy opened up a lot quicker than Canada. Companies that would have taken around five years to get into the US market were trying to gain entry at a quicker pace because some of their opportunities had dried up in Canada. Because of our proximity to the US and our ability to write sales in the US, we were able to accommodate those clients accordingly."
A benefit of a distinct package solution like CNA's Oneworld+® is that insureds and brokers only have to deal with one insurance carrier. They can have one expert point of contact who will deal with any queries they may have. As Santana put it: "It's a true partnership; we are always looking to grow with our insureds. In all departments – underwriting, risk control, claims – our insureds and broker partners know that there's somebody that will answer their call quickly, and we will work through any questions or problems they may have."