Broker technology – the sticking points inhibiting digital delivery | Insurance Business Canada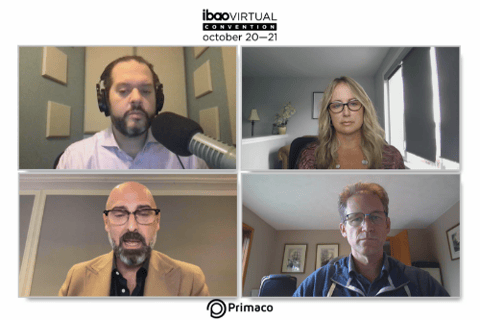 The customer is king. That's something that the broker, insurance carrier, and technology vendor representatives all agreed upon in a recent panel discussion on the theme of 'Broker Technology—Where Are We Now?' at the Insurance Brokers Association of Ontario (IBAO) 2021 Virtual Convention.
Asked to describe the perfect insurance document solution for consumers, IBAO president Joseph Carnevale (pictured, bottom left) said: "For consumers, the ideal would be: exactly how you want it, when you want it, as often as you want it, and however you want to access it, whether that's getting an actual human being coming to see you and delivering a document to you, or a combination of receiving it by email, receiving it … in a portal that can be accessed by a mobile app, or via text.
"Ultimately, however consumers want to receive [a document], they should have that option available to them. And it's not one-size-fits-all; it shouldn't be that way. If we're here about servicing people and providing them solutions to their insurance needs and their problems, then I think the way in which we deliver that has to be just as unique as the desires of [each individual] client. And I think we have the technology, and we have the desire to make that happen. It's just a matter of: how do we physically give those options to brokers to be able to support their clients' needs?"
Read next: IBAO CEO on new project
From the carrier perspective, Kathy Curran (pictured, top right), vice president, personal insurance, business platforms, Economical Insurance, said it's all about "putting the needs of the customer first". She said technology solutions need to be "customer-centric, uncomplicated, personalized, and intuitive" – and most importantly, they must create customer value rather than add any extra friction.
Curran also raised the point that customer expectations are driving innovation in the insurance industry, and they're based on the digital experiences that people are getting in other aspects of their lives, for example online banking, online retail, remote work (during the COVID-19 pandemic), and general digital communication via phone-based apps, social media and other channels.
The important piece, according to Steve Whitelaw (pictured, bottom right), vice president & general manager at Applied Systems Canada, is that the insurance broker owns the customer experience. He said: "Customer preferences are driving this. The broker needs to own that customer experience, own that journey, and have that journey branded. Regardless of the market that they place the business with, that experience is the same for other clients, [and] we know those multiple entry points can be confusing for customers, so having that consistency of experience across and aligned to the broker brand is critical to the ideal solution."
Read more: Top 10 insurtech companies in Canada
Despite the broker, insurance carrier, and vendor all agreeing on the fundamental importance of customer-centric technology solutions, there's still a significant amount of friction in the value-chain. Carnevale put this down to a lack of consistency.
"You have 100 different companies trying to do 100 different solutions for millions of clients," he said, adding that brokers are "driven crazy" trying to determine which solution is best for their clients. "We're focusing on the delivery of the experience for the client, and then we're trying to figure out all the different ways insurance companies are dealing with us, and then all the tech vendors have different solutions. [There's a] lack of consistency among all companies in not just the solution they're providing, but also the way we're having to deal with that, and the way they're getting rolled out. Ultimately, we just want consistency."
Earlier this year, the IBAO launched a Going Paperless Project in response to the industry's shift away from traditional business models. The association shared a survey for its member brokerages to deliver to their respective client bases – totalling approximately six million policyholders across Ontario – in order to gauge how consumers want to receive insurance information, how they want to interact with their brokers, and how the industry can reach a more consistent approach in going about that.
"The very nature of the relationship we have with our clients is one that is going to be unique," Carnevale added. "There is no one solution that fits all, from insurance company to tech vendor to broker, and there shouldn't be one from brokers to consumers. Each [consumer] is going to want to be interacted with in a very different way. I think that's the very nature of what we do as brokers, so we're not complaining about that, because that's our job. It's really about, how do we get the support from insurance companies and tech vendors to give that service to our clients in the best, most efficient way possible?"
As brokers are having to engage with different carriers that are doing things in different ways, insurance carriers are also having the same challenge dealing with brokers with different customer engagement models and strategies, Curran added.
"Not all brokers engage their customers in the same manner. Their customer engagement strategies differ both in when (those moments that matter) and how they interact with their customers," Curran said. "Some have made greater investments in technology and system capabilities. Today, we certainly see software and CRM-type platforms that are beginning to mature and integrate more deeply with broker management systems. And they do represent an opportunity for brokers to not only understand their customer better, but engage them in meaningful ways and during those moments that matter along that customer journey."
Read next: How many North American carriers are prioritizing data analytics?
Regarding delivery of insurance documents, Curran said Economical has heard to varying degrees from brokers that want to control the entire interaction with the customer, while other brokers want nothing to do with it, and many lie somewhere in between.
"What that results in is carriers having to develop, maintain, and enhance multiple documents solutions in order to support both the broker and the customer needs," she said. "But I think that's also an opportunity because we can't sustain that for long, but in an interim state, we can make progress. For example, we've taken a phased approach specifically within our organization to provide the choice back to the broker in how the customer receives documents rather than moving to an all or nothing, or more of a mandated model at this point."
The crux of the matter, according to Whitelaw, is that there remains variability in what brokers want to control and what carriers want to control – and "it's incumbent on the vendor to be able to accommodate that," he stressed.
"We need to empower the broker to operationalize the model that they want in partnership with their carrier. They've got that relationship with the carrier; they've got that contract with them," said Whitelaw. "As the vendor, we're trying to create the platform to allow the flexibility, not only from a customer perspective, but the broker perspective, and ultimately, the insurer perspective."