Continuing a legacy in Atlantic Canada | Insurance Business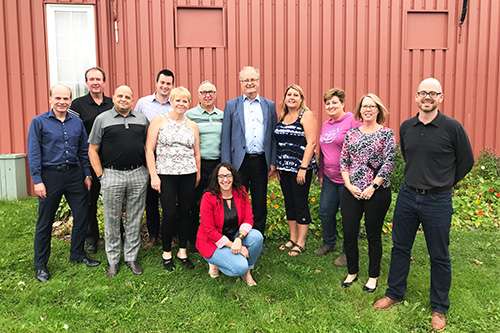 Aneill MacCaull and Wayne Ezekiel of AA Munro discuss the brokerage's recent 75-year anniversary, its approach to serving local communities and its ongoing leadership handover.
IBC: Congratulations on celebrating your 75th anniversary last July. Tell us a little bit about AA Munro's mission and focus.
Aneill MacCaull: We are primarily a P&C company, focusing on personal lines, but we do have a fairly significant commercial portfolio, as well as financial services and investment products through AAM Financial. We really pride ourselves on being a community-based brokerage. We try to promote community involvement and believe the community supports us and makes our business viable – it's not only important to us, but it's also our role to give back and support the community. We encourage individual brokers in each community to find things they're passionate about and want to support, and we support them in any way we can.
Wayne Ezekiel: That shows up in our marketing numbers: one-third of our business comes from referrals. [We] don't prioritize spending money on advertising – on the normal models. We usually do it through word of mouth.
IBC: How is AA Munro embracing the digital changes happening in the industry right now?
AM: We've taken a little bit of a different approach to digital than some direct writers or other brokerages. Where they provide a full online service – a product sold and serviced online – we've been using our digital space and tools as a lead generator and a way to provide additional servicing tools to our clients, while still trying to hold onto the original concept of having a broker in the office to call or come visit.
WE: We went through a lot of the different iterations online. What we find is we're a rural population here – we still operate in small communities; people still know who we are. They'll go online to find a broker, but they do not do business online. Once we get the referral online, we call the client right back. We don't do automated online quotes without the input of a broker – we call the client and do the business, and then turn it over to a local office after the policy is sold.
IBC: What are some challenges specific to being in Nova Scotia and Prince Edward Island?
AM: It is a reality that in Atlantic Canada, we do see consumers behave in a different way than the rest of the country. It's more community-based here; people value interactions and want to do business with people they know and feel comfortable with. In this industry there's this huge shift to doing it all online, and it's not to say the Atlantic community doesn't want to do it online, but we do feel it's different here. We have the challenge of both embracing the online tools and digital space, but also holding onto those community roots. That's the client base. That's the core of our business. It's not one or another; it's "How do we grow as a community-based organization while adding these digital tools?"
In terms of obstacles, one that we have is our physical, geographical layout. One of the things about being a community-based brokerage is we have to physically be in the communities. That's something we value, and that's the core of our business, but it presents the logistical challenges of moving around to all the locations.
IBC: What's something you're particularly proud of from the past year?
WE: Last July we exceeded our goal of $75 million in premium (we're over $80 million now) [and] experienced over 4% growth last year.
AM: Another thing we are very proud of is how our co-workers have dealt with Eastern Canada's marketplace, which has been extremely challenging on the consumer, with substantial price hikes in personal lines and a hardening of the commercial lines. Our brokers are hearing about it every day and [still] finding solutions, providing professional guidance and showing up every day with a smile on their face.