Diversifying lines and locations | Insurance Business Canada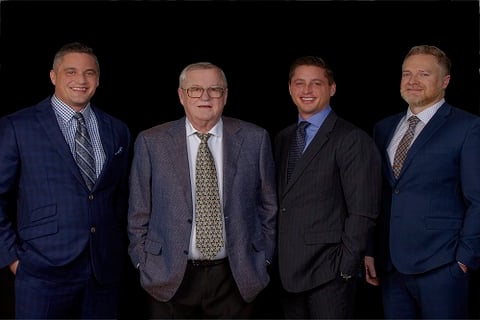 Chad Leibel, Travis Murray and Rob Barros of Leibel Insurance Group discuss the brokerage's recent expansion into Ontario and its holistic approach to serving clients and employees.
IBC: What have the last few years looked like at Leibel Insurance Group?
Chad Leibel: We opened an Ontario office in June 2019 and have experienced a lot of growth in the last couple years, especially commercially with the transportation program we've launched. We're writing a lot of business in that right now. It's a great opportunity for brokers who want to dig in and grow their business. With our group programs, we work with one of the largest unions in Canada – Alberta Union of Provincial Employees (AUPE) – and the Canadian Union of Public Employees (CUPE) chapters in Alberta and Ontario.
By spending a considerable amount of time zeroing in on our target client markets, we've been able to double our leads year-over-year. Most importantly, we're seeing continuous improvements in the quality of those leads.
IBC: What are you most proud of over the last 12 months?
CL: We hit a milestone of 1,000 five-star Google reviews as a company. We've also received numerous awards, including back-to- back nominations for Brokerage of the Year (10 or More Staff) [at the Insurance Business Canada Awards], recognition from the website ThreeBestRated.ca for both Edmonton and Calgary, and a CEO of the Year nomination.
But the achievement that we're the most proud of is [being one of IBC's] Top Insurance Workplaces in 2019. The reason that this is so special for us is that we wanted to hire the best in the industry, and I'm proud of the current staff we have: how engaged they are, how they're daily asking to help people out, the fact that we've been able to establish a good work-life balance for them – 40% work from home. For some people, it's not just about money. We knew we had a good idea, a great environment and culture, but this award just solidified that. It's definitely something we're proud of – how we've worked together to get this achievement.
We also grew by 50% in commercial in the last year and 20% in personal lines, which we're also proud of. But at the end of the day, it's because of the staff and environment we have. All of the best intentions are for naught if we don't have the right team in place. The culture we have in place is something we're really proud of.
IBC: Did the Alberta wildfires last year affect your business?
CL: The biggest thing was that they highlighted in an obvious way the reasons that premiums are continuously going up. It was so public; it gave a face to those rates. A lot of times it's not as clear – there will be a hailstorm that causes tens of millions of dollars in costs, but the news doesn't cover it like they did the fire. It helped people realize that this happened pretty darn close to home.
IBC: How do you differentiate yourself from the competition?
CL: Transportation is a big one. Anticipating the industry's needs, we designed and developed the exclusive Big Rig Insurance program. We were more of a generalist before that in the commercial lines side of the business, and we wanted to find more of a niche for some of our producers.
Another key to our success and growth are the in-house underwriters who review quality before it goes out the door, which not only improves our loss ratios and strong relationships with our insurance company partners, but also provides for a much greater client experience. And we have an in-house claims advocate who gets involved with large carriers – that's a big value-add for large carriers.
IBC: What's something you're keeping an eye on in the upcoming year?
CL: Rate increases have already started happening across the board on the personal side. There are going to be a lot of pricing conversations coming up. Technology changes, too – there are a number of companies that aren't keeping up with the ever-changing technology required by the industry, and for those who aren't keeping up, it's going to be a struggle.
There's going to be a need for data sharing and connectivity to improve our sales, customer experience, and retention, plus APIs [application program interfaces] and new platforms that incorporate everything together to give brokers a full spectrum of the customer relationship, from lead to obtained. That's one area that's gotten quite expensive on the platforms – that'll be a struggle for some brokers who don't have the resources.