From mowing lawns to insurance | Insurance Business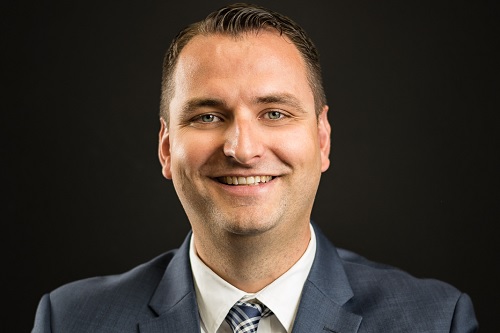 Children often aspire to be many things, such as firefighters, astronauts, doctors, and so on. But for young Ryan Bennett, he was not content to just dream – he knew what he was capable of, and set out to start his own lawn care business well before his teens.
After graduating college, Ryan was certain he had a knack for sales but was unsure of which industry would make good use of his talents. After learning about the insurance space, he quit his initial job and immediately applied for an insurance license. He then called every local insurance broker in the phonebook, hoping for his talents to be recognized.
Now serving as the commercial sales and operations manager of St. Clair, Ryan has cultivated an impressive career that spans a decade and he has also won the Insurance Business Young Guns award for 2015 and 2016. The following interview takes an in-depth look at his thoughts about the industry and what he has picked up throughout his career.
Your profile on St. Clair Insurance Brokers' website says that your entrepreneurial streak began when you were still a child – you had opened your own lawn care company and sold your lawn mowing services around your neighborhood. How influential has that experience been to you? Would you say that you are still an entrepreneur at heart? If so, what business ideas (even those outside of insurance) do you have in mind?
The funny part about that is, no-one ever suggested to me to start the lawn care company. I wanted various items as most kids do, but didn't have an income. Naturally, I thought the way to afford these items was to start my own company. Looking back, it is still engrained in my mind the looks on people's faces of me knocking door to door offering quotes on lawn services. It is still my mindset today, if you want something you need to put in the work to get it. I would say I'm very much still an entrepreneur at heart. That reflects in our business at St. Clair, where the management team is given the autonomy to shape the business and run it like our own.
You were once an assistant manager at Enterprise Rent-A-Car. What sort of lessons have you learned from that previous job experience?
Enterprise was basically two more years of school in customer service. We were taught that the client is why we were employed and how they were treated would dictate our success. That 100% rings true today. Much of the time, the insurance industry focuses on transactions and numbers. We, as brokers, are the front line to our clients. Our job is to protect their livelihood and most important assets. We need to be aware of how important this is the minute we start our day and until the minute we finish.
What are your thoughts about the current commercial insurance space?
We constantly hear in the background that one day the broker is going to be obsolete. I understand the digital era very well. I understand that business is evolving and making a streamlined product is beneficial to everyone. The item that is always overlooked is the client/broker relationship, as well as the complexity of the products we sell. Even the small business products that a client can purchase online are very limited and missing many components. The insured needs to be informed correctly of their coverage requirements and options. When a risk is outside the "small business box", a digital solution is nowhere close to what a seasoned broker can offer. I actually think this will make the demand for the commercial broker even stronger. A client can't rely on an algorithm to visit their place of business and educate the client about exposures they didn't even know they had. How does the client know if they need D&O, E&O or are failing their co-insurance requirements, amongst hundreds of other questions? From the products that I've seen, they expect the client to already know what coverage they need, when this is a job of a broker and can be had for the same premium.
As a developer of a commercial producer training program, what sort of skills would you say insurers should teach young talent?
It really depends on what position you are in. From an underwriter perspective, I would say show your brokers the level of service you'd expect to get from your own insurance provider. We are only as good as our insurers. Insurers need their representatives to form relationships with brokers they can trust. Once these relationships are formed, the ease of business is accelerated and results follow.
You have won the Young Guns award twice in a row – a feat few recipients can claim. What advice would you give to young professionals who are new to the insurance industry?
From my own experience, have a plan to manage your career from day one and position yourself for opportunities as they arise. Do the brunt work the others won't do, say 'yes' when asked to take on additional tasks. Show your employer that you are driven and willing to put in the work. From a management prospective, these employees are invaluable and will make the future leaders of our industry.
Related stories:
Gore Mutual to acquire Howard Noble Insurance Limited
Opening the door to new Young Guns