Staying sharp | Insurance Business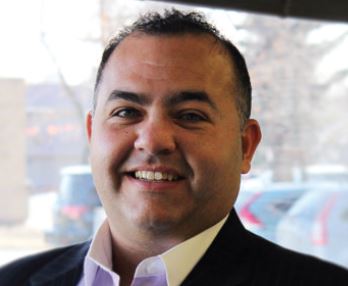 When Sherif Gemayel's family immigrated to Calgary from Egypt in the 1980s – so the story goes – his father went out to buy insurance and was so pleased with the experience that he declared, "I would love for my son to own an insurance brokerage one day."
It turned out to be a self-fulfilling prophecy.
Today, Gemayel helms Sharp Insurance, one of Canada's fastest-growing, most tech-savvy iinsurance brokerages, which is devouring market share that was supposedly getting gobbled up by the big direct insurers and reinventing the sad old story that the personal lines business is dead.
A rough start
A self-described "career sales guy," Gemayel started his first business when he was just 22 years old, setting up a chain of retail airport shops that rented portable DVD players to budget travellers. It was a great idea, but the business ultimately failed, and he lost half a million dollars of his parents' money. Among the many lessons this school of hard knocks dished out, "humility was the biggest one," Gemayel says. "You think you are flying high, and in an instant, things can turn."
Going bankrupt was a turning point in Gemayel's fledgling career. "Having to start your life from scratch is never easy," he says. But soon he was back in business, this time selling natural gas compressors to big producers all over Alberta.
"It was the most boring job I ever had," he says. "The money was great, and it was definitely a cushy job, schmoozing with clients over breakfast, lunch and dinner – and coffees in between – but there was nothing exciting or challenging about it."
One day, Gemayel was hanging out with a previous business partner who had become an insurance broker. "I asked him, 'What do you guys do to drive business?' And he told me, 'We kind of sit around and wait for the phone to ring.'"
Gemayel's inner salesman was appalled. After he scooped his jaw up off the floor, he challenged his friend to conduct a little experiment. "I told him to pick any company in the phone book, and I'd get him an appointment," Gemayel says.
His friend accepted the challenge, and Gemayel landed the appointment. It turned into the largest deal his friend had ever done. It was then that Gemayel realized the insurance industry was fertile ground for someone with his special brand of confidence, creativity and drive. Four months later, he and his friend launched Sharp Insurance with $5,000 and two policies in their own names.
"Both of us were pretty crazy, actually," Gemayel says now.
On top of the world
What began as a two-person start-up in 2009 is now the fastest-growing brokerage in Canada. Sharp's 62 employees write $1 to $1.5 million in new personal lines business every month. Two spin-off companies are also growing like crazy, and Sharp's minority interest partner, Rogers Insurance, is focused on diversifying the company's portfolio into commercial lines.
Gemayel attributes much of his success to his willingness to embrace technology. He hired a web designer and pushed a lot of business through Sharp's website from the get-go, while concurrently developing Sharp Mobile, the first consumer-friendly mobile insurance app in Canada.
A year ago, Gemayel launched a whole new side business, licensing this app to other insurance brokers. He also recently acquired a digital marketing firm to help fellow brokers sell their services.
"I enthusiastically believe that technology has evolved to a point where the cards are no longer in favour of the online giants," Gemayel says. "The ball is not in the direct writer's court. We have had a lot of success in the online world."
Needless to say, Gemayel is a big believer in baptism by fire. His advantage over other brokerages, he says, is that he didn't know any better when he started out.
"If someone had told me at the time that I launched Sharp that the brokerage market was declining and most brokers were exiting out of personal lines, it might have been a different outcome," he says. "I didn't have that information. I just went with what I knew. I tell my staff all the time, we are not dictated by market conditions. We create our own destiny."