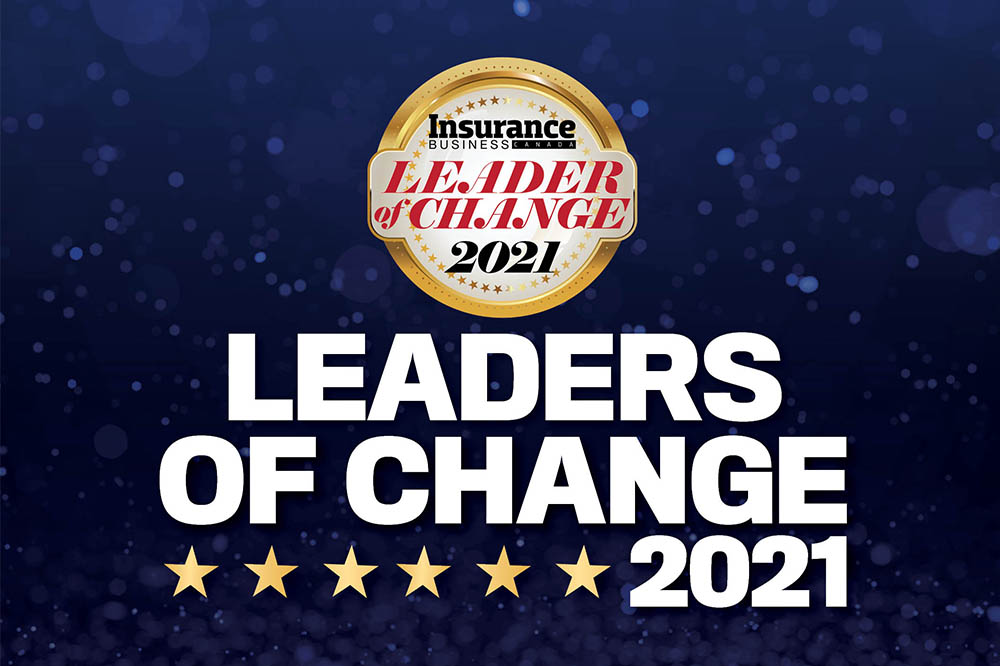 Jump to winners | Jump to methodology | View PDF
With each year that passes, Canada gets more diverse. While the majority of Canadians are still of European ancestry, the proportions of Chinese, East Indian and Black Canadians continue to grow, according to the most recent census. And with the government setting an immigration target of welcoming more than than 400,000 new permanent residents a year over the next three years – the highest levels in modern history – the Great White North is quickly becoming more colorful.
Canada is clearly getting the diversity – but what about the inclusion? And how well is the insurance industry faring on both counts? IBC's inaugural Leaders of Change report spotlights the insurance professionals making a meaningful difference through D&I initiatives within the industry.
One of this year's Leaders of Change is Marsh's Shirley Chisolm. Born and raised in Jamaica, Chisholm immigrated to Canada in 1988 and eventually sought work as a broker. She was hired as a Dicta typist – a role at which she greatly excelled – with the promise of being made a broker when an entry-level role became available. Instead, when such a job opened up, it was given to a family friend of the owner, a woman who couldn't pass the broker exam.
"I recognized that I needed to take ownership of my career," Chisholm says. She studied on her own and passed the broker exam with flying colours, countering the nepotism and winning the broker role. Today, Chisholm is a senior vice-president in the Financial Institutions and Professional Services (FIPS) division of Marsh Canada, where she's also involved in D&I work. She's on the company's D&I Council, is a co-founder and president of the Ebony Women International Insurance Network and is a member of the advisory board of the Canadian Association of Urban Financial Professionals.
Chisholm acknowledges that things have changed a lot over the past 30 years – especially over the past year amid the tumultuous Black Lives Matter protests. Across the corporate landscape, she says, there's a rising awareness of blind spots and unconscious bias as organizations recognize the impact of diversity on their bottom line. And she hopes to see real change in her lifetime.
"I envision more equitable and transparent workplaces where diversity is no longer an illusion of inclusion – not just counting heads, but rather making heads count," Chisholm says.
A lasting impact
Fellow Leader of Change Benaaz Irani knows what it feels like to work in an environment where people from different backgrounds come together and find their voice. As a Zoroastrian Persian born and raised in India, Irani experienced the strengths and challenges of a multicultural environment early in life. She leveraged this experience when she made Canada her home 22 years ago.
Over the past two decades, Irani has risen to the post of vice-president of the Desjardins Agent Network, overseeing a $2 billion operation across Alberta, New Brunswick and Ontario. She's also a D&I ambassador at Desjardins, working to break down barriers and help empower people to attain their full potential.
Like Chisholm, Irani has been inspired by today's powerful social justice movements but is weary of their stop-and-start nature, as they tend to be propelled by tragic events.
"These issues have existed for decades and centuries," she says. "Diversity and inclusivity help support the development of a more fair and equal society. We owe it to future generations to remain committed to positive change."
Irani refers to Gandhi's words on being the change you want to see in the world. To her, it isn't about getting caught up in trends or paying lip service to various causes. It's about believing that every individual has a role to play in bringing about meaningful change and that staying the course is crucial to achieving success.
"A lot of times when people talk about diversity and inclusion, they're only talking about gender or race," she says. "But diversity is more than simply providing a barrier-free work environment – it's about being open to people who not only don't look like you, but don't think like you either."
D&I initiatives that work
IBC's 2021 Leaders of Change come from a wide range of geographic and ethnic backgrounds and insurance concentrations. Some have only been in the insurance industry for a few years; others have been at it for three decades or more. All have been doing their best to help create a more diverse, equitable and inclusive environment in the Canadian insurance industry.
In 2020, one event more than any other helped galvanize the global push for diversity and inclusion. On May 25, George Floyd, a 46-year-old Black man, was killed in Minneapolis in an act of police brutality that was captured on cell phone video. Uploaded to the internet, the footage quickly went viral, prompting protests and outrage around the world and helping fuel movements such as Black Lives Matter and other social justice organizations. The ramifications are still being felt today, both in Canada and around the world.
Many of this year's Leaders of Change were lauded for hosting conversations related to the Black Lives Matter movement or contributing to Black professional networks in Canada. Aon's Dorothy Aarons, for example, held "Black in Canada" and "Collaboration of Black and Indigenous People" panel discussions for fellow Aon employees. Many have joined the BlackNorth Initiative, which aims to end systemic racism toward Black people in Canada by providing them with more business opportunities.
Another Leader of Change, Chubb's May Ng, was celebrated for sharing the challenges of Asian Canadians through her work with the company's Mosaic Asian Alliance of North America and Mosaic Business Roundtable. Other Leaders of Change were involved with Arabic, Hispanic and Caribbean interest organizations.
Many Leaders of Change also advocate for or teach unconscious bias training – programs to help people discover their implicit biases and automatic patterns of thinking that frequently contribute to discriminatory thoughts and actions. Sun Life's Rowena Chan, for example, participates in a peer learning program that "helps participants move from unconscious bias to conscious action by embedding tiny but powerful acts of inclusion into daily behaviours and routines – accelerating the pace at which inclusion becomes a habit."
Of this year's Leaders of Change, 80% are women, and they've also been furthering the cause of gender diversity by showcasing other women's contributions to the insurance industry, acting as role models for younger women, and participating in and organizing events geared toward women in insurance. All the while, they've supported other women of colour who are dealing with unconscious biases related not only to the colour of their skin, but also their collection of chromosomes.
Most of this year's Leaders of Change also give back by mentoring, whether through their organizations, universities, or minority or multicultural resource groups. Most also take the time to help their local communities through organizations both inside and outside of work.
Read on to discover the 25 men and women who made it onto IBC's first-ever Leaders of Change list.
Insurance Business Canada's Leaders of Change report celebrates individuals working to build a more diverse and equitable industry through action and driving positive change in Canada's insurance industry. With the support of the Insurance Brokers Association of Canada, Ebony Women International Insurance Network and Toronto Insurance Women's Association, IBC's five-week outreach across various media outlets resulted in a large number of nominations.
To help whittle down the nominations, IBC enlisted an independent judging panel of industry leaders, each highly committed to and active in diversity & inclusion in Canada's insurance landscape. This year's panelists included:
Alice Keung, Economical Insurance
Asima Zahid, Lloyd's Canada
Karim Chandani, HUB International
Lisa Wolfe, QBE
Megan Hodge, Cultiver
Sukhdeep Kang, Armour Insurance Brokers
Vinita Jajware-Beatty, Toronto Insurance Women's Association

The final Leaders of Change list was based on all qualifying candidates' industry contributions and their work in driving programs and initiatives to further expand diversity and inclusion in the industry.

Nicole Burrell


Broker relations director, Unica Insurance

Rowena Chan


President, Sun Life Financial Distributors (Canada) and senior vice-president, distribution, Sun Life

Natasha Mascarenhas


Vice-President Talent and Learning, Aviva Canada

Anne-Marie Vanier


Independent board member and consulting actuary

Benaaz Irani


Vice-president, Desjardins Agent Network, Desjardins

Calvin Lim


CEO, UW Insure Brokers

Danielle Tkachyk


President/owner, Savante Insurance

Dorothy Aarons


Vice-president and account executive, Aon

Elaine Lajeunesse


Chief risk officer, TD Insurance

Erika Schurr


Chief actuary, Travelers Canada

Katarina Lodongi


Supervisor – commercial account executive, Affinity Insurance Services

Katrina Lee-Kwen


SVP, non-par insurance solutions and individual customer digital strategy, Canada Life

Konatsu Itoh


Data and analytics specialist, Aon

Lisa Wolfe


Underwriting manager, property, QBE

May Ng


Global client executive, Chubb

Nancy Dorvil


Head of property, Canada, Allianz Global Corporate & Specialty

Ray Chaaya


Employee experience and culture lead, Zurich Canada

Rina Arce


Director, commercial insurance, J.T. Insurance Services (Canada)

Rohit Verma


CEO, Crawford & Company

Sabrina Carbe


Operations and technology country leader, Marsh

Sherif Gemayel


President, Sharp Insurance

Shirley Chisholm


Senior vice-president, Marsh

Soloman Lam


Assistant vice-president, financial lines claims, AIG Canada

Vinita Jajware-Beatty


President, Toronto Insurance Women's Association

Yvonne Cheng


Vice-president, pricing – commercial insurance, RSA Canada