7. ORACLE RMS INSURANCE RISK MANAGEMENT SERVICES
Headquarters:
Concord, ON
Year founded:
2011
Number of offices:
1
Number of employees:
75
Leadership:
John Ferraro, co-founder and CEO; Michael Di Nardo, co-founder and president
Websites:
oraclerms.com
What opportunities did Oracle capitalize on for growth in the last year?
John Ferraro
, CEO: Oracle has taken advantage of many opportunities to grow this past year. We have invested in new technologies, divisions and personnel. As visionaries in the insurtech space, we have been identified as a 2017 CSIO Technology Leader by leveraging a new CRM system to better manage and integrate our day-to-day operations. With the introduction of Oracle's in-house innovation space, and alongside our group home and auto division, we believe this adds more value and a competitive advantage to our offerings and allows for synergies across divisions.
What has been your top challenge?
JF
: For Oracle, finding the time to investigate and fully understand new technology was a challenge. We overcame this obstacle by applying the method of functional gap analysis [to assess] the difference in performance between information systems and technology to determine whether our business requirements were being met.
The first step was to establish specific target objectives by looking at our mission statement, strategic goals and improvement aims. By analyzing and comparing Oracle's current state by collecting information through a variety of data sources, we conducted a comprehensive plan that outlines specific steps to fill the gap between the current state and future state.
What do you think is the biggest challenge for brokers industry-wide today, and how are you working to overcome it?
JF
: The modern insurance industry evolved where business was done in person, contracts and insurance policies were written on paper, and pricing was more subjective than objective. Respondents felt the industry had failed to show leadership in digital technology and innovation – remarkable for such a massive global industry.
Oracle's vision is clear: Use technology to create a better client-driven experience. Oracle found that by developing buy online, e-docs, e-signatures, mobile-optimized websites, cybersecurity, email security, search engine optimization, e-approvals, social media presence and pricing algorithms, we have simultaneously been able to drive down processing times and increase client satisfaction. Oracle understands that while we are far from perfect, our adoption rate of new technology with the organization's culture allows us to get better and stronger.
How else are you tackling the
technology revolution?
JF
: As the need for technological integration is on the rise, Oracle's aim was to stay on top of this trend. We engaged in change management initiatives to introduce our new CRM and broker management systems, assist our team to adapt to these new technologies, and encourage creativity and the flow of innovation ideas. We learned that with the right balance of human expertise and technological systems, Oracle will be able to accomplish our company-wide goals.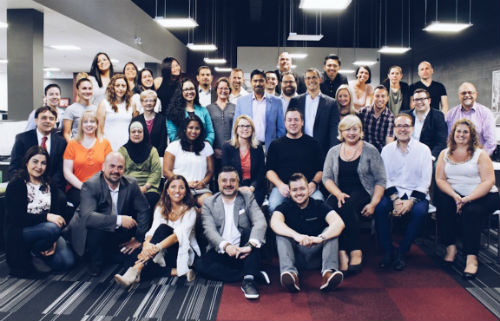 Company

Information
Oracle RMS Insurance Risk Management Services

100 Drumlin Circle, Suite 101, Concord, Ontario Canada, L4K 3E5