Introducing Ethos – the new "exclusive club" of insurance brokers | Insurance Business UK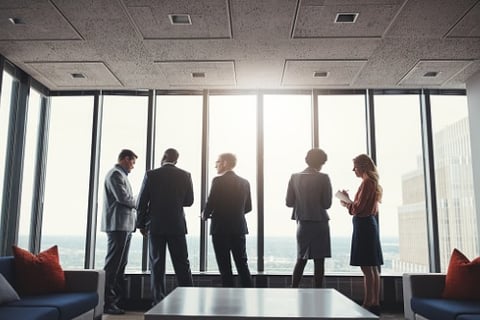 Bravo Group has revealed a significant rebrand – reshaping Broker Network Partners into Ethos Broking.
The group, which comprises three smaller entities, took the step to freshen up the organisation, group CEO Des O'Connor told Insurance Business, and in the process establish a core set of values – an 'Ethos' for all.
"We've got three segments to Bravo Group - Broker Network, Compass, and Broker Network Partners, which is now rebranding as Ethos," he said. "We provide all these services to our members, we're a service provider."
The problem they were attempting to address, according to O'Connor, was that because of the demographics of brokers in the UK, there were real issues with owners of brokerages retiring after an average of just 13 years.
"When it came to a capital event or sale, we found that [brokers] didn't have, in many cases, a family member who wanted to take it on, there was no heir to the throne," he explained. "So, when they were selling the business, we didn't have either the capital or the resource or the IP to buy these brokers."
From there, Bravo Group made changes to Broker Network, and set about strategically looking at what they should change.
"We reinvigorated the management team at Broker Network in 2016 - I joined, Ian Clark joined, and we set out on this partner strategy," O'Connor said. "Now, through the last two and a half to three years, we've acquired eight regional partners in the UK, and those eight partners have made 12 acquisitions themselves.
"That's 20 acquisitions and we're probably going to acquire another three regional partners this year, and those regional partners will make another 10 acquisitions."
O'Connor is extremely proud of the track record the rebranded Ethos has already established, with some impressive statistics already in the short amount of time they have been rolling out the new strategy.
"We have started from scratch effectively in terms of an advisory broking business, and we will have made 33 acquisitions at the end of this year with a really collaborative family of brokers that work under the family of Ethos," O'Connor said. "That takes our GWP from £200 million to £300 million. So, we've emerged out of nowhere really in terms of a broking business."
Richard Tuplin, chief development officer at Ethos Broking, said that he decided to come to the company because he believes so strongly in the model, and in what O'Connor is doing.
"This model represents great value for both parties," Tuplin said. "So, there are times where coming together as one unit, as Ethos Broking, has great results, and there are times where those community brands deliver in those communities.
"You will see these other national brokers, their offices are in the communities. What we're saying is the brokers are actually operating in the communities not just having an office there. Those people, the support and the supply chain, it's all in the communities."
O'Connor agrees with Tuplin's point, saying that for Ethos it is not about acquiring brokers, it is about bringing them into the group and partnering with them.
"When we partner with a strong regional broker, we're not a consolidator per say, we're not a national broker, we're an investor in brokers," he explained.
"We provide support to brokers. We've got 30 years of history of providing services and support to independent brokers in the UK, so arguably there's no-one more informed in how to support independent brokers than us."
Tuplin pointed out that this is why cultural fit and the Ethos values are so important, because they want each broker to retain their individual connections to the community but also fit well within the 'Ethos' of the group.
"It's actually meaningful to us," he said. "Ethos embodies a set of core values and beliefs and attitudes which define the culture, and that's what brings these brokers together.
"That's the weaving between us all that brings us together, it is in their brands. We take that asset and want to invest in that asset which is their people, and its brand."
The next step, according to O'Connor, is very exciting for the group and something that everyone associated with Ethos will see a benefit from.
"I think in terms of how Ethos works with the networks and our London broker and our MGA, I think arguably we've got the most exciting distribution business in the UK," he said. "The next part of our evolution, which is the rebrand of Broker Network Partners to Ethos, is a really exciting next step and I think provides a lot of clarity to our business and our strategy."