Cali's wildfires 'substantial but not overwhelming' | Insurance Business America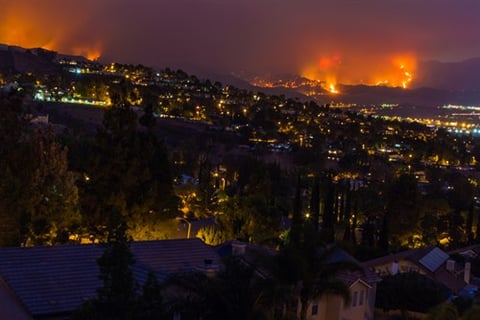 Wildfires continue to rage in California, adding to one of the costliest wildfire seasons in US history. There have been reports of wildfire damages exceeding over $12 billion so far – and there are still
several fires plaguing southern counties
like Ventura and Santa Barbara.
By far the greatest impact has been on the
residency population of California
. Approximately 200,000 people have been forced to flee their homes due to the fires and many will not find the same structure upon their return.
But what about California's world-famous wine industry?
Insurance Business
spoke to Ron Abram, president and CEO of
Abram Interstate Insurance Services
, based in Rocklin, CA, to find out how hard Californian wineries have been hit and what long-lasting impacts this catastrophic fire season could have.
"There have been quite a few winery losses in the area, but at present we have no actual figure to say X amount of dollars has been lost in wineries specifically because the loss data hasn't been accumulated in that way - it's based more on property losses," Abram explained. "Wineries are finding that their losses have been substantial but not overwhelming. Many wineries have multiple locations, of which they might have lost one but not their entire policy."
The wildfires struck at the peak of the grape crush and bottling season. Many grapes were already off the vine or in the process of being picked and then bottled. This timing was a "stroke of fortune" for the Californian wine industry because it meant the fires did not "
decimate the entire industry
."
Other wineries were lucky through their use of wine caves, which were "virtually unaffected by the wildfires" across the state, according to Abram. By their nature, wine caves exist under ground level and therefore were not exposed to fire or smoke damage. Wineries who stored product in more vulnerable locations (first and second floor, etc.) might have faced more significant losses.
In general, the greatest wildfire losses to Californian wineries were in property, said Abram. Some sustained damages to tasting rooms, on-site shops and even to high-value homes situated on winery grounds. At present, it's difficult to segregate home property losses from winery losses, he added.
"In some areas there have been significant losses in general (not just specific to wineries), which could lead to eventual rate hikes for property lines," Abram told Insurance Business. "We don't know
what the future looks like
as rate increases have to be approved, but those writing non-admitted insurance are already pushing rates up significantly – somewhere in the range of 10-20%.
"Business income interruption is probably the biggest exposure yet to be quantified. In some cases, it's going to take wineries a while to rebuild. If you look at property losses alone (excluding the vines), it's going to take a while to rebuild everything and material costs are climbing as a result of all the catastrophes we've seen throughout the country. The biggest question is: how long is it going to take these businesses to get back up and running?"
Related stories:
California wildfires kill at least 54 horses
California official: Wildfire victims have two years to collect insurance money