Engagement ring insurance – is it worth having? | Insurance Business America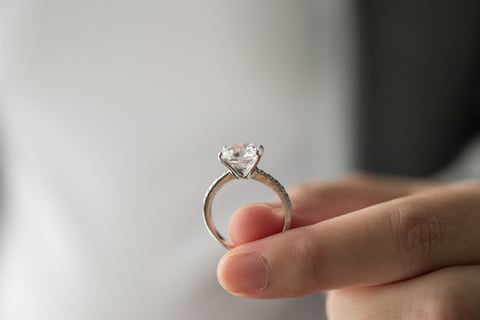 The pandemic did little to stop couples from splurging on engagement rings, a recent survey conducted by wedding planning website The Knot has found.
The company polled more than 5,000 Americans aged 18 to 54 who got engaged between January and November 2021 and found that the average engagement ring spend during the year was $6,000 – a slight jump from $5,900 in 2019, before the COVID-19 disrupted most people's wedding plans.
Respondents who purchased natural white diamond engagement rings said it cost them an average of $6,800 while those who bought rings set with other gemstones – whether lab-grown or colored – paid about $2,500.
A person's age also had an effect on buying behavior with millennials, or those aged 25 to 34, spending around $6,700 while Gen Zers, or those between 18 to 24, allocating an average of $4,100 for the ring purchase.
Additionally, about a third, or 30%, of respondents admitted to spending more than planned, up 9% from 2019 numbers. The study indicates how much money people are willing to spend on this piece of jewelry, highlighting the need for proper protection.
Read more: Is jewelry insurance worth having?
How does engagement ring insurance work?
Bridal magazine Brides defines engagement ring insurance as a "contractual means of risk management to protect [owners] from financial repercussions in the event of physical loss, theft, or damage." The publication adds that coverage can be extended to other jewelry items, and can come in the form of repair, replacement, or cost reimbursement.
There are two ways to access this kind of protection. First, it can be included in a standard homeowners' or renters' policy. Coverage, however, "often offers just a fraction of an item's worth, " experts say. To cover the full value of expensive jewelry, policyholders may need to purchase a rider or extension. The simplest step, according to the financial information website Investopedia, would be to add a rider itemizing each jewelry piece to the current insurance policy. But this option comes with drawbacks.
"A jewelry claim filed against your homeowners' policy could affect your entire policy," Tyler Krowiorz, director of enterprise communications at specialist insurer Jewelers Mutual, told Brides magazine. "So, if your engagement ring was ever stolen or lost, your premium could go up or your eligibility for your entire homeowners' policy could be affected at renewal."
Read more: New collectors of high-priced jewelry targeted by insurance products
Krowiorz added that the best choice for jewelry owners would still be purchasing standalone insurance from specialist providers, which can provide tailored coverage.
"Most homeowners' insurance policies do cover jewelry to some extent, but, in many cases, coverage is limited by situations covered, requirements to use jewelry, replacement companies, and coverage value limits," Krowiorz explained. "We encourage you to trust your home to your homeowners' or renters' insurance specialists and your jewelry to the jewelry insurance specialists."
How much does engagement ring insurance cost?
Just like other types of insurance, premium prices for an engagement ring policy depend on a range of factors, including the value of the ring, the metal used, stone set, and where the owner lives as this can be an indicator of how likely the jewelry may be stolen.
Experts estimate the average annual cost to be between the 1% and 3% range, meaning premiums for a $6,000 ring can go from $60 to $180 per year.
What should you consider when taking out engagement ring insurance?
Before taking out coverage, experts advise owners to find out the true value of their jewelry by getting an appraisal. According to Brides magazine, an appraisal factors in the all the key elements of value, including:
Carat weight, cut, color, clarity, and quantity of diamonds
Types and weight of metal
Shape and carat weight of other stones
Any distinctive markings, model numbers, or stamps
Current retail prices in the regional market
Origin of the materials used
Craftsmanship
When purchasing engagement ring insurance, an appraisal is required for higher-value pieces, typically those worth $5,000 or more, while an invoice or receipt may be enough for less expensive jewelry.
Read more: Protecting prized possessions with valuable articles insurance
In an interview with Brides magazine, Krowiorz listed several essential questions that jewelry owners need to ask insurance providers when searching for coverage that fits their needs. These are:
Can you choose who repairs your ring?
If you're insured for replacement instead of a cash payout, where can you purchase a new ring?
What happens if a suitable replacement cannot be found?
How will you need to prove the ring vanished if you make a claim?
Are there any circumstances that aren't covered?
Will you continue to be insured when out of the country?
Are you covered for damage or just loss and theft?
Will the policy adjust according to inflation?
What types of repairs contribute to the deductible?
Which insurers offer engagement ring insurance?
To find out which insurers offer the best coverage for engagement rings, Brides magazine reviewed more than a dozen providers, comparing each company's overall policies, features, premium costs, and whether standalone policies were available. The publication also factored in financial stability and reputation. These are the ones that came out on top.
The table below details the different coverage features, which are up to date as of June 2022, of each insurer's available policy. Companies are listed alphabetically.
Insurer/Policy name

Best for (according to Brides)

Coverage features

Chubb Masterpiece

High-value pieces

Flexible, worldwide coverage
Cover most jewelry losses with no deductible
Appraisals required for pieces valued $100,000 or above
Detailed description and estimated value only for items below $100,000
For those with jewelry itemized on their policy, any newly acquired pieces will be covered for up to 90 days (25% of itemized coverage)
If market value of an item before a loss exceeds the amount of coverage itemized on the policy, payout will be 150% of the amount to account for increases in market value
Option for blanket or itemized coverage

GemShield Personal Jewelry Insurance

Lower-value rings

All-risk policy that covers loss, theft, damage, and mysterious disappearance/unexplained loss – everything unless it is expressly excluded
Repair and replacement coverage
Worldwide coverage while traveling
Coverage for newly purchased jewelry
Premiums typically 1% to 2% of jewelry value

Jewelers Mutual Personal Jewelry Insurance

Direct insurance

Covers loss, theft, damage, mysterious disappearance,
Covers loss and damage caused by flood and earthquake
Worldwide coverage
Zero deductible option
Work with your jeweler

JIBNA Personal Jewelry Insurance

Overall coverage

Competitive rates
All-risk coverage, including mysterious disappearance
Countrywide program
Value-added services
Marketing support
Broad jewelry coverage
$50 minimum premium
Almost unlimited capacity

Lavalier Jewelry Insurance

Online quotes

Covers loss, theft, damage, including those resulting from earthquake and flood
Covers gifts to others
Worldwide coverage
Up to $50,000 flexible coverage
$0 to $25,000 flexible deductible
Work with your jeweler

USAA Valuable Personal Property (VPP) Insurance

Members of the military

Covers engagement rings and heirloom jewelry, rings and earrings, necklaces and bracelets, and watches, including smartwatches
Covers drops and breaks, lost or misplaced jewelry, and theft, fire, and weather-related damage
Blanket policy covers any item up to $2,500 or any collection up to $10,000
Scheduled policy covers a specific item valued over $2,500 or a specific collection valued over $10,000

Zillion Specialty Jewelry Insurance

Budget

Cover loss, theft, damage, and disappearance
Covers natural disasters
Worldwide coverage
$0 deductible
Zero impact claims