Lifting the veil on wedding insurance | Insurance Business America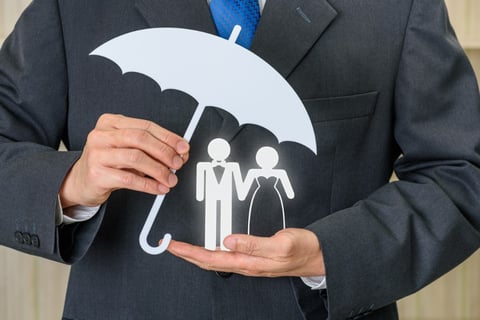 Walking down the aisle – supposed to be the biggest day in anyone's life – has taken an unpleasant twist over the past two years with couples facing the pressure of losing their big date, and with it plenty of money, thanks to the looming threat of the coronavirus pandemic.
The Wedding Report's 2021 COVID-19 Market Update outlined that in 2019 there were 2.13 million weddings in the books, and in 2020 that dropped to 1.27 million. Looking at 2022, there is a record 2.47 million weddings anticipated for the market - but couples are likely to continue to be put through the ringer thanks to the ongoing threat of Omicron.
Couples need to be diligent when it comes to the security of their finances. Wedding insurance has been on the market for decades, but there has been a recent uptick in interest in the product.
Kassy Westervelt, senior product analyst at Travelers, explained that now is a prime opportunity for agents and brokers to engage in conversations with clients about wedding insurance policies.
Read more: Travelers introduces jewelry insurance coverage through Wedding Protector Plan
Travelers has seen record breaking sales for its Wedding Protector Plan, with a 59% increase compared to pre-pandemic numbers.
"We're not only attracting consumer inquiries, there has also been a lot of outreach from agents that have never written this product before," she said. "We're seeing the product everywhere since the pandemic has impacted all our lives."
Westervelt explained that alongside the growing popularity of wedding policies, agents are looking at the impact cancellations could have across the entire wedding supply chain.
"Weddings definitely impact a variety of industries that range from food to attire and more, which is why clients are doing their due diligence to protect themselves for scenarios out of their control," she noted.
The pandemic has caused many vendors to go out of business last minute due to bankruptcy, adding to the stress of couples planning their big day.
"The worst-case scenario does happen, and this is a way to help reimburse down payments and deposits," she said. "As our results show over recent years, vendors make up almost 41% of claims.
"In some states we offer coverage up to half a million dollars for more elaborate events," Westervelt added.
Having a comprehensive understanding of what is covered is key for agents and brokers engaging in the space. What are the exclusions? Is 'change of heart' covered? What happens if a vendor goes out of business or doesn't show up?
For new agents, this feel-good segment of the insurance marketplace also offers possibilities to grow business in the future as newlyweds may also be looking for new homes, cars, and pets. Working with clients through the entirety of their wedding planning fosters long-lasting relationships for agents and brokers.
Read next: Pet insurance market set to double by 2022
"It's a non-renewable, one-time product but there are other great opportunities to cross over to other personal lines," Westervelt emphasised. "Investing in big assets is where insurance agents can step in and build up their client network."