Billions in insured losses and close to 250,000 claims for Puerto Rico's insurers | Insurance Business America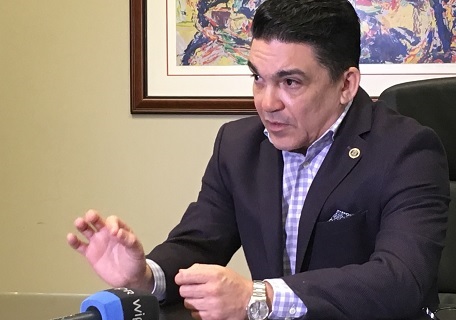 Months after a rough hurricane season, parts of Puerto Rico still don't have power, as reported by The New York Times. Nonetheless, according to the most recent figures from the Federal Emergency Management Agency (FEMA), the recovery is well underway – 100% of hospitals and airports are open, and close to 100% of Puerto Rico Aqueduct and Sewer Authority customers have potable water.
"We are in a multi-sectoral phase regarding the recovery, and we're working [and] aligned together with the planning board and with the federal agencies like FEMA, for example, already with a defined plan with respect to the insurance industry," said Javier Rivera Rios (pictured), insurance commissioner of Puerto Rico, with translation by chief deputy insurance commissioner, Rafael Cestero-Lopategui.
Swiss Re's sigma report outlined the damages from weather events last year, and called 2017 a year of record-breaking losses. The island was certainly not spared from damage, and insurers experienced a tidal wave of claims that have yet to be fully resolved.
"It has been a big challenge. During the process, as a regulator, we've been able to correct and make more efficient processes, and in the last three months, the claims closed have been going up from 40% to 80%," explained Rivera Rios. "As of the 31st of March, insurance companies have received 243,989 claims with payments in excess of $2.2 billion. Now, we are concentrating on the claims that have the biggest amount of payment to be made. Eighty percent of the money that's still pending to be paid is represented by the 20% of the claims that have not been paid yet, and those are government accounts and big commercial accounts."
The insurance commissioner told Insurance Business that estimated losses are about $30 billion, and insured losses are between $10 billion and $12 billion. Rivera Rios predicts that, with added reinforcements in claims handling, 95% or more will be paid out by June or July.
Cataclysmic events tend to expose weaknesses in infrastructure – in the same vein, insurers in Puerto Rico were not ready for the impacts of the hurricanes, in terms of technology and personnel.
"The reality was showing us that they were not [prepared] and that was one of the biggest learning experiences from this event," said Rivera Rios. "We did have some challenges being an island and having an event of this size, so everybody was without power, without any telecommunications, including the government, for the first couple of weeks."
Several initiatives are underway to make sure that the next time a natural catastrophe of this magnitude hits, which could be sooner rather than later, insurance companies will be better prepared to deal with major losses.
Making consumers more informed on how to proceed in a catastrophe and submit claims is one of those tasks, as is helping them "understand the value of the insurance and make them conscious of the price of not carrying insurance," said the insurance commissioner.
Updating Puerto Rico's insurance code to develop a new product called micro-insurance is another step the island is taking. This insurance will be "tailored to the poorest sector of the population in order for them to get at least some kind of coverage," explained Rivera Rios, adding that the NAIC Credit for Reinsurance Model Act is also being adopting, which will give local carriers access to more reinsurance to keep rates stable. Reducing contingent commissions and looking at alternatives for insuring coastal condominiums are a few other initiatives the island is working on.
"Although there were some tragedies, we need to take these events and take the positives from them, and learn from them in order to get ready in a better way, always having the consumer as our north in order to protect the consumers' interest," said Rivera Rios.
Related stories:
Ashley General plans to write more flood insurance policies after hurricanes
Has insurance agent's typo cost Harvey victim an insurance payout?