Insurer fights opioid addictions with virtual reality | Insurance Business America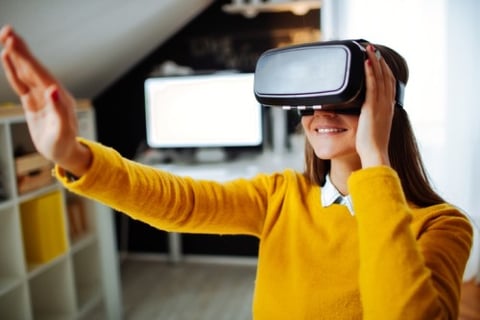 With the battle against the opioid crisis in the US waging on, insurers are coming up with solutions to help their customers overcome addictions to prescription pain pills.
As Travelers has recently discovered through a partnership with Cedars-Sinai, Bayer, appliedVR and Samsung, virtual reality has much to offer in the treatment of injured employees trying to manage their pain.
With the support of the insurer and others, Cedars-Sinai will be conducting a clinical research trial that gives workers with orthopaedic injuries the chance to use a digital pain-reduction kit.
"With the tendency to develop chronic pain with workplace injuries, there's a risk then to become addicted to opioids," said Melissa Burke, national pharmacy director at Travelers. "We want to be able to find appropriate alternatives."
The kits are made up of state-of-the-art technology that reads like a tech fanatic's Christmas wishlist. Each patient will get an Oculus Rift, a wearable fitness band, access to therapeutic pain management content equipped with biosensors, and an electrical nerve stimulation device to place wherever they feel pain on their lower back.
According to Travelers, "The kit will measure day-to-day functional status, work productivity and the use of pain medication of participants," in an attempt to find alternatives to opioids.
This isn't the first time Travelers has come up with innovative solutions for injured employees. In 2015, the insurer launched its ConciergeClaim Nurse program. Now, Travelers nurses are located at 60 occupational clinics across the country and are ready to walk injured workers through the claims process.
The success of ConciergeClaim is clear from the numbers: a 35% reduction in days out of work for employees, an 86% decrease in attorney representation, and an 18% drop in overall claim costs. Using another solution, the Early Severity Predictor model, Travelers has already reduced opioid use by more than 30% among the close to 500,000 injured workers it has worked with since 2015.
"Travelers continues to look for ways to innovate patient care and it's not necessarily always with new technology," said Burke. "Some of it may be about finding that right intervention."
Related stories: