Jump to winners | Jump to methodology | View PDF
THE STANDOUTS IN CYBER
With companies now highly dependent on maintaining remote work environments, cybercriminals will continue to take advantage of user and network weaknesses to gain access to and exploit computing environments everywhere. As the cyber market responds to evolving threats and increasingly severe losses, IBC surveyed brokers to find out which insurers and MGAs are going out of their way to cover these risks with innovative policies and services.
"Cyber is really the new problem child in the insurance world," Kevin Neiles, regional president for Western Canada and chief marketing officer at Gallagher, recently told IBC. "A rapidly increasing number of cyber liability incidents is causing a very cautious approach by insurers in this class. There's a lot more aggressive ransomware and extortion activity going on continuously, and as a result of that, carriers are putting lower limits on this coverage or eliminating it altogether."
According to David Cook, president of 5-Star Cyber winner Victor Canada, Canadian businesses, like most others across the world, have become increasingly attractive targets for cybercriminals. That's especially true for small to medium-sized companies that don't have the resources to fight threats. In fact, recent statistics from Coveware show that more than 70% of ransomware incidents impact companies with fewer than 1,000 employees and less than $50 million in revenue.
"Small businesses are becoming more vulnerable to cyberattacks because of their lack of security resources," Cook says. "As a result, they could face more collateral damage in larger cyberattacks."
He adds that "coupled with this higher level of risk, we have seen a significant growth in demand for cyber insurance, as well as a re-evaluation of capacity in the market based on increased claims activity in both frequency and severity."
Angela Feudo, manager of professional solutions at fellow 5-Star Cyber winner Trisura Guarantee Insurance Company, echoes these sentiments. "The current cyber insurance space is dynamic," Feudo says. "Both claims frequency and severity have increased, and so pricing has had to as well.
The terms of policies have also changed, challenging the cyber market to become more creative by structuring policies differently so they are able to sustain losses in the future. "It is also an educational time for all involved in the cyber space, especially due to the increased exposure of people working from home during the pandemic. There is a greater awareness among organizations about cyber threats, and as a result, there have been improvements made around cybersecurity controls. Canada is not alone in these struggles and changes; the global cyber market has also seen the same challenges, which is very appropriate, as cyber risk doesn't have borders."
So what can be done to counter these threats? Greg Markell, president and CEO of 5-Star Cyber winner Ridge Canada Cyber Solutions, recently told IBC that continuous education around cyber risk management for insurers, brokers and end clients is key.
"I think there are some control elements that need to be more widely adopted," Markell says. "We're seeing standardization of multi-factor authentication [MFA] come across the entire organization. There are some other things that businesses themselves can do to help protect data – for example, back it up securely, back it up offline, have different copies of it, test your plans, test your backups; there's no shortage of other things. And these things don't have to be expensive, especially for small businesses."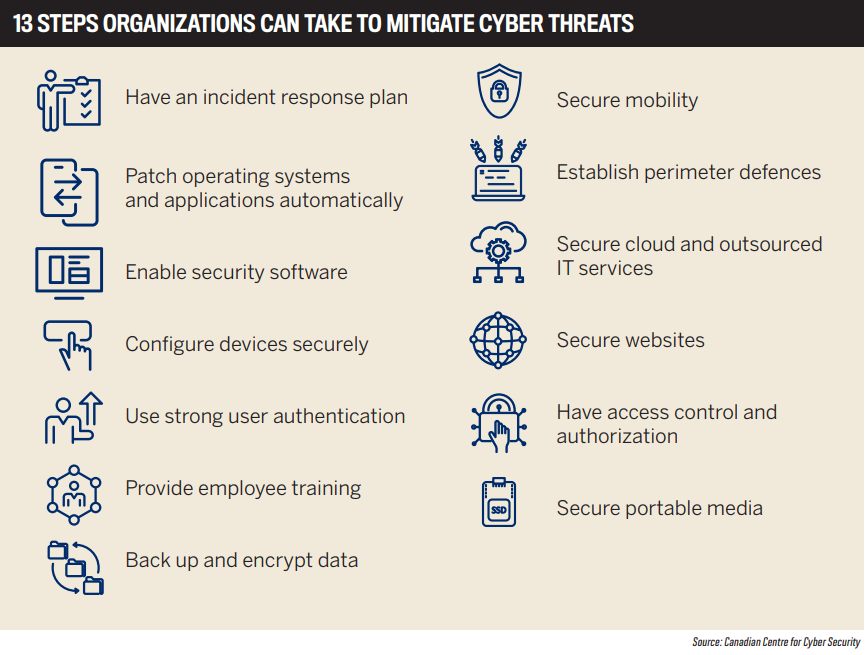 Award-winning coverage
Of course, another key element of good cybersecurity is comprehensive cyber insurance coverage. IBC surveyed brokers to find out which companies are providing the best combination of first- and third-party coverage, claims payment/processing, policy customization, and underwriting expertise.
Victor Canada earned high marks for its Victor Cyber product, a full-package insurance solution that offers competitive pricing and broad coverage; it aims to not only protect businesses against cyberattacks, but also help prevent them.
"Victor Cyber provides exclusive access to world-class risk management services, such as phishing training and dark web monitoring, through Victor Response, a cyber incident mobile app," Cook says. "The app can detect a company's cybersecurity vulnerabilities and alert them of potential cyber threats. The app also allows a company to obtain cybersecurity advice or notify an expert team instantly in the event of a cyber incident."
Victor Canada is aware that most businesses are looking for a proactive, service-driven solution that includes a full range of risk management and incident response tools, rather than a reactive policy that only responds when a cyberattack occurs. The Victor Cyber policy includes cybercrime support, systems damage and business interruption cover, network security and privacy liability cover, media liability support, and a suite of risk management services that offers perimeter security, password management, endpoint security and employee phishing training.
"Our Victor Cyber product offers extensive risk management services and a cyber incident response mobile app, providing Canadian businesses with a more proactive approach to cyber risk management, education and mitigation," Cook says.
Meanwhile, Trisura's cyber policy is customizable to the needs of each insured. "At Trisura, we really listen to the insured and broker to ensure we understand what they are looking for and any concerns they may have," Feudo says. "Working closely together allows us to find the right solutions for their unique needs."

The future of cyber
In a constantly evolving sector like cyber, it's nearly impossible to predict what the future will bring – but both Feudo and Cook have some inkling of what the cyber market might look like over the next few years.
"The cyber market will continue to grow as businesses rely more and more on technology due to process automation and having more devices connected to the internet," Feudo predicts. "The exposure for these businesses will grow and evolve, and so must the insurance products that protect them. There will also be continued focus on not only cyber-security controls, but also the use of cyber experts to aid in risk selection. There will likely be an increase in enforcement of privacy regulations for data collection and use. We may also see mandates to purchase cyber insurance for specific industries."
Meanwhile, Cook foresees three things happening in the near future: first, more rigorous underwriting by insurers with more focus on risk management and demand for better security controls; second, the need for more education and cyber risk tools to better help brokers and their clients mitigate, manage and monitor cyber exposures; and third, continued capacity and coverage challenges and pricing increases as cyber incidents continue to rise.
"We believe that given the rise in cyber-attacks, it is more important than ever to provide comprehensive, proactive and financially viable cyber insurance options for businesses," Cook says. "More Canadian companies are falling victim to cyberattacks. Regardless of the size of the business, these cyberattacks are demonstrating the need for companies to ensure that they have the security measures in place to help protect them from these attacks."

AIG
Ascent Underwriting
Aviva Canada
Beazley
Berkley Canada
CFC
Chubb
Coalition
Intact
Northbridge Insurance
Premier
Ridge Canada Cyber Solutions
Trinity Underwriting
Trisura Guarantee Insurance Company
Victor Canada
Wawanesa Mutual Insurance Company
Zurich Canada
Insurers were measured on the strength of their relationships with brokers, ability to handle claims, underwriting expertise and, most importantly, the strength of the individual products they provide.