Jump to winners | Jump to methodology | View PDF
THE NEW WORLD OF WORK
Over the past year and a half, restrictions brought on by the COVID-19 pandemic have driven many insurance employees from office buildings to their homes. Amid the change in work locations and means of communication, organizational structures and work cultures have continued to evolve as well. Companies are constantly looking to find a competitive edge, striving to draw and retain both new customers and talented employees.
So which companies in Canada's insurance industry are reaching this lofty goal? To find out, IBC contacted hundreds of employees across scores of companies and asked them more than two dozen questions about everything from compensation and culture to transparency of leadership and job security.
Flexibility was a key factor across the Top Insurance Employers. Mary Duncan, chief human resources officer at CAA Club Group (CCG), highlights her company's flexible benefits, which include programs for shared success, workplace wellness, rewards and recognition, and financial wellness.
"Our benefits are progressive and flexible, helping our associates balance their professional and personal lives," Duncan says.
At Northbridge Financial Corporation, benefits include flexible work arrangements and a stock purchase plan. "We know that each employee is different, and so our comprehensive benefits plan is flexible and can be tailored to meet the needs of our employees' families," says Lori McDougall, chief people and strategy officer.
In addition, Northbridge and CCG offer both traditional and online learning opportunities to empower employees to advance their careers.
Transparency was another big theme across this year's Top Insurance Employers. Both McDougall and Kanwar Bola, president of A-KAN Insurance, emphasize the importance of goal-setting and transparency when communicating objectives to employees.
"We like to set clear performance standards that outline what an employee in a specific role is expected to accomplish and how the work should be done," Bola says. "The same standards must apply to every employee who holds the same position."
All three companies are also committed to providing a high level of transparency across their C-level leadership and have comprehensive diversity, equity, and inclusion programs.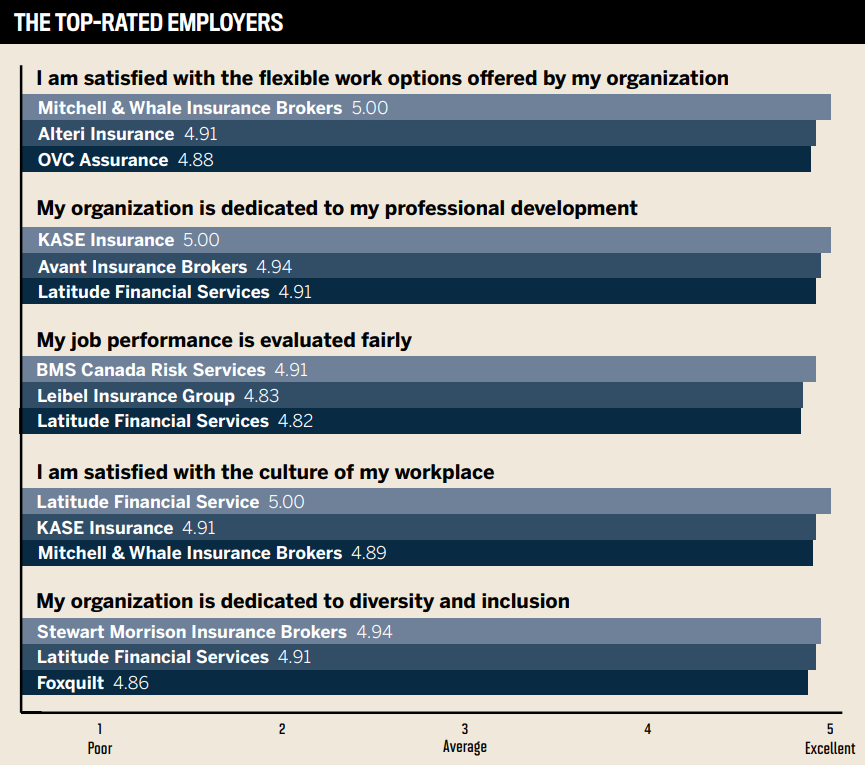 Culture club
Attracting and retaining talent can be a challenge in insurance, as it's an industry that's not typically on the radar of young job-seekers. So what are the Top Insurance Employers doing to buck this trend?
According to Duncan, CCG aims to deliver purpose-driven work, a flexible environment that prioritizes wellness, and growth and professional development programs.
At Northbridge, it's all about employee well-being. "We put our people first and are committed to ensuring they feel their well-being is taken care of," McDougall says. "We have a well-being program that aims to help employees be their best selves every day at home and at work. Our initiatives address four key aspects of well-being: mental, physical, financial and social."
Another big draw is culture. "[It is important to] create a culture of trust," Bola says. "One of the best ways to maintain company culture is to hire the right people who fit in with the people they will be working with on a daily basis."
At Northbridge, McDougall says, employee engagement and belonging at work are encouraged, and the company helps ensure it's on the right path by running surveys twice a year.
"Our culture sets us apart – it is the strength that we draw upon in both good and difficult times," she says. "Our employees always comment about our incredible and unique culture."
Giving back to the community is a key component of that culture, McDougall adds. "Social responsibility is important to us, and we've created a Northbridge Cares program that helps us direct our energy to supporting, educating and encouraging Canadian youth to reach their full potential. Our employees value our commitment to our communities – and the various ways in which we employ them to support the causes they're passionate about."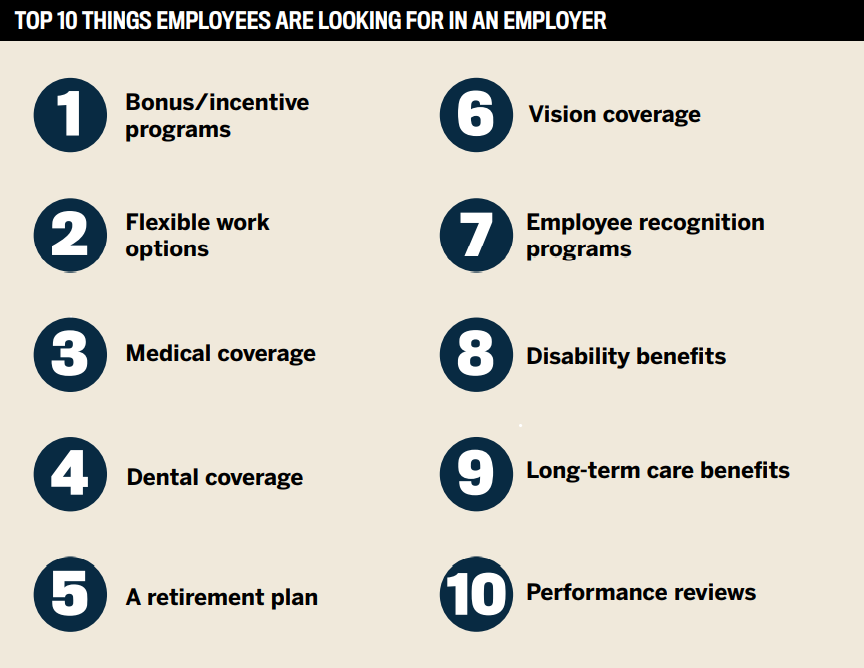 Onward and upward
While it's relatively easy to expound on what's going well, it's a bit more difficult to turn a critical eye on your organization and admit where further improvement is necessary. But Northbridge, CCG and A-KAN are all forthcoming about where they're striving to improve – and one important area is communication.
"We understand that no company or person is perfect, and there is always room for improvement," Bola says. "We will continue to work on communication with our employees. Constant communication is key for both building relationships and ensuring that important work information does not fall through the cracks. We will also continue to make our compensation and benefits structure better."
In addition to enhancing feedback, McDougall says Northbridge is also working to improve rewards and recognition and growth programs.
"Our pulse surveys have indicated that these are our areas of opportunity," she says, "and we're launching new programs to ensure that employees are receiving feedback frequently throughout the year, positive performance is recognized in a timely way, and that we have robust career development conversations and mentorship programs in place."
Meanwhile, CCG is focused on better communicating what the company does and how it operates. "We are generally a humble organization, and we don't always want to shout from the rooftops about the good work that we do," Duncan says.
Going forward, the Top Insurance Employers have ambitious plans to maintain their standing as a place where people enjoy coming to work.
"We'll continue to review and build programs that put our people first, including focusing on well-being, work-life balance, social events and growth opportunities," McDougall says of Northbridge. "As our workplace evolves to a hybrid one – 50% work from home and 50% work from office – we'll continue to focus on social events that everyone can participate in and feel connected to each other. We're also going to train employees and leaders on how to collaborate effectively in this hybrid world."
At CCG, the goals are equally expansive, Duncan says, including "continuing to focus on innovation, creativity and developing more customer-centric insurance products and services; prioritizing investments in wellness partnerships that contribute to the overall well-being of our associates; introducing more at-home wellness programs for our associates to use with friends and family; prioritizing providing associates with more ongoing knowledge and skills through online training and experiential learning; and encouraging everyone to take time for self-care and utilize the tools and information shared through our wellness programs."
For A-KAN, Bola says, the focus will be squarely on employees. "We like to recognize employee achievements and contributions – it helps foster loyalty and satisfaction among employees," he says. "[We'll also] conduct weekly/monthly one-on-one check-ins with employees rather than yearly reviews. It takes some extra time and energy, but keeps the team focused and feeling valued."
Alteri Insurance
Avant Insurance Brokers
InsuranceHero.ca
JT Insurance Services (Canada)
KASE Insurance
Keyes Insurance Brokerage
Latitude Financial Services
SafeBridge Private Wealth
Savante Insurance
The James Insurance Group
26 to 100 Employees
APOLLO Exchange
Armour Insurance
BMS Canada Risk Services
CHES Special Risk
Duliban Insurance Brokers
Groupe Lepelco
isure insurance
Mitchell & Whale Insurance Brokers
Nude Solutions
OVC Assurance
Stanhope Simpson Insurance
Stewart Morrison Insurance Brokers
The Mutual Fire Insurance Company of British Columbia
Vertafore Canada
101 to 500 Employees
APRIL Canada
Axis Insurance Managers
GTI Broker Group
Liberty Mutual Canada
Red River Mutual
The Commonwell Mutual Insurance Group
Unica Insurance
Wilson M. Beck Insurance Services
Zensurance
More than 500 Employees
To be considered, each organization had to reach a minimum number of employee responses based on overall size. Organizations that achieved an 80% or greater average satisfaction rating from employees were named a Top Insurance Employer for 2021.