Remote work: The pros and cons for insurance companies | Insurance Business Canada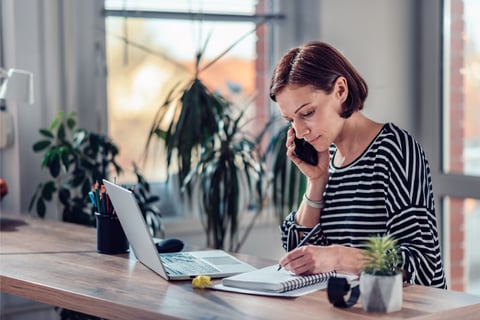 Remote work – it's something the vast majority of working Canadians have experienced in the past two years due to COVID-19 safety protocols. At the start of the pandemic, many employers were sceptical about remote work. They were concerned that it would limit productivity, collaboration, and that service levels and critical business output would drop.
In insurance – a self-proclaimed people industry – the overnight shift to remote work was one of the most extreme changes the industry has ever experienced. What would happen to client relationships? How could brokers get in front of underwriters to advocate for clients? How can adjusters handle difficult claims without going on premises? The list of concerns went on and on.
But the insurance industry did what it does best. It solved the rather complex "people challenge" of COVID-19 by enabling employees to work from home and using new collaboration tools and technologies to ensure operations continued as close to "normal" as possible.
At the RIMS Canada Conference in Halifax, four Canadian insurance leaders shared their experiences with remote work through the pandemic. Stéphane Lespérance, president of Aon Canada, said the first few months of the pandemic were "a shock for the workplace," but once employees found their stride, remote work – and now hybrid work – has actually created "tremendous opportunities" for the brokerage giant.
"We were able to tap into different sources of talent," he said during the 'Turning Tides—The Great Reset' panel discussion. "Hybrid work has created a really good way for us to provide more flexibility to our workforce, particularly to our highly talented people, who have more time to [juggle] their family obligations and other professional responsibilities."
For Aon Canada, like all companies, the COVID shift to remote work was a big experiment, and there are a few things that Lespérance would do differently if he could turn back time. He said he would bring people back together earlier because there are "really good gains in bringing folks together asap, so they hold on to the [company] culture," and from a talent development standpoint, "colleagues can learn from others".
Read next: AGCS Canada leader on lessons learned in "challenging times"
Sarah Robson, president & CEO of Marsh Canada, said she thinks the industry did "exceptionally well" in the way in which companies pivoted to the remote working environment.
"That dynamic between the employee and the employer from a relationship perspective – all of a sudden, there had to be trust, which is fantastic," she said. "It levelled the playing field. What we're looking at now is: "How do we maintain that trust […] and that balance [in a way] that's going to work for all of our colleagues and clients?"
As for lessons learned, Robson said it's important for employers to set clear expectations around hybrid work arrangements, and also to consider what environments are most suitable for specific types of work.
She explained: "We've taken the approach of [differentiating between] if it's heads down work, which is individual work where it's actually more effective to be working alone, [versus] heads up work, where you actually need to be engaging with others, and heads together work, where you need to be thinking strategically and working your way through [a problem and solution with a team]. We're looking at the work that's actually being done, and thinking about the most effective and efficient way to complete that work, while still meeting a need to be able to collaborate as effectively as we can."
For FM Global, the shift to remote work was less of a shock than it was for others, said Ed Greszczuk, VP, client service manager – Toronto, FM Global. Prior to the pandemic, the insurer had already initiated a two-day-per-week hybrid working model, and it had built out infrastructure to be able to do that. It was able to "pivot quickly" when the pandemic struck.
Read more: The impacts of inflation on the cost of insurance and coverage
Greszczuk said that while the FM Global team was able to "transact very well" from remote environments, the challenges came in collaboration, and educating teams through a virtual environment.
"Managing energy, workload, and productivity was a lot more difficult in [a fully remote environment," he commented. "In the past, you could walk down the hall [in the office], have a conversation with the team, you can see who's overworked and who needs some assistance. But online, it was very difficult for us to manage that at the beginning of the pandemic. We're working through that and trying to manage workload on a remote basis, as well."
Finally, Bernard McNulty, chief agent and head of claims, Allianz Global Corporate & Specialty (AGCS) Americas, said there were "two big positives" that came out of the COVID-19 remote work era.
"We got so close to our employees through that period," he said. "Through all those great one-to-one calls, we know new things about our employees, we know the names of their pets, what sports their kids are involved in, and so on. Holding on to that and maintaining that going forward, I think, is extremely valuable. It makes our employees engaged and pretty sticky to us.
"At AGCS, we have a great global proposition and great global networks, so tapping into expertise that we have anywhere in the world, and bringing that to Canada, to our clients and broker partners, is a huge plus that we didn't really utilize to the same extent before the pandemic."