LowestRates.ca takes home trophy and name recognition at IBC Awards | Insurance Business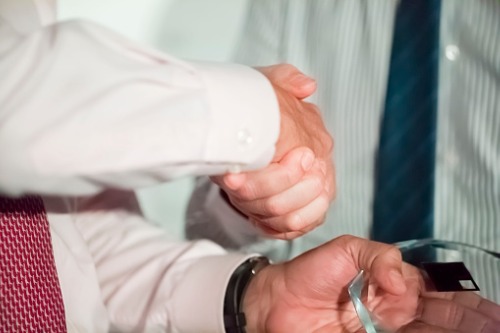 The Insurance Business Canada Awards are done and dusted for the year, but finalists, winners, and sponsors are going to be living off the awards high for months to come.
One insurance company walked away with both name recognition that will help it establish a stronger foothold in the marketplace with brokers and insurers, as well as a trophy. LowestRates.ca was the sponsor of the CEO of the Year Award, for which AIG Canada's Lynn Oldfield took home the top prize, and its leader was impressed by the high calibre of the names on the list of finalists.
"It was almost a who's who of the insurance industry," said Justin Thouin, co-founder and CEO of LowestRates.ca. "It was a privilege learning more about each of the companies as I looked into the nominees further, and everyone there that was nominated is an exceptional leader of either a company that's very, very large and established or one that's rising quickly, so it was just a pleasure to be involved in it."
Sponsoring an award at a major Canadian insurance industry event will also pay dividends in the long run as LowestRates.ca continues to see further growth in the marketplace.
"We really need to get our story out there because I think there's a lot of misconceptions in the broker and the insurance community. I was speaking at an event only last week, and the president of one of the insurance companies said that we don't support aggregators because aggregators are trying to drive brokers out of the market and that couldn't be further from the truth," said Thouin. "The truth is we have literally millions of Canadians coming to our site every year wanting to buy insurance, and our goal is simply to match them with the right partner for their unique needs based on price. Without brokers, LowestRates.ca wouldn't exist – we'd have no-one with whom to match these drivers who want to buy insurance and we'd have nowhere to place them."
Read more: 'More Canadians need car insurance than we can place' – LowestRates.ca
In fact, the aggregator is in a situation right now where it has around 100 people per day coming to the website that want to buy insurance desperately, but it has nowhere to place those people because it doesn't have the same number of brokers buying its leads as it has consumers coming to the site.
"We really wanted to get the message out, that we want to be the key driver for broker growth in Canada moving forward. We work with some of the largest brokers in Canada and we've been the growth engine for some of the fastest growing brokers in Canada," said Thouin. "I think that we are certainly brokerages' best kept secret because our leads have the lowest cost per sale compared to any of their other marketing channels, and we really just wanted to get that message out there and to show that we have a commitment to the brokerage channel from a long-term perspective. Sponsoring this very prestigious award – the CEO the Year Award – was a way to do that."
Speaking of the IBC Awards show, LowestRates.ca also won the Insurance Business Magazine Readers' Choice Award for Best Service Provider. While the company has taken home many trophies and received tons of honours for its work in Canada, this award stands out.
Read more: The lowest cost way for brokers to grow their business
"That award probably meant more to me personally than any other award that we've ever won because it was voted on by the readers of Insurance Business, and because it means that insurance companies and brokers are starting to understand and starting to value what we are bringing to their business," said Thouin. "We really think we're helping Canadians to pay less for insurance, because why would you pay $5,000 a year for insurance if there's another company willing to offer it to you for $2,000? And for brokers, why would you pay $1,000 per new policy sale when you could work with us and pay less than $300 per new policy sale?"
He added: "It was a great evening all around and we want to continue to get out there and to tell our story, because aggregators are not very well known in Canada, and there's a lot of misconceptions around what we're trying to do and who we are."