RSA Canada: How to keep your clients safe on winter roads | Insurance Business Canada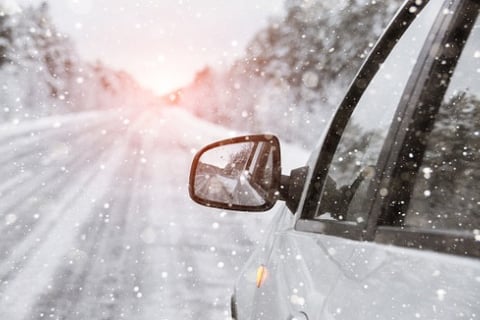 With snowstorms, ice storms and classic Canadian winter weather now truly underway, RSA Canada has issued some top tips to help brokers keep their clients safe on winter roads. Insurance Business Canada caught up with Ewen Cameron, senior vice president – claims at RSA Canada, who gave four key tips for brokers to provide to clients who are hitting the roads in bad winter weather.
Drive carefully during bad weather
It's simple but effective. Speed limits are intended for ideal road conditions, but they may be too fast if the road is icy or snow-covered. According to RSA Canada, drivers should adapt to their surroundings and slow down when conditions are poor. They should allow more time and distance for stopping, the insurer added.
"In the winter months, we see a lot of collision and rear-ending claims due to vehicles skidding on ice," said Cameron. "Oftentimes, it's due to drivers going too fast and not anticipating ice heading into a stop sign, a junction or other things or that nature. In bad weather, it's important for drivers to give themselves a little bit more space and time. Make sure you're not tailgating and be extra cautious of the cars and conditions around you."
Get your vehicle winter ready
This is all about maintenance. Harsh Canadian winters can be brutal on our vehicles, but there are plenty of things drivers can do to mitigate potential risks. One of the most important and common sense things drivers can do is equip their vehicles with a set of winter tires. The importance of that "cannot be understated," Cameron stressed. It's also important to check things like the car battery and charging system, the braking system, and the exhaust system.
"Cleaning your vehicle routinely is also critical," Cameron told Insurance Business. "During the winter, there's often a lot of salt, sand and grit on the roads, which can flick on to the vehicle and cause disruption and difficulties with visibility. A lot of vehicles these days have advanced driver assist technology that runs through sensors, so making sure those sensors are clean and clear is vitally important. Many drivers are relying more and more on advanced driver assist technology for things like lane departure assist or warnings for blind spots, and the reality is, those sensors can't function properly if they're covered in snow, grime or grit."
RSA Canada also advises drivers to ensure their heaters, defrosters and wipers work properly. After all, there's nothing worse than that feeling of driving along the highway with a dirty windshield and very poor visibility. And that's even more challenging in snowy and icy conditions.
Get an emergency preparedness kit in your vehicle
"Drivers really need to think about what would happen if they got stranded on the side of the road during the winter? Do they have a full-size or a three-quarter size spare tire for their vehicle? Do they have a roadside assist program that they can call for help? What if they have a child in the backseat and it's -20C or -30C in the car? Preparation will change your experience if and when something happens to you as a driver," said Cameron.
He listed the following items as essentials in a fully stocked emergency preparedness kit:
Extra windshield washer fluid – ideally, the cold weather kind
Safety blankets, a torch, and other things of that nature
Extra salt, sand or grip treads for vehicles if they get into trouble in softer snow
A snow shovel and brush
Warm clothes – extra jackets, mittens, hats etc.
A fully charged cell phone and/or the appropriate chargers for communications devices
Avoid distractions
We all know the dangers of distracted driving. Well, you might as well magnify those dangers by 10 during the winter months. The combo of a quick glance at your phone while simultaneously hitting a patch of black ice do not make for a pleasant situation.
"A complete focus on driving your vehicle is absolutely paramount in the winter," Cameron commented. "Just being alert and not being distracted by devices or infotainment systems is even more critical in winter because of the difficult driving conditions. Even with the advanced driver assist technology, which is doing more and more for drivers, it's still important to focus on your driving and be present and aware on the roads. In fact, that's probably the biggest driver of road safety in the winter."
RSA Claims Point
It's never possible to avoid ALL claims. As a broker reading this, you may dish out the advice above and still face an influx of auto claims during the winter months. To assist brokers and their end-clients with this, RSA Canada has launched a claims submission tool called Claims Point. It's a digital portal that enables brokers and RSA customers to report first notice of loss, upload or download documents related to the claims process, find key contact information for their assigned adjuster, and see how their claim is progressing.
"We prioritize all claims that come in, but when they come in through a digital channel like RSA Claims Point, they're triaged immediately," said Cameron. "It's a quick, easy and immediate way for brokers to get a claim entered and to get the claim actioned. Where brokers have a higher volume of claims, potentially in the winter months, this saves them from calling in and inquiring on the status of the claim. They can log into RSA Claims Point and literally see the claim's progress themselves. This means they can give information to the customer in real time, as opposed to talking to a claims adjuster specifically."