Solutions to relieve pressure of rising auto insurance costs | Insurance Business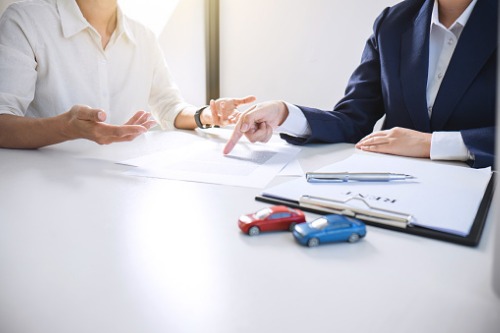 The solutions to rising auto insurance rates – such as those which most recently hit Albertans – aren't simple ones, but there are fixes that governments and insurers could implement to bring some relief to consumers, according to an auto expert.
For one, distracted driving continues to be an issue and has an impact on drivers' ability to find auto coverage. However, harsher penalties than those currently in place could help underscore the significance of driving distracted.
Read more: Alberta drivers with distracted driving tickets struggling to get full auto coverage
"Canadians continue to be distracted by more and more every day, and if it's not their phone, it's the infotainment system and everything going on in their car," said Justin Thouin, co-founder and CEO of LowestRates.ca. "If drivers were penalized to a greater extent for distracted driving, I'm confident that there would be less of it. For instance, if you're caught distracted driving, you lose your license for a year. I think that would cause drivers to think twice before they picked up their phone and text while they were driving."
While Canadians understand that distracted driving is illegal, it's not necessarily getting through to them that this is something that not only could make their insurance costs rise, but can also be deadly.
"This is where if the government wants to get involved with the auto insurance industry, this is an area where they need to step in. This is an area where they need to use that stick and use exceptionally harsh penalties for those who've been caught distracted driving," said Thouin. "I don't think Canadians view distracted driving as a crime. If you think about the most likely way you're going to get killed today, it's because of something to do with a car. When you're driving a car, you're essentially using a lethal weapon and if you are distracted while you're using this lethal weapon, you're being criminally negligent – you're taking other people's lives in your hands in a negligent fashion."
Until Canadians feel the pain of a distracted driving penalty that actually impacts their lives in a massive way, Thouin says he doesn't think the issue will go away.
Another solution that governments could examine more closely is a way to address insurance fraud – a major issue in Ontario and one that also requires stricter penalties.
Read more: Sonnet Insurance tackles insurance fraud with new campaign
"If the government put even harsher criminal sanctions against those that perpetrate insurance fraud, again, it could swing the balance in the direction of these fraudsters saying, 'you know what, it's just not worth it if I'm facing X-number of years in prison for perpetrating this insurance fraud'," said Thouin.
Mandatory winter tires in snowy provinces could likewise help alleviate rising insurance costs, as could a bigger push for telematics and usage-based insurance.
"In cold weather areas like Ontario and Alberta where prices are very high, it might make sense to mandate winter tires in order to mitigate the number of accidents," said Thouin, adding that telematics solutions are also a win-win for both consumers, as well as insurance companies. "For consumers, if you're a safe driver, when you use these telematics apps you can pay significantly less for insurance, and for insurance companies it's a win because people with these apps tend to be more vigilant and tend to be better drivers, and therefore they're paying less in claims. And even though they're charging less premium, they're more profitable."
He adds that insurers are not being aggressive enough in educating Canadians that these options exist, and that they're not especially invasive or that much of a pain to install.
"There's still a lot of people that believe that you need to attach a device to your vehicle in order for telematics to be effective, whereas in reality it's an app on your phone. I think that if the insurance industry got together as a group, or even individually, and started advertising this with greater frequency and greater spend, I think you'd see a lot more people taking up telematics," said Thouin, "because the fact of the matter is the average Canadian doesn't really understand telematics and doesn't really know what it means."
In fact, the personalization of car insurance more broadly is already a step that the Ontario government is taking and more provinces should consider. Not everyone needs the same insurance package and this is another tactic that could be used in order to create personalized lower pricing for consumers that is in turn more profitable for insurance companies, according to the LowestRates.ca CEO.
Read more: Ontario's FSRA establishes advisory committee for auto insurance rate regulation
"These are some ways that insurance claims can go down and would allow the insurance companies to be more profitable and therefore charge less," explained Thouin. "It was a difficult year for insurance in 2019, but [there's] a litany of areas that could be looked at in order to improve the environment, not only for drivers, but also for brokers and for insurance companies."