Aviva Canada CEO sheds light on H1 results and the impact of COVID-19 | Insurance Business Canada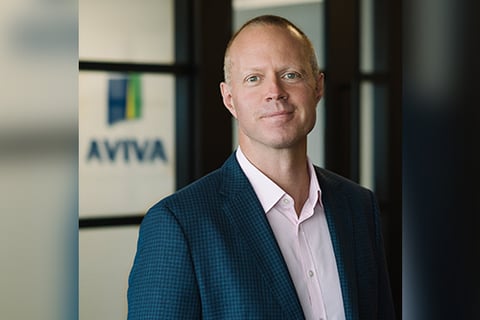 Hard work pays off - that was the underlying message from Aviva Canada CEO Jason Storah (pictured) as he shed some light on the property and casualty (P&C) insurance giant's 2020 half year (H1) results.
Aviva Canada delivered a solid H1, reporting net written premium (NWP) growth in general insurance and a combined operating ratio (COR) of 95.5%, down from 98.1% in the first half of 2019. Unsurprisingly, the first six months of the year were a tale of two halves for Aviva Canada. Like most large P&C insurers, the firm took a hit in the second quarter from COVID-19 and the negative impacts of the economic shutdown, but as Storah stressed: "When you strip out the impacts of COVID […] we had really good underlying momentum, both in top and bottom line [growth]."
Check out Aviva's group 2020 half-year financials here.
"We've worked really hard over the last couple of years to turn around our business from a profitability perspective, a claims service perspective, our pricing sophistication, and [developing] some of our key partnerships," Storah told Insurance Business. "The good thing heading into 2020 is that all of that hard work is really starting to pay off. I feel really positive about how we came through the first half of the year. Obviously, COVID-19 has thrown up some unique challenges for everybody – for our brokers, our partners, our staff and our customers – but when I look back to March and some of the conversations we were having without knowing how the pandemic would unfold, I feel really good about our result."
The chief executive attributed Aviva Canada's improved COR to multiple factors. First and foremost, winter weather in Q1 was slightly more benign than prior years, leading to fewer losses. In Q2, when provinces across Canada started locking down and imposing social distancing orders, the firm saw its personal auto loss frequency drop significantly due to changes in driving habits. But Storah pointed out that "it's a real balance."
In the second quarter of the year, Aviva Canada's weather-related losses leapt thanks to a couple of catastrophic flooding and hail events in Alberta. And while the firm enjoyed additional margin on its auto results due to reduced driving, the insurer also gave back more than $121 million in premium relief measures. Furthermore, traditional auto losses have already started to creep back up again as provinces reopen and people start to get back to normal.
Read next: Aviva CEO on delivering the next phase in the insurance giant's journey
Storah is particularly proud of Aviva Canada's auto results after two years of trying to turn the challenging line of business around. He said: "A big factor in us being able to turn around our auto results on an underlying basis has been the fact that for our two largest markets in Ontario in Alberta, we've got governments that are interested and engaged, and they want to make the auto markets healthier for everybody. That started with making the markets healthier for the industry.
"The kind of conversations we've had, particularly in Ontario with FSRA and the Finance Ministry, have really helped raise my confidence that we've got governments that understand there were some underlying problems with the auto markets and they want to fix those problems. Also, they aren't looking to just make short, quick win fixes that help one party and hurt another party, but they want to make sustainable fixes that ultimately will bring down premiums for consumers, which we know is an end goal that we have to achieve."
In commercial lines, Aviva Canada enjoyed an 11% spike in NWP in the first six months of the year, largely due to positive volume and rate trends in global corporate and specialty. The insurer saw 15% premium growth year over year in its large commercial business, which Storah said is in large part "an indication of the amount of rate that's flowing through the commercial market". He added that the priority for Aviva Canada moving forward in this market will be to "offer competitive terms and rates wherever possible" and to "remain committed to growing [its] commercial business" as market capacity starts to tighten.
Read more: Aviva warns Alberta hailstorm victims to be cautious of fly-by-night contractors
Largely speaking, Storah was very positive in his outlook for Aviva Canada, but it hasn't all been fun and games in recent months. The insurer has been taken to court multiple times for its stance on COVID-19 business interruption losses. Reflecting on this, the CEO commented: "Once business owners and clients get through the immediate challenges of what's happening around them and working out what the new world looks like for them and their businesses, I do think the entire industry has a responsibility to better educate about our products.
"We're definitely seeing that some of the traditional perils insurance companies have always focused on and priced aren't necessarily the same perils that customers want first and foremost in their policies going forward. Education around insurance is typically not great, because insurance companies historically have made insurance quite complex. It isn't as straightforward as I think everybody would like it to be. I would hope that a silver lining of the COVID cloud is that it really acts as a catalyst for insurers simplifying their policy wordings, thus helping their brokers and their customers be absolutely clear what they're buying and what they're covered for."