Broker commissions: The debate continues | Insurance Business Canada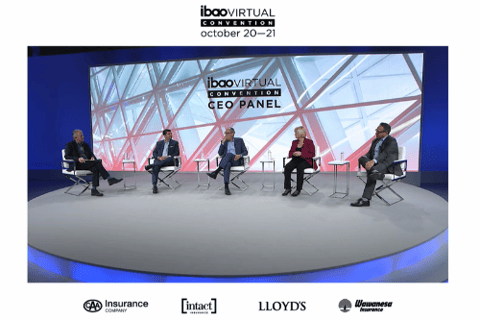 Broker commissions have always – and likely always will be – a topic of contention in the property and casualty (P&C) insurance industry. As long as insurance carriers rely on brokers for their distribution, their advocacy and customer service, brokers have the right to question their carrier partners' compensation schemes.
For years in Canada, there have been grumblings in the broker channel that carriers are pushing more and more work on to brokers' business operations without adjusting compensation accordingly. At the recent IBAO 2021 Virtual Convention, four of Canada's premier insurance leaders were given the chance to have their say on broker commissions once and for all.
The Wawanesa Mutual Insurance Company, which distributes its products solely through the broker channel, pays broker commissions of 18.5 cents per dollar.
"Across the organization, that's what we pay brokers in the form of commission, contingent profit, retirement savings plans, all the funds that we provide brokers," said Carol Jardine, president, Canadian P&C operations, The Wawanesa Mutual Insurance Company. "We think we get good value from brokers, we are only broker distributed, we think brokers provide great advocacy and service, so we're absolutely supportive of that 18.5 cents [per dollar commission rate]."
Read next: Insurance leaders: MGAs provide "great value" but "smart regulation" needed
As far as brokers feeling like carriers are pushing more work on to their shoulders, Jardine said "everybody's busy" – brokers, underwriters, claims adjusters, the entire industry. She said that despite the industry making investments in technology with the hope of reducing certain workloads, what's actually happened is that the work has shifted.
"It's shifted in a really unique way as this digital economy is taking over and as we're working virtually, where we're no longer photocopying, we're now entering data, and we're communicating more and more by email rather than picking up the phone," she said. "It seems like all of our work has just expanded where we would have hoped that it would have shrunk. And the complexity of the questions that we're getting has increased dramatically. The wrote questions and answers are now programmed, and a lot of the computer systems are programmed to look after them, so the issues that we're now dealing with are complex, [and] they take longer to resolve.
"Our employees are saying they've never felt busier, and I think brokers are feeling the same way. The technology, compliance, regulatory pressure, consumer pressure is all there – and the stress is extremely high. But as far as broker compensation, we're comfortable with the amount that we give […] we are paying what we think is a fair amount of money for the work [they] do, and we're happy to do that, but everybody's feeling busy right now."
Fellow chief executive Louis Gagnon, who is president of Canada at Intact Financial Corporation, said he's been in the business for 35 years and the topic of broker commissions – especially fear that they will be reduced – has arisen year after year of his career.
"There is no intention of changing compensation," he stressed. "I've been in the business for that long [35 years] and we've never touched the commission, seriously. Commission schedule has not changed. At the same time, broker distribution business is one of the most valuable assets that exists in any financial industry right now. It's distribution of P&C business, it's worth a lot of money [in terms of] the value and also the outcome of that business is often very good. So, I think it's difficult for me to think that we would go in a different direction [regarding commissions] because of those facts."
Read more: What's in store for the IBAO in 2022?
The difference between Intact and Wawanesa is that Intact also has a direct-to-consumer business in addition to its broker distributed business. Therefore, Intact is comparing the distribution differences between the different channels to identify consumer preferences and see how the business is shaping up digitalization and service delivery.
"We have to be aware of those things," said Gagnon. "And I agree that brokers bring tons of value: proximity to their market, ability to understand the customer, very good retention - definitely, there's no doubt. But we have to think long term, and if digitization and improvement in processes create a bigger gap going forward, we'll have to see how we adjust for that. But for now, there is no intention [of changing things], and I think we are at the right place with the mix of commission and CPC."
Regarding CPC - Contingent Profit Commissions – brokerages are impacted by fluctuations in different ways, depending on their overall size, according to Colin Simpson, CEO of the IBAO. He added that it often depends on a broker's unique financial strategies as to whether CPC is an expected part of their operational income as opposed to just one-offs, but any fluctuation in CPC could impact what a broker can or cannot spend money on in a given year.
"I don't think so much of brokers in size," said Jardine. "I think about who's embracing the future. The broker who's embracing the future today might not be that large, but if they embrace the future properly, marry the digitization with the consumer touch, and if they're able to figure that out […] it would be foolhardy of us not to look at [working with them]. We've got lots of brokers who I visited five-years-ago in Ontario that we didn't have contracts with, and today we've got huge contracts with them [because they're] embracing the modernization [and] investing in their brokerage."
"Volatility is important for small insurance companies just as it's important for small brokers," she added. "And so, how does a small broker protect him/herself from volatility? There are answers to that, and insurance companies offer answers to that. But you have to be aware that there is an impact of volatility on a small broker book, which is lost in larger brokers because insurance companies are not built on scale. Our [insurers'] fixed costs are very small, we're mostly a variable cost model, but brokers are a huge variable cost model, so anything that adds to that volatility is going to impact them."
One CEO to provide a different spin on commissions was Matthew Turack, group president of insurance for CAA Club Group, which has actually increased broker compensation while most of the market remained flat.
"We believe that brokers actually do deserve and should be compensated well - and more than they have been traditionally and more than they are today," said Turack. "When we look at the work that we're asking brokers and brokerages to not only invest in and do, but also the complications that we bring to the industry as insurance companies as we're trying to innovate, improve our systems, work on innovative products, provide [COVID] relief measures – which many companies did in different formats, and there was a lot more work for brokers to service their clients – we want to [give back] and support brokers in their initiatives.
"They want to create a multidisciplinary way of communicating to customers, whether that's online, whether that's in person, whether that is through phone. They need to be able to expand their business models, along with their strategies, fit where consumers' interests are going. That costs money, that takes work, that takes a lot of effort. There are labour force issues, the costs of labour are going up, and we need to be there to support that. And if we're asking brokers to do all this work - they're doing the work for the consumers and bringing the business and placing the business with our companies - then they need to be compensated well.
"It's important that we recognize that as we become more complex as an industry, and as the ways of doing business become complex and there's a mix of traditional ways and new ways that it does create more work, and we need to be conscious of compensating for that."