Brokers have become 'much more sophisticated' – Gore Mutual | Insurance Business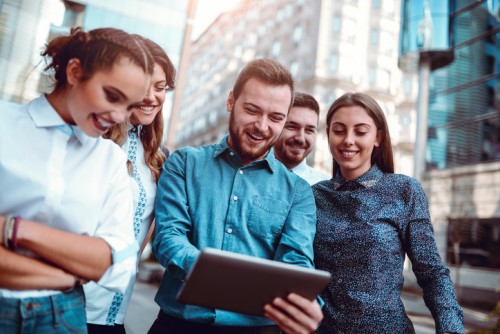 The days of brokers being dazed and confused amid a sea of new technologies are dwindling.
In fact, brokers in Canada are quite switched on to digital trends and are partnering with insurers to bring new products and capabilities to life, according to
Gore Mutual
.
Search and compare product listings for Insurance Brokers from specialty market providers here
"The way brokers are approaching us has really evolved," said Lori Bader, senior director of national sales & business development at Gore Mutual. "At first, they were saying, 'help us understand this new [digital] space,' but now they're approaching us for support with new ideas and ways to connect directly and digitally.
Celebrate excellence in insurance. Join us for the Insurance Business Awards in Toronto
"We want to encourage our broker partners to approach us all the time. Our business development team is often out meeting with brokers and asking for feedback, which is where we get a lot of our product suggestions and ideas. Our digital team has a wish list from brokers that we try to fulfill."
Digital investment is often deemed synonymous with direct-to-consumer models and threats to the broker distribution space. However, Gore Mutual has invested in a digital team that is developing API-based products that are simple for customers to buy and will enable brokers to compete directly with the best online offerings.
The digital team is mandated to roll out around 10 new products per year. But this is not a threat to the broker channel, assures Ed Nesbitt, director of commercial insurance at Gore Mutual.
"We are doing a lot of work in the digital space but it's all focused on delivering through the broker channel," Nesbitt told
Insurance Business
. "We're not going direct – we're focused on the broker distribution model. We collaborate with brokers to do anything we can to help them retain and serve their customers."
Gore Mutual has a 30-40% commercial focus with a keen eye on the small to mid-sized business markets. The Canadian SME market is well served and "very competitive," which is putting pressure on insurers and brokers to focus on service, pricing and innovative products. Gore Mutual is leaning towards the innovative products and services side of things, and its broker partners are fully on-board, according to Nesbitt.
At its Fast Forward event in June, the company launched its Padlock cyber and data breach coverage for small businesses, as well as a partnership with global home automation company FIBARO, through which Gore Mutual will offer free FIBARO Flood Sensors to new customers (currently only barbershop, salon and dentistry) to help them prevent costly water damage.
"We have also improved our claims service for brokers," added Nesbitt. "We have a very robust communications system around the claims process. We send regular updates about who's involved in a claim, what their responsibilities are and what the expectations are going to be, and we follow that up with weekly emails.
"Our broker partners have access to our claims portal called Claims Connection, where they can see our adjustor and vendor notes. This gives them a fully transparent view of what's happening with the claim so that they can educate their customer."
Transparency, good communication, innovation and partnerships are key to broker success, added Bader.
Related stories:
Brokers are gradually migrating towards the niche – April Canada
How technology is reshaping the traditional insurance model