CAA Insurance wins five-star status with successful broker strategy | Insurance Business Canada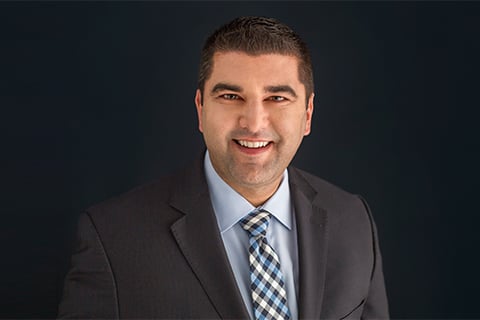 It has been five years since CAA Insurance Company (CAA) made the strategic decision to diversify its distribution by entering the Canadian broker market. The philosophy behind this move was to offer the same insurance products at the same rates in both the direct and intermediated channels, thus granting customers more choice and giving them access to the support, advice and consultation that professional brokers can give.
Fast-forward to 2020 and CAA's total portfolio is approximately one-third broker-based and two-thirds direct. Not only has the insurer achieved good growth in the broker channel over a short period of time, but it has also built an experience that brokers appreciate – a notion made clear by CAA Insurance's recognition by brokers as one of Insurance Business Canada's Five-Star Carriers 2020.
"I'm absolutely thrilled that CAA Insurance has been named a Five-Star carrier," said Matthew Turack (pictured), president, CAA Insurance Company. "We're pleased to be recognized by our brokers for what we do as a company and how we support them in really driving their businesses and achieving their strategies. At the end of the day, it's all about partnering with our brokers so that they can really take care of their customers in a meaningful way. We're very honoured and humbled to be recognized by our brokers in this way."
Read next: CAA Insurance launches CSIO's digital auto insurance proof solution
Insurance Business Canada's Five-Star Carriers 2020 list is derived from a survey of brokers from across the country, who were asked to rate their carriers on a scale of 1 (poor) to 10 (excellent) across a range of criteria, from underwriting expertise and claims service, to competitive rates and product range. CAA Insurance excelled in a number of categories, including underwriting expertise, quick quotes, product training and marketing support, and competitive rates.
"From an underwriting perspective, we make sure we're there to provide real-time response and work with a broker as and when they need us," said Turack. "We'll talk through any underwriting questions or underwriting criteria that they bring to us, so that we can give them immediate responses and really work together as partners. What I've heard from brokers is that we allow them to be underwriters, and we really do take that to heart. We want them to be underwriters and to work with us collaboratively.
"We've also invested in and continue to support our broker partners in education and marketing to help them look at their brokerages and expand their ideas and knowledge, and look for opportunities. We did that as a partner, not with the focus of: 'This is how you market CAA Insurance,' but rather looking at: 'How do you work as a brokerage? How can we provide education or information that will help you develop your business?' We've invested in our brokers not from a self-serving perspective, but really just to be a great partner and share our knowledge with them."
Read more: CAA Insurance auto rate reductions now available in New Brunswick
In terms of rating, CAA Insurance scored highly despite the challenges in the marketplace and general broker discontent around hardening market conditions. The firm's success in this category is largely down to its use of data, according to Turack. More specifically, CAA Insurance uses data analytics to hone in on risks that fit its risk appetite and to identify risks where the insurer will be able to offer competitive pricing.
"We don't go to the broker market and say we have everything for everybody, but we do help our brokers understand where we're great and where we have very competitive pricing," Turack told Insurance Business. "We help our brokers understand where those pockets of opportunity are, where we fit, and then we make sure that our rates are not only competitive, but also that we continue to keep them consistent. I think brokers really appreciate that consistency, as well as our clarity and transparency around where CAA Insurance is most competitive. And we're able to do that because of the data and the models that we have."
Moving forward, Turack wants CAA Insurance to continue innovating. The insurer was the first to launch a pay-as-you-go auto insurance program in Ontario, called CAA MyPace, but the president doesn't want to stop there. He intends to "bring unique and innovative products to the market" so that brokers and customers have more options to play with.
"In terms of the broker market, we want to continue to grow and invest in that channel, and continue to support them in their business," Turack said. "CAA was recently named the most trusted brand in Canada in the annual Gustavson Brand Trust Index. That's important to us because insurers earn trust through years of being consistent and being there when customers need us. That trust must also be earned by the brokers. We need to be there as a partner, we will be there as a partner, and we will continue to be there for our brokers for many years to come."