Canadian road users unaware of risks linked to DST | Insurance Business Canada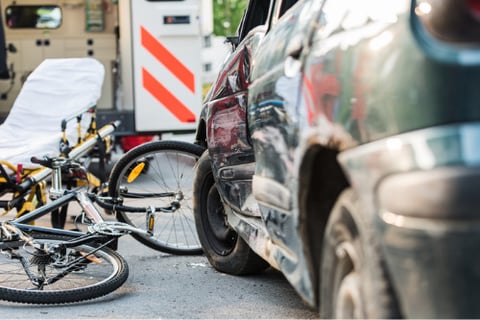 Every year, there is an increase in road injuries and fatalities just after Daylight Saving Time (DST) begins. According to The Canadian Centre for Occupational Health and Safety (CCOHS), when the clocks are moved forward by one hour – which will happen on Sunday, March 14, at 2am - road traffic accidents can increase by as much as 23% in the following week. This is largely due to the impact of the time change on our responsiveness and overall fatigue.
This seasonal uptick in road injuries and fatalities only adds to the many collisions and issues that occur on Canadian roads each and every day. This is especially true in cities like Toronto and the Greater Toronto Area (GTA), where the battle for space on the streets between drivers, cyclists and pedestrians can get heated.
According to a survey conducted by RSA Canada and Gallagher, 40% of Canadians are unaware of the risks associated with DST, and many aren't taking additional steps to protect themselves on the roads. For example, only 14% of Canadians change their method of transportation in the early days of the change, and only 34% give themselves extra time to get where they need to go.
Read next: RSA ups support for brokers in booming mid-market
The DST change comes at a time of seasonal weather volatility, where conditions can vary from day to day, and hour to hour. Suzanne Davidson, Director of Claims at RSA Canada, commented: "One day, we'll see snow land on the ground, and the next, we'll see torrential rain. One of the biggest spring hazards during DST is the glare from the sun which can hinder driving, especially during peak hours. As temperatures increase, we also see more cyclists and pedestrians on the roads, as well as more construction projects, both of which cause more congestion and add extra hazards."
RSA Canada provides comprehensive auto insurance coverage in Ontario, Alberta and the Territories, and the Atlantic provinces. Always striving to improve the customer experience and protect policyholders, the insurer launched a road safety movement in 2018, called Truce TO, with the aim of bringing more harmony to streets in the GTA and ultimately reducing the number of serious injuries and fatalities. The TruceTO initiative, which Gallagher joined in 2020 as an exclusive partner, advocates for Canadians to show more empathy on the road. It also brings road safety to life through consumer research and road safety education. This is particularly important as DST begins again, and more users get back on the roads in the spring.
"There are many risks on the road that we might not be aware of, and DST is a good time for us to reflect on that," said Bob Manson, President of Personal Insurance Canada at Gallagher. "We all need to do our part to better educate ourselves and be more empathetic on the roads. We have to own our responsibility to become better road sharers and take steps to keep each other (and ourselves) safe."
RSA Canada and Gallagher advise all road users – drivers, cyclists and pedestrians – to allow more time to travel during the spring season, when the weather is particularly volatile and sun glare can reduce visibility. They also encourage road users to consider depth perception and to maintain a safe distance from the vehicle ahead, as visibility and road traction can be compromised when travelling in wet or icy conditions. Cyclists are encouraged to armour themselves with light reflective clothing and lights, and to undergo regular maintenance and checks.
"Distracted walking is just as dangerous as distracted driving," Manson added. "Pedestrians should refrain from using cell phones and headphones when crossing the street. They should also make an effort to always be visible to drivers and cyclists. Whenever possible, we suggest that pedestrians make eye contact with drivers and cyclists, and to ensure a full stop before they enter into a cross walk."
Read more: The importance of trust in turbulent times
In 2021, DST is arriving at a time when COVID-19 restrictions are beginning to ease in many cities across Canada, and road users are planning to return back to their more regular transportation habits. With the strict stay-at-home orders and social distancing measures implemented to prevent spread of the coronavirus, the number of people on the road dropped amid the pandemic - but congestion is picking back up, especially in urban hubs like the GTA.
"As restrictions begin to ease in many cities across the country, most road users plan to return back to their regular transportation habits. This will add to road congestion, increasing the potential for collisions and fatalities," Manson commented. "In addition to this, behaviours, feelings, and knowledge pre vs. post COVID-19 have also been impacted. Some Canadians have admitted that they are more aggressive or angrier on the roads than they were prior to COVID-19, while others admit that they are less familiar with the rules of the road now than they were before COVID-19 restrictions were put in place."
Davidson added: "This is another reason why it's best for all Canadians to refresh themselves on the rules of the road and safety tips. One of the best tips is to plan ahead and give yourself extra time when driving."
For more information on RSA Canada's signature road safety movement TruceTO, visit: www.TruceTO.com