Insurance Business Canada Awards recognize top achievers across a spectrum of categories | Insurance Business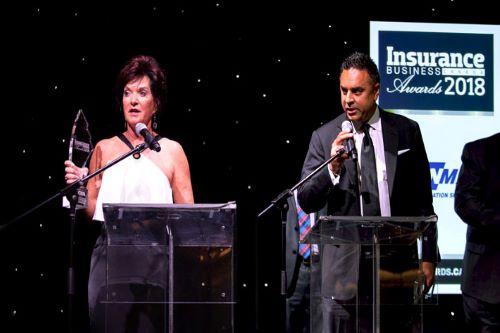 Get your entries ready – nominations are now open for the 2019 Insurance Business Canada Awards, a gala event that recognizes top achievers from the industry across 21 categories, including two new categories aimed at top underwriters and CEOs.
Whether you're a broker, insurer, underwriter, MGA, or risk manager, you have an opportunity to win an award and shine a spotlight on your achievements from the past year.
Receiving an award for excellence in claims service at the 2018 awards show gave the DSB Claims Solutions team validation that their efforts throughout the year were worth it.
"To get nominated was honourable, and then to actually win reinforced that we're on the right path," said Dara Banga, DSB's president and chief adjusting officer. "When someone has a claim, it's not a good moment. We recognize that we're there in time of need, and if we can assist that claimant throughout that process and deliver a positive experience, that's what drives us."
Individual awards for the 2019 event include:
The Cansure Award for Insurance Broker of the Year
The Steamatic Canada Award for Woman of Distinction
The PAL Insurance Brokers Award for Young Gun of the Year
The FIRST Insurance Funding of Canada Award for Lifetime Achievement in the Insurance Industry
The Empire Life Award for Life & Health Advisor of the Year
Business Development Manager of the Year
Underwriter of the Year
CEO of the Year
Meanwhile, organizational awards include:
The Burns & Wilcox Canada Award for Big Brokerage of the Year
Brokerage of the Year (Fewer than 10 Staff)
The DSB Claims Award for Brokerage of the Year (10 Staff or More)
Digital Innovator of the Year
Excellence in Philanthropy & Community Service
Insurance Industry Employer of Choice
The DKI Canada Award for P&C Insurer of the Year
Life and Health Insurer of the Year
The Armour Insurance Award for MGA of the Year
The Winmar Award for Excellence in Claims Service
The iv3 Solutions Award for Excellence in Risk Management
The Insurance Business Magazine Readers' Choice Award for Best Advertising Campaign
The Insurance Business Magazine Readers' Choice Award for Best Service Provider
For Tammy Truman, owner of Truman Insurance Agency, winning an award for philanthropy and community service last year was a huge honour, particularly as her team had been focused on giving back for many years.
"I don't think a lot of people associate insurance with philanthropy and giving, so it's great that the Insurance Business Awards realizes the importance of it," said Truman.
Nominations are open until August 12, 2019 before a panel of expert judges sort through the contenders and determine the winners, who will then take the stage on November 28 at the Liberty Grand Toronto. A full explanation of the methodology is available on the Insurance Business Canada Awards site.
Submit nominations for the Insurance Business Canada Awards here.