What steps can Canadians take to reduce the impact of floods? | Insurance Business Canada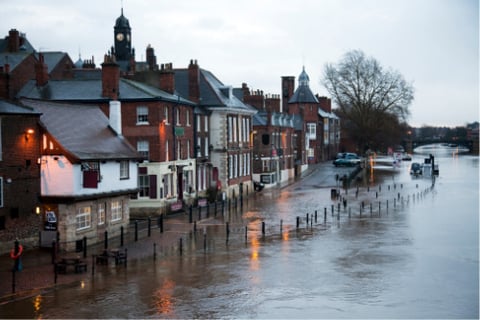 Flooding accounts for the highest volume of property insurance claims in Canada. According to the Insurance Bureau of Canada (IBC), severe weather caused $2.4 billion in insured damage in 2020, up from $1.4 billion in 2019, with flooding being one of the single most costly types of large-scale catastrophes year-over-year.
Despite the increase in flooding and the resulting damage to properties, homes and livelihoods, many Canadians are still unprepared and don't know how to mitigate flood risk. A recent survey commissioned by RSA Canada and WWF-Canada found that 37% of Canadians don't know how to protect their homes from flooding. The biggest awareness gap was among 18-34-year-olds at 54%, compared to 40% of 35-54-year-olds and 23% of those aged 55+.
General understanding of flood-prone areas is also poor. A significant majority of Canadians (85%) believe they do not live in a flood-prone area or are unsure about the flood risk in their area. This is slightly lower than the 2019 survey, where this number was 93%, but there is still room for improvement.
One positive is that Canadians understand the importance of preparation. Most Canadians (83%) believe that having an emergency preparedness plan or kit in the case of a flood-driven evacuation is critical. However, only 37% of Canadians actually have an emergency preparedness plan or kit, and only 41% of those living within 1km of water have one.
Read next: Close-knit like Taber corn - the secret to Saunders Insurance's 50+ year relationship with RSA Canada
"There are many simple steps that Canadians can take to reduce the impact of floods," said Anthony Black (pictured), National Catastrophe Manager, RSA Canada. "Home and business owners should check their eaves troughs, downspouts, exterior drains and basement window wells every spring and fall to ensure they're not blocked with leaves or debris. Ensuring the property around the home and business are graded such that water runs away from these structures is pivotal.
"They can also use rain barrels and install nature-based solutions around their homes and businesses, such as native plants (rain gardens), trees, and landscaping to enhance the absorption of water and prevent flooding. And finally, it's critical that Canadians educate themselves on flood risks, not only at their individual properties but also in the wider community in which they live, so that they're properly prepared to deal with a flood event."
Insurance is another critical component in Canada's flood battle. According to the survey, nearly one in three Canadians don't know what water coverage they have or need. This means that, with water damage on the rise, many people have been finding out – too late – that flooding is not covered by many standard insurance policies, but needs to be added.
In fact, most insurance policies will only cover certain types of water damage, such as burst pipes or appliance malfunctions. Other common issues, like sewer back-up (water that backs up into the home from a sewer line) and exterior flood (from storms, snow or ice melt, overflowing eaves, downspouts, or drains) are optional and must be purchased separately.
Read more: Jones DesLauriers CEO sees "flight to quality" from mid-market clients
To help clients fill this coverage gap, RSA Canada offers Waterproof Coverage™, which protects against damage related to storm activity and freshwater flooding. The policy does not distinguish between whether the damage was caused by sewer back-up, flooding, accidental dam breaches, sudden and rapid snow or ice melt, eaves, downspouts, or drains.
"Our enhanced Waterproof Coverage™ helps insurance clients by providing them with an affordable option to choose flexible coverage that's clear and easy to understand," said Black. "And it benefits our broker partners by giving them a versatile and competitive product to offer clients."
Having flood insurance and strong flood risk mitigation is more essential than ever in the context of the COVID-19 pandemic. The survey commissioned by RSA Canada and WWF-Canada found that 13% of Canadians believe COVID-19 has multiplied the dangers of flooding, and 22% are more concerned about flooding now than they were 12 months ago.
Black commented: "COVID-19 has become an impact multiplier, meaning that existing challenges that Canadians might be facing have only been made more difficult by the pandemic. We have seen this with food insecurities, job losses, and childcare, and for Canadians living in flood-prone regions across the country – this has made flood impacts that much more challenging."
To learn more about flood prevention and RSA Canada's Waterproof Coverage™, visit: www.rsabroker.ca/waterproof-coverage or www.RSAGroup.ca/WWF-Canada.