Why carrier experience was 'invaluable' for this third-generation broker | Insurance Business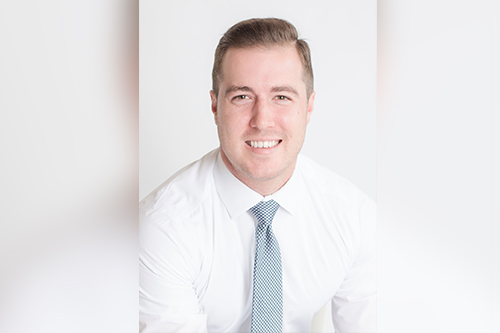 Corey Evans (pictured) might have come from an insurance family and is a third-generation broker, but that doesn't mean he went straight to the family brokerage when he graduated from university. In fact, his father, who was also an insurance broker and someone that Evans looked up to throughout his life, gave him sound advice about the insurance industry that helped to guide his career path.
"One thing he regretted was he went from university right to the brokerage and he never got that company perspective," said Evans, today an account executive at Brampton-based CCV Insurance & Financial Services. "He told me, 'The one prerequisite condition if you do ever want to come work here is that you go get three to five years' experience on the company side,' because he saw that as being an asset."
Evans did just that – in the midst of getting his bachelor's degree from Carleton University, the broker-to-be worked as a summer student at different insurance companies and spent the majority of that time at The Dominion of Canada General Insurance Company (which was acquired by The Travelers Companies in 2013 and made part of Travelers' subsidiary, Travelers Canada). Most of his work there was administrative and helped him to get a leg up when he graduated from university.
"I was offered a job right away as a personal lines underwriter [at Travelers], given my background doing admin and support work as a summer student," explained Evans. "They felt that I was qualified enough to just go right into underwriting, so I was given a field of brokers and a book of business to do home and auto insurance."
However, while he focused on personal lines, Evans was always encouraged by his dad to start thinking commercial – a sentiment echoed by the management team at Travelers. In 2013, he transitioned into the small business unit where he focused on small commercial auto and property packages, before moving into mid-market underwriting and more complex commercial lines. As a result of the Dominion acquisition, another opportunity soon came calling.
"When Travelers acquired Dominion, the opportunity to be a part of a sales team came up and one of my favourite parts of the job was always the broker management piece for me as an underwriter – going out on calls and discussing accounts in person," said Evans. "That relationship piece is just who I am, so I was a good fit."
With a handful of other internal and external candidates who were picked to be part of this team, Evans headed across the border to train with Travelers in the US. Upon his return from this experience, which he called eye-opening, Evans was assigned a field of top brokers (think the Aons, Gallaghers, and Hubs of the industry) in Toronto and the surrounding area.
Nonetheless, building something from scratch is always a challenge and about a year into his work, Evans felt that this new role lacked structure. He was a 'Jack of all trades' – talking personal lines with one broker and then commercial lines at the next office. So, when he attended the Insurance Brokers Association of Ontario (IBAO) convention around this time, he was all ears as a leader at Economical Insurance let him know about an opportunity at the company in business development.
Read more: When an opportunity for career advancement comes calling, open the door
"The role that they were offering me at Economical was strictly commercial," said Evans. "It was more of that principal broker-facing role, doing things like new broker appointments, contracts, portfolio transfers, some financing and M&A consulting as well as large commercial accounts. My goal was to go write commercial accounts $50,000 and above."
As Evans was making his own way in insurance, his dad was continuing to run CCV. Just after Evans had his first son, his dad's business partner was getting ready to retire and a controlling interest in the brokerage had also recently been acquired by Rogers Insurance in Calgary. That's when the family business finally came knocking at his door.
"The market was starting to harden at the time, so I did anticipate some challenges in the next couple of years, but I was really happy, and then they came and asked, 'Hey, we have this opportunity here for this good sized book of business. Would you be interested in switching and coming to join the family brokerage?'" said Evans.
It took a lot of negotiation and self-reflection on what Evans wanted from his career, since the role would be client-facing rather than B2B, but he knew that his background and skillset would bring value to clients as he took over the retiring partner's book of business.
"So, I rolled the dice and said, 'Yeah, let's do it.' That was about 2017 that I joined the brokerage, and I have been very successful since and am loving what I do," Evans told Insurance Business. "People ask me today whether I feel like I made the right decision, and I say absolutely 100%. It's created lots of opportunities for me, and learning the business from the different side of the industry has been invaluable […] I say I probably would never go work on the company side again. I just love the broker channel so much and the entrepreneurial spirit that it drives is something that attracted me."
Read more: One broker's secret to maintaining his top producer status
Over time, Evans solidified relationships with clients in his existing book of business, while also building new relationships.
"I'm not just a gatekeeper. I've become an advisor to these clients and brought some new fresh perspective to the business," he said, adding, "I've been successful in replacing a lot of that business or bringing in my own clients that I own 100%. They weren't just pre-existing relationships that I'm benefiting from or getting that warm introduction to. This is from pure cold-calling and through my network that I was able to grow that portfolio, and that's what I was essentially brought in to do. I wasn't brought in to just service this existing partner's portfolio – I was really brought in to be that commercial sales engines and create that culture within the organization."
In the meantime, Evans has also returned to the association that he encountered early on during his career. One of the first things he did when he joined CCV was send more people from the office to the IBAO convention. He has also become the team leader for Territory 9 on the IBAO's Young Brokers Council.
Read more: Broker ends eight-year leadership drought on IBAO council
"It's been a great ride – every single team leader is just an amazing person," said Evans. "We have a group chat if somebody's got challenges placing a piece of business or anything like that. We share ideas with each other and solutions, and a lot of the time it can be really helpful because getting different perspectives can help you find a solution for the customer."