IBABC forms another climate resilience partnership | Insurance Business Canada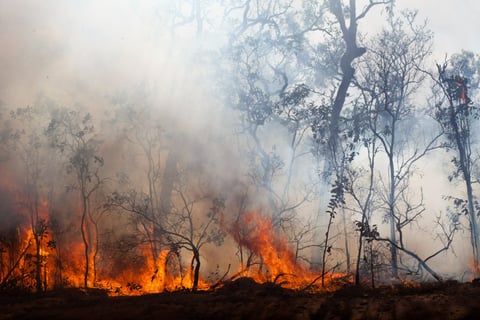 IBABC's commitment to "creating stronger relationships between brokers and organizations" continues, as the association has announced that it has joined forces with FireSmart BC.
The FireSmart program is meant to guide homeowners on how they can live with and manage wildfire in their communities. Kelsey Winter, FireSmart program lead with the BC Wildfire Service and chair of the FireSmart BC committee, was present at the IBABC's recent annual Leaders' Conference on June 08 and 09, where he gave a presentation on the FireSmart program during the conference's 'Climate Change Forum'.
According to the program lead, once they were made aware of FireSmart BC, more than eight in 10 people said that the program was valuable to the province. But Winter also mentioned only about 20% of people surveyed said they implemented FireSmart methods.
The partnership will see IBABC's member brokers distribute and promote FireSmart BC's programs and resources to their customers; the association hopes that this approach will raise FireSmart implementation rates among policyholders.
"As insurance brokers, we want to protect our customers and their property in every way we can before and after disasters happen," said IBABC president Andrew Janzen. "FireSmart BC's resources and methods are more tools we can promote to the consumers to prepare for and mitigate wildfire risks before they occur."
According to the IBABC, the severity of the wildfire issue in BC is such that the provincial Wildfire Service now has a year-round workforce; it is only a matter of time until the next great wildfire strikes.
"It will take strong partnerships and cooperation from various organizations and government to ensure the public has what it needs to be prepared," the association said in a release.
Read more: IBABC unveils new partnership
IBABC also announced earlier this week that it was partnering with the Institute for Catastrophic Loss Reduction (ICLR), to enable IBABC's member brokers to share ICLR's resources with their clients. It is hoped that the resources will inform and educate clients on climate risks and prepare them for future disasters.