New BC wildfire doubles in size over 12 hours | Insurance Business Canada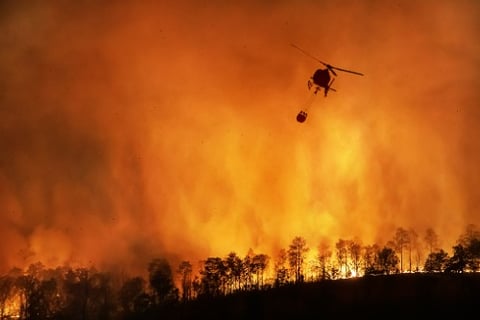 As the BC wildfire situation continues, a new fire that sparked southwest of Penticton, BC has grown twice its size since it was discovered.
First detected on Saturday, the Skaha Lake fire has since doubled its size to 212 hectares.
"At the time of ignition it was six kilometres southwest of Penticton," said BC Wildfire Service fire information officer Erika Berg, who added that the fire is "currently not threatening any structures."
While the fire may not be immediately threatening any buildings, residents of Penticton could see the flames over the horizon on Sunday night.
"It was a bit on the scary side last night especially around midnight where the flames were very, very visible," said Penticton Mayor John Vassilaki. "That put concerns into place for folks living around that area."
But the mayor also noted that fortunately there is little fuel left for the Skaha Lake fire to burn, so it has stopped growing at the moment.
"It makes me feel a lot better, and it also makes the community across the lake feel a lot better and safer at the present time," Vassilaki told CBC News.
The Skaha Lake fire also led to the Penticton Indian Band activating its Emergency Operations Centre, which is in contact with BC Wildfire Service and in consultations with Environment and Climate Change Canada to anticipate further wildfire activity. In a statement, the Band cautioned that there would be winds Monday afternoon coming from the north sustained at 20 km/h and gusting to 40 km/h.
Vassilaki has stated that the city of Penticton is ready to offer assistance to the Penticton Indian Band should they need it, with 140 hotel rooms available for the Band to use in an emergency.
CTV News reported that multiple air tankers and skimmers are currently trying to control the Skaha Lake fire.
Meanwhile, CBC News said that as of Monday, there were 233 wildfires burning in BC. There were 3,927 properties on evacuation order and another 6,255 properties on evacuation alert.