Applying 'Build Back Better' to large commercial CAT claims | Insurance Business Canada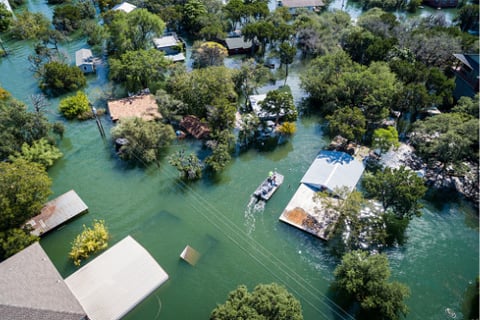 Global insured catastrophe (CAT) losses totalled US$83 billion in 2020, marking the fifth costliest year since 1970 and a historical high 10-year average insured CAT loss of US$80 billion, according to Guy Carpenter, a global risk and reinsurance specialist. While the majority of losses (70%) were driven by severe storms and wildfires in the United States, Canada has also had its fair share of extreme weather-related losses.
The Insurance Bureau of Canada (IBC) reported that extreme weather events caused $2.4 billion in catastrophe losses in 2020, up from $1.4 billion in 2019. The largest event by far was the Calgary hailstorm in June 2020, which caused insured losses of approximately CA$1.3 billion, making it the costliest hailstorm in Canadian history and the fourth costliest natural catastrophe on record for insured losses. Other perils like wind and wildfire also triggered losses, but the majority of losses year-over-year were tied to flooding and water-related damage.
"While the frequency of CAT events in Canada has remained relatively stable, the severity of CAT claims has increased," said Paul Gilbody, Senior Vice President for Aviva Canada's Specialty and Property Claims. "One factor driving severity is the cost of materials, which has increased quite significantly, particularly in the last 12 to 18 months. So far this year, lumber prices have inflated by over 170%, and shingles and sidings are following a similar trend. That's having a significant impact on the costing of certain claims."
Read next: Aviva outlines what happens in a post-pandemic Canada
The cost of CAT claims has also increased with the level of service that insurers and contractors are willing to provide. Aviva Canada follows the principle of 'Build Back Better' in both personal and commercial lines, meaning that insureds may be encouraged to rebuild with the idea that, in doing so, they become more resilient and can mitigate future CAT claims, even if it costs more.
"For example, if we have a big-box store that suffers bad roof damage or siding damage from a hailstorm, there are certain construction techniques and materials that we can use so that, should a similar weather event happen again, the chance of a severe claim in the future is mitigated to quite some degree," Gilbody explained. "The upfront costs are higher, but when you look at it from a risk management perspective – and we do a huge amount of work with our large GCS clients and their brokers on how to mitigate risk – people are starting to see the benefits of proactive risk management. Mother Nature is not going to stop throwing extreme weather at us anytime soon, so it's really important that we're getting things right and building back better."
In certain geographic areas of Canada, the concept of 'Build Back Better' is a no-brainer. In Alberta, for example, it is almost guaranteed that there will be several significant hailstorms or severe convective storms every year. Insureds in the province can invest in hail-resistant materials and construction in order to prevent recurring CAT claims, according to Gilbody.
Read more: Wild weather costing Canadians billions – but brokers can help
"When you look at claims very simplistically, what are we here to do? Based on the wordings, we're here to put something back together again. That implies that what an insured had before is what they get again, and typically speaking, that's fine. But there are some situations – and CAT claims is one of them – where it is sometimes prudent and sensible to invest in risk management and mitigation to build back better," he told Insurance Business.
"We've dedicated a CAT claims team for large commercial, and put a huge amount of effort into working with our broker partners to get them the information they need and to improve our service based on their feedback. We've invested lots of time and effort into a variety of different systems over the last couple of years, which have given us great insights and trend analysis that we can share with our broker partners. It's all under the banner of helping our broker partners have better conversations with their clients, which in turn helps us. It's a good pattern to get into."