What brings benefits for Swiss Re Corporate Solutions in Canada? | Insurance Business Canada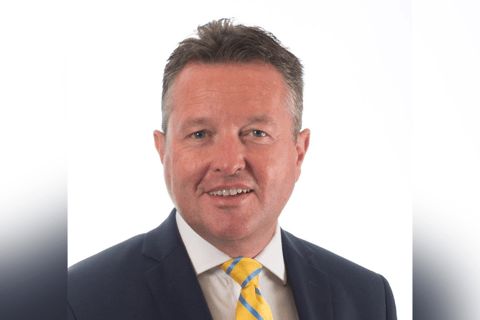 The phrase 'insurance is a people business' rings true in Swiss Re Corporate Solutions' locally articulated strategy in Canada. Having local investment and focus across the country has brought huge benefits for the commercial insurer, which has grown into a robust local company backed by the strength of the global Swiss Re Group.
Swiss Re Corporate Solutions embarked on this localization journey back in 2017, when Adrian Hall (pictured) became CEO in Canada. The insurer's top priorities were to reconnect with local markets, build relationships with local brokers, and develop commercial insurance solutions that meet the unique needs of Canadian customers.
"Over the past five years, our focused strategy of localization in Canada, and having more autonomy and decision-makers closer to our broker partners and customers has worked really well," said Hall. "The past two years have been challenging due to the COVID-19 pandemic, but we've maintained our local positioning and our connection with customers, as evidenced by our strong results."
Swiss Re Corporate Solutions has a global network of more than 50 offices in over 20 countries. In 2021, the business unit reported global net income of US$578 million, compared with a net loss of US$467 million in 2020, and its combined ratio improved significantly, reaching 90.6% for 2021, compared with 115.5% for 2020.
The unit attributed its success to price increases and decisive strategic actions, such as continued focus on underwriting quality, strict expense management, selective new business growth, as well as an improved customer and broker distribution franchise. That underwriting and financial discipline globally has translated locally in Canada, according to Hall.
Read next: Swiss Re Corporate Solutions names SVP of customer management
The strategy paid immediate dividends during the COVID-19 pandemic, when health and safety restrictions prevented travel and in-person business opportunities. The Swiss Re Corporate Solutions team found new ways of connecting with the market, continuing to provide thought leadership, support and guidance to our brokers and customers locally.
"Building better connections with our broker partners and customers in the years prior to COVID-19 certainly helped us during the pandemic because we had a local team with a strong network of relationships," Hall commented. "In reflection, the localization of our company created more business resilience for us as we navigated the challenges of the pandemic."
In 2022, Swiss Re Corporate Solutions has experienced strong results in several of its focus areas, including property, energy, FINPRO (E&O and D&O), and engineering and construction, partly due to post-pandemic stimulus packages and ongoing investment into infrastructure across Canada. The firm has also strengthened its surety unit in Canada, with two new hires in recent months, including one in Vancouver where Swiss Re Corporate Solutions continues to expand its' local presence in the West.
"Localizing our casualty insurance positioning has been very important to us, and I expect that to be an area of growth towards the end of 2022 and into 2023," Hall told Insurance Business. "We're also focused on international business and providing access to our PULSE platform [which enables users to manage and deliver structured and compliant multinational programs] and international network."
Having a local influence is beneficial in product development and marketing, according to Hall, because the insurer can identify solutions that are most fitting for Canadian customers. For example, Swiss Re Corporate Solutions has launched a parametric insurance product for excess snowfall via its Innovative Risk Solutions unit.
"Natural catastrophes and extreme weather events cause more than just property losses; they can disrupt day-to-day business operations for weeks or months," said Hall. "Sometimes, traditional indemnity-based insurance does not provide the breadth of financial protection required by large corporates and governments. That's why we've designed parametric insurance covers with a simple trigger and pay-out mechanism to speed up the claim payment process."
Read more: Swiss Re Corporate Solutions to create new Canadian branch
While Swiss Re Corporate Solutions provides parametric solutions globally, the Canadian unit is currently looking to inform brokers and larger corporates about the value of parametric products, and to increase uptake in Canada-focused solutions.
"The excess snowfall parametric solution is a good example of one that's very local for our customers in Canada," Hall added. "Extreme snowfall or excess snowfall, for a day or through the season, can wreak havoc on cities and their annual budgets, and can come with associated costs from blizzard preparation, recovery, closed businesses, and potential liability. This parametric product can alleviate that financial burden."
Hall said Swiss Re Corporate Solutions remains focused on the changing needs of corporations in Canada. He said: "We're engaged in insight-driven thinking in terms of really understanding the risk landscape on a macro level, how that's impacting large corporates, and then being innovative with developing solutions based on the insights we receive from our local customers."