Insurtech growth in Canada opens up opportunities for insurers and brokers | Insurance Business Canada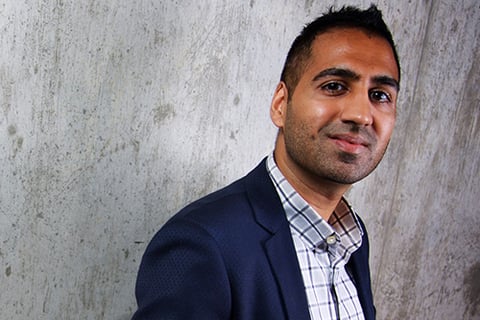 Insurtech hackathons aren't all fun and games. On the contrary, insurers in Canada are seeing a ton of value in taking part in these events and getting insight into ideas that participants are bringing to the table, which have the potential to bring benefits to the insurance industry.
A recent hackathon, "Hack IT," was held in Thunder Bay at the end of March at Lakehead University's student business incubator hub. Organized by the Northwestern Ontario Innovation Centre, Lakehead University, and local insurance brokerage Jones & Associates Insurance, the event also brought together industry partners, such as Gore Mutual, who provided guidance and insight to participants.
"Insurtech hackathons like Hack IT are a great vehicle to engage with bright technical minds and learn about new creative ideas that can help bring about change in our industry," said Sachin Rustagi (pictured), Gore Mutual's director of digital. "As a company, we recognize that innovation in our industry and the insurtech domain as a whole rely on building and participating in the larger tech and innovation ecosystem."
Over the past year, Rustagi has seen both an increasing number of insurtechs that are willing to work together with national carriers to help pilot their ideas and validate solutions, as well as more brokers teaming up with local insurtechs and other start-ups to optimize their operations or amplify their sales channels.
Read more: Insurtech investment leaps in Q3
Innovations that provide brokers with digital products for their customers and allow insurers to offer new digital solutions to their distribution network are particularly high in the value they add to the insurance supply chain, though AI-based chatbots have also brought positive change to the sector since they not only provide brokers with automated customer service for their clients, but also facilitate connectivity between brokerage staff, and underwriting guidelines and information. This in turn creates easier workflows and faster service, Rustagi told Insurance Business.
Even in this crowded insurtech space, however, there are still other opportunities in technology that the insurance industry has yet to take full advantage of.
"Insurers, brokers, and industry technology platforms still have a big opportunity around the delivery of standardized connectivity methods, such as API technology. This isn't an overnight initiative, but it has the power to create faster service, wider transparency, and cleaner workflows across multiple points in the customer lifecycle," explained Rustagi.
Insurers' ability in Canada to adopt digital innovation rests partly on collaboration. It's hard to go it alone when navigating down a new insurtech path, and partnerships can help companies avoid the large obstacles sometimes present when trying to take a technological step forward.
"At Gore Mutual, we're very open to the philosophies of multi-party collaboration, and test and learn. This culture allows us to try micro-pilots across our business to see if there is a possibility of wider adoption and be flexible in deciding if it makes sense to either incubate with innovative partners, subscribe to solutions from innovative partners, or even co-fund pilots with innovative partners," said Rustagi. "When applying these collaborative, and test and learn philosophies, we've found that there are more potential opportunities than challenges."
As for the future of insurtech, the digital director predicts that AI and robotics will become an important presence in insurance.
Read more: AI in insurance – training the future workforce
"We are seeing insurtechs across the entire insurance value chain integrate more deeply with artificial intelligence and robotic process automation (RPA) capabilities to further optimize their offering," he said. "This trend is expected to bring more value to insurers and brokers."