Ready, set, hack! Distracted driving and pedestrian safety take centre stage | Insurance Business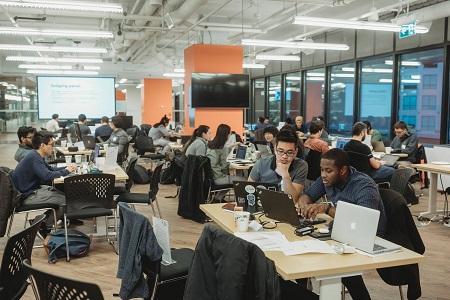 Credit: Brian Simon @tarsipix
Contrary to popular belief, hackathons don't just take place in dark rooms lit by the glow of computer screens as groups of programmers stay up for three days straight to develop the next big app. In some cases, these events focus on solving real world problems, and involve collaborations between fellow problem solvers from across industries, including technology and insurance.
Aviva Canada and OneEleven hosted the Safer Neighbourhoods Hackathon from November 23 to 25 at the OneEleven office in Toronto, which brought together developers, insurance professionals, designers, and data experts to come up with solutions to one of three problems revolving around the central theme. These included increasing pedestrian-friendly communities and preventing road-related injuries and fatalities, preventing distracted driving accidents, and increasing communication between houses for resources, knowledge, and skill sharing.
This was the second hackathon held by Aviva and OneEleven – 2017's event was focused on solving problems related to disasters and took place in the midst of a devastating hurricane season in the US, which brought a lot of media attention to the hackathon and even saw the Red Cross get involved. For Aviva, the events play a role in preparing the company for long-term success.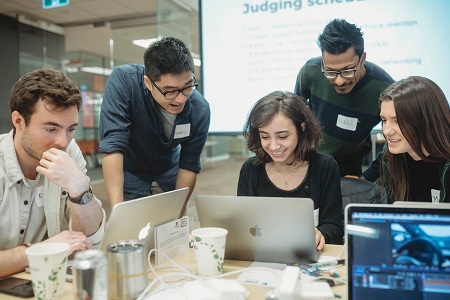 Credit: Brian Simon @tarsipix
"When you think about Aviva, we're a 320-year-old company, and one thing that we're very good at is pivoting our business. 320 years ago, we weren't in auto insurance and 320 years ago, we weren't in property insurance, and the question is, what does the next 320 years look like?" said Ryan Spinner, Aviva Canada's head of digital innovation. "Our direction is getting into prevention. How can we prevent big disasters, how can we optimize and make neighbourhoods safer, how can we get rid of distracted driving, and how do we start to think about these things more proactively? We're humble enough to say that we don't have all the answers. Let's get the community involved to start thinking about some of these massive problems."
As an auto insurer, distracted driving is a particularly relevant issue and one that's growing in severity, according to Aviva's own claims data, though addressing the other challenges was also important in determining what the future of cities will look like, as well as the future of insurance.
"We're starting to see claims on the rise because of distracted driving. Safer neighbourhoods are also about house-to-house communication – what's the future going to look like when our refrigerators can talk to each other, and what's the future of communities going to look like?" said Spinner. "Are we going to be able share cars, are we going to be able to interact with our neighbours in ways that we never even thought of before, and that's what today's all about – it's looking at all this data to start solving some of these problems and building new solutions for the future."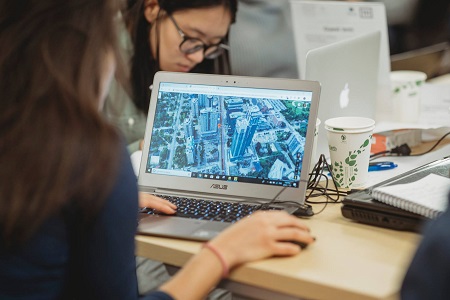 Credit: Brian Simon @tarsipix
Partners for the hackathon provided data sets to participants, such as the number of accidents in a certain area of the city, and demoed the data platforms. Teams then had Friday to get acquainted, fill up on pizza, snacks, and beer, start interacting with the data, and come up with a blueprint for their idea. On Saturday, those ideas were developed further as mentors walked around providing advice to participants. Sunday was judgement day, where all teams had the opportunity to pitch their solutions to judges, after which the winners were selected.
The final podium consisted of three teams that all tackled the problem of pedestrian safety and received cash prizes totalling $7,000 for their efforts. One participant told Insurance Business that the prize money at the end of the event was only the cherry on top.
"I found that this was cool in the sense that it was focused on a single solution that was more helpful than building an app," said Graeme, a software engineering student at McMaster University who also works as an analyst. "At a lot of places, you're going to build an app and you're going to win a prize, but here, sure, there's a prize, but you can also build something that will actually solve a real world problem, not just make an app that tells you where your friends are at certain times."
While the event can just be a fun three days for those involved, it's also useful for Aviva to keep an eye on inventive solutions that could be implemented outside of the hackathon.
"Aviva is committed to saying that if it is a problem that we can open doors for [with solutions] – maybe it's in government work, maybe it's in other cities or municipalities – we're definitely here to help accelerate some of the ideas," said Spinner.