'Young Achiever' on how being an immigrant helps clients connect | Insurance Business Canada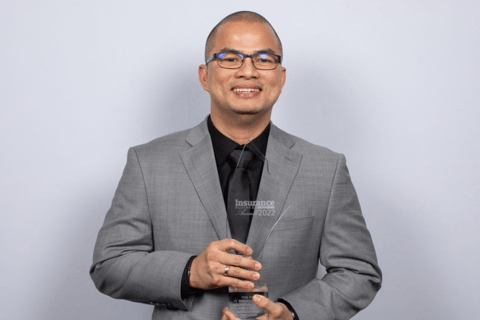 Navigating life in a new country can be an overwhelming experience. For many immigrants, setting down roots and restarting a career in an unfamiliar place can feel alienating. But for Reygel Robles (pictured), JEM Insurance Group broker, being a Filipino immigrant has helped him connect better with customers and thrive as an insurance broker.
Years of dedication and grit have paid off for Robles, who was named the PAL Insurance Brokers Young Achiever of the Year at the 2022 Insurance Business Canada Awards for his exemplary work with JEM Insurance. The win was a surreal but humbling moment for the young broker, who admitted that garnering a nod already felt like a tremendous honour.
"When I was nominated back in September, that already felt like winning to me," he said. "I didn't even look at the other nominees in the category until after the awards.
"It was a good thing I didn't, because I would have felt overwhelmed."
Creating connections through common ground
Robles began his journey with JEM Insurance in 2013. The family-owned brokerage had set up their first office in the heart of immigrant community in Winnipeg. At the same time, Robles was looking for a fresh start after immigrating from the Philippines a few years earlier.
"There are a lot of Filipinos in that area," he said. "When I got to the office, Emerito [Guevarra, co-owner of JEM Insurance] said, 'Come work with me.' They wanted someone who could speak both Tagalog and English."
JEM Insurance Group, which offers auto, home, business, and agricultural insurance, proudly advertises that its services are available in Tagalog, the language that most Filipinos speak. With only a sales background from the Philippines and no knowledge about insurance, Robles took a leap of faith into a new career.
He credits the Guevarra couple, Emerito and Julie, with helping him learn the ropes of insurance, which he found the most challenging part of the role. But being able to literally speak the language of his clients helped Robles build confidence and nurture relationships as a broker.
"They built me from ground zero," said Robles. "They taught me how to sell insurance. They taught me the products and the industry.
"When you speak Tagalog, customers gravitate towards you right away. It shows you have the same journey as them and that you have common ground. The business side becomes easier because you have that instant connection, and there's a level of trust that's built into it."
Developing a passion for insurance
Starting a new career and succeeding in it is one thing; learning to love it, quite another. Fortunately, Robles has done both.
"One thing I learned is that you need to be passionate about what you do to be successful. JEM taught me to be passionate about insurance along the way," he said.
"I love talking to people. I really wanted to work within the Filipino community because the natural connection is there. The [insurance] products became second nature because I already loved mingling with clients."
These days, Robles is still growing and spreading his wings, even as a "young achiever."
"In my current role, I'm primarily building connections with realtors, mortgage brokers, underwriters, and insurance companies. The industry is so interconnected," he told Insurance Business.
His advice for others looking to be succeed as an insurance broker? Find your motivation.
"Firstly, the deeper the motivation, the stronger the drive. So, you must find that motivation," he said.
"Secondly, you need to be competitive with your goals. You can't skate through the year without having any. You can't just go through the motions."
Robles also wants other young professionals and immigrants to know that insurance can offer them lasting, worthwhile careers.
"If there's anything we were taught over the past two years, it's that insurance is recession-proof," he said.
"Every time someone buys a car or a house or operates a business, they need insurance. We'll never really have that 'down' moment. If you're good at it, you'll always have a place in the industry."
More than just giving him a job, insurance has helped carve a path of stability for Robles in his new home.
"Insurance allows me to use my strengths – sales and communication – and to provide a decent life for my family," said Robles. "To me, that's everything."
Do you have any thoughts about this story? Leave a comment below.