Flood roundtable to help prepare Canadians for worsening flood risks | Insurance Business Canada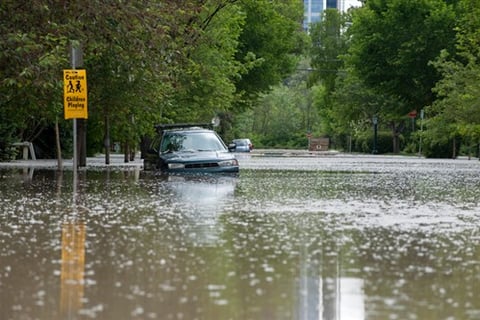 So far in 2017, major floods have caused almost $600 million in insured damage across Canada.
As Don Forgeron, president and CEO of the
Insurance Bureau of Canada
(IBC), has said: "Collectively, we simply need to do a better job to face this risk head on."
And, he added: "We can start by working together to educate and empower consumers."
Register for our exclusive CE webinar Cyber Insurance 101, and get covered on selling cyber
.
So that's what Canadian authorities and insurance leaders have set out to do – starting with a roundtable, to move the conversation towards improving flood insurance for Canadians.
Man-made climate change has worsened our natural disasters, causing severe weather events to occur with more frequency and with greater intensity than ever before. Canada – like much of the world – is not prepared to face this new reality. So we need to get on the front foot.
Recognizing this challenge, Canada's Minister of Public Safety, the Honourable Ralph Goodale, committed to convening the National Roundtable on Flood Risk, which is taking place today (November 16) in Regina, hosted by the Government of Canada.
Craig Stewart, VP for federal affairs at IBC, said the event was "probably overdue."
"This is the first time that we've had a national conversation on flood risk," he said. "It's the number one issue facing Canadians with regards to climate change. It's probably overdue. We're glad that we're finally getting all the right people in the room to try to figure out a way forward in Canada."
Planning how to better educate the public on flood risk will be the main objective for the experts at the roundtable, Stewart said.
"The number one issue, far and away, is consumer awareness," he said. "People won't take action to inoculate themselves against flood risk until they're aware they're at risk. Far and away, we're hoping this week, to have a way forward to raise awareness for consumers… as to what they're facing in the coming years."
The day-long meeting will be attended by representatives from the federal government, the provinces and territories, indigenous leaders, insurance CEOs, the Federation of Canadian Municipalities, and a range of other experts and stakeholder groups.
The focus will be on working to help Canadian homeowners understand their flooding exposures.
"As we have seen this past spring, flooding continues to be a devastating and costly emergency for our communities," said Goodale. "The challenges posed by flooding require a whole-of-society approach, with Canadians, all levels of government and stakeholders working closely together to find innovative, sustainable solutions that will protect Canadians."
Related stories:
Updated flood maps coming to Canada?
Huge flood settlement reached with First Nations