Gore Mutual marks the holidays with a food bank donation | Insurance Business Canada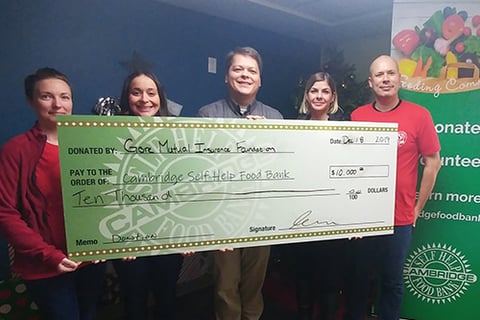 To celebrate Christmas and spread cheer to the less fortunate, Gore Mutual is donating funding to food banks.
The insurer is giving a total of $15,000 to food banks in Cambridge, Ontario, and Vancouver, British Columbia, through its Gore Mutual Foundation. It operates in both cities.
Specifically, Gore Mutual will be donating $10,000 to the Cambridge Self-Help Food Bank and $5,000 to the Greater Vancouver Food Bank.
"With more than three million adults and children living in poverty across Canada, food banks play an incredibly vital role in communities across our country," stated Gore Mutual CEO Heidi Sevcik.
Sevcik added that although giving is important over the holiday season, everyone has a responsibility to support and contribute to innovative ways to resolve social issues such as poverty and hunger.
"We are grateful we are able to support our local food banks through the Gore Mutual Foundation and will continue to work to make an impact in Canadian communities," the CEO said.
In addition to the donations, Gore Mutual employees helped sort and box food items at the Cambridge Self-Help Food Bank.
"The Cambridge Self-Help Food Bank simply couldn't do the important work we do without the support of generous local companies such as Gore Mutual," commented Cambridge Self-Help Food Bank executive director Cameron Dearlove, who added that the food bank is amazed at the way Gore Mutual not only helps the community financially, but also backs it up with volunteer hours.