Understanding the unique distribution challenges of COVID-19 vaccines | Insurance Business Canada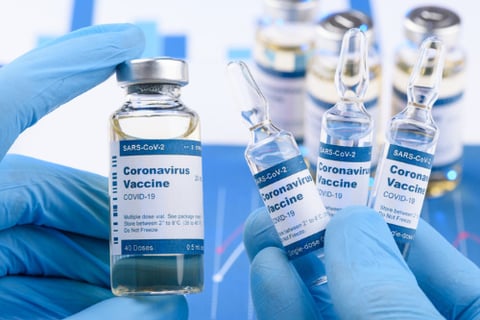 Like any other pharmaceutical, a COVID-19 vaccine must be proven safe and effective in Phase III clinical trials which involves a large number of volunteers. The data on the vaccine is then presented to a country's pharmaceutical regulatory authority for an independent assessment to determine if the vaccine meets national standards for quality, safety and efficacy for use. Currently, three COVID-19 vaccines – Moderna, Pfizer-BioNTech (Pfizer) and AstraZeneca – have been approved for use in a number of countries.
With the rollout of these vaccines, the public has expressed hope that the pandemic will soon be a thing of the past and life will return to 'normal.' Scientists and the World Health Organization (WHO) have a more tempered view. According to WHO, "the impact of COVID-19 vaccines on the pandemic will depend on several factors including the effectiveness of the vaccines; how quickly they are approved, manufactured and delivered; and how many people get vaccinated."1.
Getting the vaccine into the arms of people will not be without its challenges and risks, not just on a national but a global scale. The logistics of distributing the vaccines across a country will be influenced by the specific cold chain requirements of each vaccine, security arrangements, and selection of the most efficient transportation to distribute the vaccines from a port of entry to its final destination, including rural and remote communities. At its destination, additional challenges will include ensuring security and the correct type of storage unit. Administration of the vaccine involves providing essential training to handle the specific vaccine product, management of side effects and record management.
A Profile of the Top Three Vaccines Being Rolled Out Globally
The following table provides a profile of each vaccine based on information available:
| | Moderna2 | Pfizer-BioNTech3 | AstraZeneca4 |
| --- | --- | --- | --- |
| Status in Canada | Authorized By Interim Order | Authorized By Interim Order | Not yet authorized |
| Date of Canadian Approval | Dec. 23, 2020 | Dec. 9, 2020 | Not yet authorized |
| Efficacy (based on clinical trial data) | 94.1% | 95% | 70.4% |
| Doses | 2 | 2 | 2 |
| Dosing interval | 28 days apart | 21 days apart | 28 days apart |
| Recommended age of vaccine recipients | 18+ | 16+ | 18 |
| Common side effects | Pain at injection site, headache, fatigue, myalgia, arthralgia, nausea/vomiting and chills5 | Pain at injection site, fatigue, headache, diarrhea, myalgia, chills and arthralgia6 | Pain at injection site, fever and chills |
| Significant side effects | Reported cases of anaphylaxis | Reported cases of anaphylaxis | Data not yet available |
| Recalls & Safety Alerts7 | Nil reported | Nil reported | Nil reported |
| Reports of adverse events after immunization | Nil reported | Nil reported | Nil reported |
The 70.4% efficacy rate of the AstraZeneca vaccine is the most significant difference amongst the vaccines.
Shipping, Storage and Handling
Considerations for selecting one of the currently approved vaccines will be determined largely by the temperature required to ship and store a vaccine, and any specific training required to administer the vaccine.
The following table outlines cold chain and handling requirements for each vaccine.
| | Moderna | Pfizer-BioNTech | AstraZeneca |
| --- | --- | --- | --- |
| Shipping temperature | -20⁰C (-4⁰F) | -70⁰C (-94⁰F) | 2-8⁰C (36-46⁰F) |
| Storage unit | Freezer (-20⁰C (-4⁰F)) | Ultra-low temperature (ULT) freezer (-70⁰C (-94⁰F)) | Refrigerator (2-8⁰C (36-46⁰F)) |
| Shelf life | -20⁰C for up to 6 months | -70⁰C for up to 6 months | 2-8⁰C for at least 6 months |
| Out of storage for 6 hrs. at room temperature | Not applicable | After dilution, the vaccine should be used immediately and within 6 hours. | After first opening the vial, the vaccine should be used within 6 hours. |
| Out of storage for 12 hrs. at room temperature | Once the first dose is taken, the other doses in the vial should be used within 6 hours. | Not applicable | Not applicable |
| Handling thawed vaccine before administration | Swirl the vial gently after thawing; no dilution required9 | Gently invert the vial 10 times before diluting vial with 1.8 mL 0.9% sodium chloride injection10 | Not applicable – vaccine is not frozen; no dilution required |
In Canada, the Moderna vaccine is being sent to Canada's three northern territories (Yukon, Northwest Territories and Nunavut) to avoid the need for ultra-low temperature freezers.
Vaccine Management
The integrity of a vaccine relies on stable, consistent temperatures. Strategies to maintain cold chain conditions during shipping and storage include:
Using dry ice or refrigerated storage during shipping as required by the specific COVID-19 vaccine product11
Using Bluetooth to monitor temperature while the vaccines are being transported12
Having a sufficient number of the correct storage units (refrigerator, freezer, ultra-low temperature freezer) for the specified vaccine product(s) on-site that are large enough to prevent crowding the inventory
Selecting and using the correct storage unit for the specified COVID-19 vaccine product(s)
Checking and recording the minimum and maximum temperature of vaccine freezers and refrigerators daily
Using temperature alarms and having protocols for responding to out-of-range temperatures
Having emergency power availability to vaccine storage units in event of a power outage
Having emergency handling procedures for handling vaccine in the event of storage unit malfunction/failure that may compromise the unit's storage conditions13
Each vaccine product must be handled and administered appropriately to prevent vaccine compromise and unnecessary vaccine waste. Strategies include:
Storing the vaccine with the earliest expiration date at the front of the storage unit
Removing expired vaccine stock
Training staff in the appropriate steps to prepare and administer the COVID-19 vaccine product(s) in inventory
Following manufacturers' instructions for preparing the specific vaccine product(s)
Not using partial doses from two or more vials to obtain a full dose
Maintaining immunization records on every vaccine product recipient so the recipient can be reminded when to come in for the second dose of the same vaccine product
Strategies to Mitigate Security Risks
Both the Pfizer and Moderna vaccines are in short supply and high demand, making them targets for theft, hijacking or diversion of the drugs, and sabotage. Mitigation strategies include:
Using GPS sensors to monitor location while the vaccines are being transported14
Having security escort for trucks15
Using undisclosed transportation routes and storage locations
Using direct shipment to reduce stops during route
Using dummy (empty) trucks to throw off thieves16
Video-monitoring the vaccine storage area
Locking the vaccine storage area
Restricting access to vaccine storage units
Limiting the number of authorized personnel who have access to vaccine storage units
The deliberate sabotage of a facility's vaccine supply by a healthcare provider is not an anticipated risk. However, a Wisconsin hospital pharmacist was arrested on December 31, 2020 "on charges that he intentionally sabotaged more than 500 doses of the COVID-19 vaccine at a Wisconsin hospital."17
Vaccine Distribution and CNA Insurance Coverage18
A CNA insured with coverage for their operations as a logistics or transportation specialist, or cargo insurance for temperature-controlled cargo or pharmaceuticals may be called upon to assist with COVID-19 vaccine product distribution. Brokers should not assume that their clients' current insurance coverage will automatically respond to the provision of the above services for the distribution of COVID-19 vaccine products (e.g., Pfizer-BioNTech) requiring ultra-low temperature freezers.
CNA considers vaccine shipments requiring different handling or temperature control than an insured's usual practice a material change in risk. Brokers should contact their underwriter with details of their clients' involvement with COVID-19 vaccine to discuss potential options for coverage.
One or more of the CNA companies provide the products and/or services described. The information is intended to present a general overview for illustrative purposes only. Read CNA's General Disclaimer.
To access all other 2020-2021 blogs: https://www.cnacanada.ca/web/guest/cnacanada/about/listofauthors
Author Profile
Ruth L Stewart, BA, RN, MHA, CHE, Senior Risk Control Consultant, Healthcare
Ruth Stewart is the Senior Risk Control Consultant, Healthcare for CNA Canada. Ruth brings to her role a background in clinical nursing which includes experience in surgical, intensive care and trauma nursing as well as management of risk in the not-for-profit sector. She left the healthcare sector to work with an international broker using her clinical and operational knowledge to assist acute care and long term care insureds better manage their risks. Ruth works directly with insureds to manage operational risk, and develops publications, tools and other resources to help insureds manage risk. Ruth collaborates with a team of seasoned Healthcare Risk Control/Risk and Governance professionals in the US and UK to provide a comprehensive range of risk services to CNA's insureds.
Ruth received her nursing training from George Brown College, and her Master in Health Administration from the University of Ottawa.