Construction market performing better than any time since post-recession boom | Insurance Business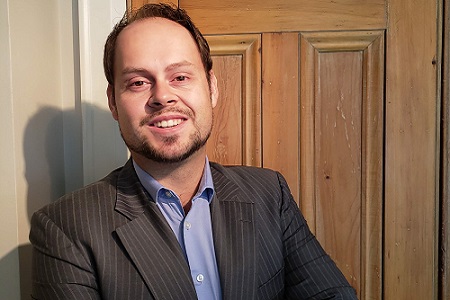 Construction insurance isn't a line of business that any generalist brokerage can jump into. Expertise in this sector is critical to helping clients become successful contractors – take it from a broker at an insurance company that lives and breathes construction.
David J. Rae (pictured) started working in the construction insurance business in 2013 and eventually landed at Petrela, Winter & Associates (PWA), a construction insurance and bonding broker that specializes exclusively in the construction business. In this Q&A, Rae provides insight into the construction market, challenges facing insurers and clients working in the sector, and how PWA stands out from the crowd.
Tell us about your career path. How did you end up in the insurance business and an insurance account executive for Petrela, Winter & Associates?
In 2006, after finishing high school, I moved out to Calgary from Toronto and decided to work for a year or two prior to going back to school. There was a great oil boom happening at the time, and success could be found working in a number of different fields out there. I chose retail, and managed to work my way up to a department store manager position after completing just over a year with the company. Unfortunately, 2008 happened and everything came crashing down – retail almost overnight became a very difficult field to be working in. I decided to pack-up and head home (Toronto), and go back to school in 2009.
It was at the university/college job fair in my final year that I ended up speaking with a recruiter for a personal lines insurance brokerage. We got to talking about the insurance business in general, and how it really touches on every other industry out there – something I had not really considered before. I also have an aunt that held a senior position with a major Canadian insurance company, and she had always spoken about how insurance is a great career path. I think the main thing that attracted me to insurance was the simple fact that you could really be a part of any industry or area of business you find interesting through insurance. Everyone needs insurance – homeowners, property owners, and business owners, or anyone with an exposure for loss – which encompasses a large percentage of the population. Given my experience out in Alberta, I also appreciated the fact that insurance is fairly recession-proof.
I had always envisioned a career path for myself working in business-to-business (B2B), and decided after getting two years of personal lines experience, that I would start looking into commercial lines opportunities. My search led me to a large multi-national risk management firm, who offered me a temporary contract position in their Canadian surety and construction department.
While there, I made a few connections in the industry through various industry events, and ended up receiving a referral from a colleague for a position at Petrela, Winter & Associates (PWA) after my contract had finished. I researched PWA and learned of their excellent reputation in the construction space. I interviewed with PWA in February 2014, and, four and a half years later, the rest is history as they say!
When you look back at your career, what have been some of the standout moments so far?
One of the standout moments was making the track change from personal lines to commercial lines. I took a bit of a gamble leaving a full-time permanent position to take on a contract position in commercial lines. I knew it would not be an easy transition, but I was up for the challenge of navigating these new waters and the struggles that came with them.
While the contract did not turn into a permanent position, it ultimately led me to Petrela, Winter & Associates, which became the biggest standout moment in my career thus far. At PWA we are a team of roughly 20, a drastic difference from an "Alpha House" like the firm I was with, where there are hundreds if not thousands of people, and many different departments.
I went from a support role at the big firm, and with some support and training from PWA, I quickly grew into a commercial account manager. I remember walking into the PWA office on my first day and thinking, 'wow, this is a big step for me!' Thankfully, we have some great people at PWA with a ton of experience who were willing to show me the ropes and help mentor me to be the best account manager I could be. This is something I will never forget and will always be thankful for - a great career opportunity that may not have been afforded elsewhere.
What's the state of construction insurance in Canada right now, and how has it changed since you came into this role three years ago?
The construction industry certainly ebbs and flows with the changing economic environment. Over the last 24 to 36 months, we have noticed trends which are indicative of a healthy overall construction market, and a more positive outlook than any time since the infrastructure boom following the 2008 global downturn.
Backlogged construction activity is generally up and margins are stubbornly showing signs of improvement – albeit slowly and not in all sectors. Contractor failures and surety company losses are down. Notoriously 'sluggish' construction regions across the country are showing signs of life. Government of all levels continue to focus on infrastructure spending, which is an important factor for the growth of the economy.
It is tough to predict how long these trends will continue, however we always advise our clients to be prepared for anything. Well-managed companies who plan for, and adapt to changing market conditions will fare the best through the inevitable ups and downs that the construction market is sure to bring.
What are the primary challenges affecting your line of work?
An ever-changing risk environment for contractors remains a going concern for ourselves and our markets. Recently, we have seen insurers really analysing their construction books of business, and looking for some rating corrections as a result of their findings. There has especially been an uptick in weather-related losses (flooding in particular) that the insurers are having to handle, no doubt a by-product of changing global environmental conditions. Managing client expectations around insurance rates is always a challenge, which is true of any line of work within the insurance sector. We find the best practice is to remain fully transparent with our customers, and offer a thorough and complete explanation of the factors that affect their rates and premiums. Fortunately, we have strong relationships with markets, and good benchmarking and client risk management strategies that help keep rates in check.
We are also seeing our clients being presented with new forms of risk – such as cyber crime, which was not as prominent a mere two years ago or less. Unfortunately, a few of our clients have encountered firsthand examples of phishing scams or network security issues they have been targeted with. As contractors in particular seem to be particularly at risk, we have been educating our clients on the different forms cyber crime can take, and offering insurance solutions to help mitigate these risks as much as possible.
How does Petrela, Winter & Associates differentiate itself from competitors?
Petrela, Winter & Associates is a construction insurance and bonding broker that specializes exclusively in the construction business. Each and every one of our clients is a construction contractor of varying shape and size, and we are the only broker in the country with this degree of specialization in construction.
Because of our specialization in construction, we have a unique insight into the construction business that other generalist brokers may not have. This is simply because we live and breathe in the environment each and every day. Based on the experience we have had over the years with various contractors, we are able to offer consulting and advisory services as they relate to construction, and the impact certain decisions or circumstances have on our clients' businesses.
Our philosophy has always been to share our knowledge and experience with our clients to help them become better, more successful contractors and businesspeople. We truly are business partners with our clientele, and it is a rewarding experience to help our clients and watch as their businesses enjoy continued success.
If you weren't working in the insurance space, what would you be doing right now?
Good question – one that has no easy answer! I have always enjoyed music. I listen to a fairly wide range of music by most people's standards, and I like to think I am pretty good at "name that tune."
I have always thought it would be a lot of fun to be involved in the music business in one capacity or another. I mean if Justin Bieber can become a megastar, surely I….then again, maybe not.
Related stories:
Expectations and ability of brokerages to adopt tech varies in rural and urban areas
Will the profitability of engineering insurance soon end?