Young Gun describes 'balancing act' between broker partners and insurers | Insurance Business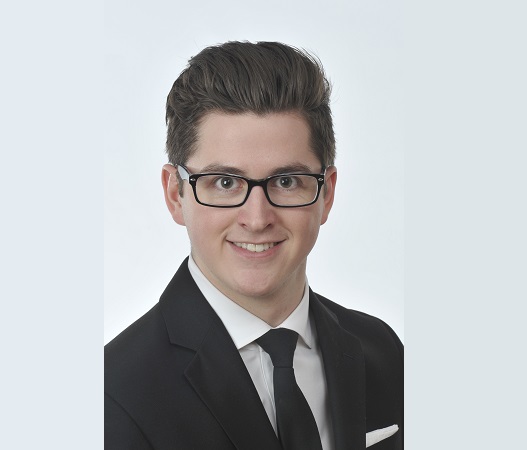 There's being active and there's being proactive – this Insurance Business Young Gun is certainly the latter of the two.
Even before receiving his bachelor's degree, Gregor McAvity (pictured) was working as an assistant underwriter at Anderson McTague & Associates. At the age of 25, he has already spent seven years in the insurance industry and is now working as a commercial underwriter.
His main responsibility within Anderson McTague is maintaining a balancing act between underwriting SME businesses and forestry equipment, and working on business development and marketing, while consulting directly with company president Chuck McTague.
McAvity is working towards his CIP designation, and is an active member of both the Insurance Institute of Canada and the New Brunswick Association of Insurance Women.
The 25-year-old loves travel and food, and he has a positive outlook on the insurance industry:
How did you get started in the insurance industry?
I started working for Anderson McTague & Associates part time when I was studying at UNB for my business degree. It was a part time job and I worked full time during the summer breaks. I was just doing filing and administrative work at the beginning. After that, I started working with underwriters as an assistant underwriter and have since been promoted to an underwriting position.
What are the best parts of your job?
I love the people we work with, both our brokers and our insurers. There are a lot of great people in this industry. As an MGA, we work with brokers across Atlantic Canada and we have contracts with insurers here in Canada as well as our Lloyd's contracts. I'm either on the phone with a local broker here in Atlantic Canada or with one of our insurers in Canada or the UK. Another thing I love about this job is that you get to learn about so many different industries. In the run of a day you could see submissions for construction risks, realty accounts, consultants, forestry business, etc.
What challenges have you faced in your role?
Keeping people happy in this marketplace is tricky. The market is definitely a moving target. We hope to meet and exceed broker expectations but those needs are always changing. You have to keep your broker partners happy but you also need to keep your insurers happy with the business you're writing. It's a balancing act. There are also new exposures and new classes of business that we did not write or that did not even exist 10 years ago.
What have you learned from working at Anderson McTague & Associates?
I have learned a lot about the insurance market as a whole, which is shifting and evolving every day. I spent three months working in London with our Lloyd's brokers and insurers which taught me a lot about how the London market works. We have seen lots of changes in the local broker landscape as well as changes with our insurers. We have a great team in our office of people who have been in the industry for 30+ years as well as those who have only been involved for a few months.
What advice would you give to someone working their way up the insurance ladder?
There's a lot of opportunity for young people in this industry. There's a significant age gap between young employees and more senior people in this industry and I think young people will be well positioned in a few years to take advantage of this.
If you weren't working in insurance, what would you be doing?
I am not sure! I think it would be something commerce related - either financial services or information technology of some type.
What's your favorite hobby?
My favorite hobby would be to travel but I also love to eat. These two things go well together!
Related stories:
MasterChef contestant fell into insurance after serious injury
Former army reserve goes 'above and beyond' to conquer insurance challenges