Low flood insurance penetration leaving mark on people, properties, and the economy | Insurance Business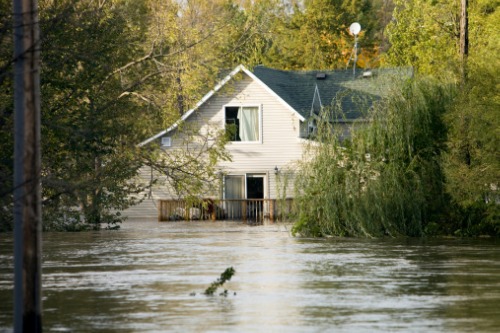 Despite intense storms in the past year and historic flooding in the Midwest in 2019, the number of homeowners with flood insurance policies in the United States has dropped by at least one-third since 2011, according to the New York Times. Moreover, only 15% of homes in the floodplains have adequate coverage in Nebraska, Illinois, and Missouri.
Those figures are problematic, considering the flood risk that many homeowners face, whether they're on a coastline or not.
"From a flooding perspective overall, whether you're looking at the coast or whether you're looking inland, I think there has been consistent messaging that flooding has been impacting communities both from a frequency and severity standpoint," said Raghuveer Vinukollu, SVP and natural catastrophe solutions lead at Munich Re America, adding that the smaller number of big hurricanes this year doesn't mean flood risk has gone away. "There was tropical storm Imelda that was quite devastating to Houston again and if you think about it from the Houston area perspective, this was five years in a row that that area has been impacted with some kind of flooding."
The Mississippi River Basin floods have meanwhile been unprecedented in 2019, landing in the top three longest-duration floods in the state. Some communities saw water levels reaching levy heights while others saw consistent flooding for 200 days straight.
"These communities are constantly seeing water outside their front doorstep. Maybe the population is [smaller], but there is clearly an impact on people," said Vinukollu.
From an economic loss standpoint, there might have been less insured losses compared to what we saw with Hurricane Harvey, but these losses have still been very high because of the low insurance penetration in states like Florida. In fact, flood insurance penetration is sitting at 15% across the entire US and, in the Mississippi corridor, the insurance penetration is less than 2%.
Read more: Flood insurance take-up rate "unacceptably low" – Munich Re
"This is a significant issue for communities and for the country as a whole because that's impacting people directly, property directly, as well as the economy directly," explained Vinukollu.
The reality today is that everybody has some flood risk, even if current FEMA flood maps show otherwise, and retail agents alongside private flood insurers are trying to spread that message to their clients.
"The point that we've made with most of the retail agents while working with them on awareness building is that the federal product has limits and [though] it's useful in certain circumstances, the private market can actually offer a much broader product that is more suitable for a larger part of the population at a very reasonable price," said Keith Wolfe, president of US property and casualty at Swiss Re.
The smaller but more frequent flooding events have helped to raise some awareness about the need for flood insurance products.
"[They] raise awareness even more that there's this protection gap that exists, and unfortunately surprised homeowners in a lot of cases, and even some small businesses, find out the hard way that they are not covered for this peril in the insurance products they've chosen to purchase," explained Wolfe. "So, what we've typically found is if we have deployment in those jurisdictions that are impacted by an event, the take-up rate goes up sharply right after the event."
When it comes to water damage resulting from weather-related flooding, the industry has tended to be "its own worst enemy," added Wolfe, thanks to the jargon used in insurance solutions and how confusing it can be for homeowners to understand.
"We've really tried to solve part of that problem by shifting the vocabulary," he told Insurance Business, adding that this has been successful as Swiss Re has managed to sell tens of thousands of flooding endorsements.
As the private flood market continues to make waves among homeowners and businesses, retail agents need to understand that there is a broad set of flood offerings that offer much more expansive coverage than what the federal government program allows.
Read more: FEMA changes to NFIP won't make waves in flood insurance market - expert
"The federal government programs serve a very good purpose, especially in areas that we consider to have severe risk of flooding. They're a very, very good part of keeping protection in place there, but there are alternatives that have grown in number over the last two years that I think the retail agents wouldn't realize," said Wolfe.
Risk models are also evolving, added Munich Re's Vinukollu, which means flood maps are starting to more accurately reflect the varying degrees of flood risk that communities face, outside of the 100-year or 500-year flood zone designations.
"There is a lot more granularity of information that's available, so that's changing the market landscape, and helping insurance and reinsurance companies to come up with different solutions," he said. "The best product that we can give homeowners is to provide them with a range of solutions and let them choose. Before that wasn't the case [since] it was just one solution, so that's been a very positive change."